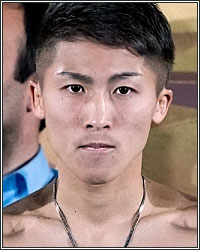 Thursday's, in this corner of the Universo Pugilistico, are all about my sack-- my bulging, bulbous, aching sack-- and the gooey, salty truth contained within. So...sit back, close your eyes, pull back your hair, and get ready for this week's money shot of wisdom. This week we have comments/questions regarding Inoue-Fulton, Fulton's just due, and fighters signing with the wrong people.

Signing with the Wrong People

What we're seeing now with Canelo on PBC is just a victory lap. PBC is in a situation where they can dictate the terms of everything between 135-168. With Tank at the lower division and Canelo at the higher division. Not to mention Boots is on the rise at 147.

All the weight drained Lightweights/Super Lightweights are between a rock and a hard place. What's Haney, Lopez, and Stevenson going to do? Keep draining themselves to stay at around 135-140 and fight meaningless fights? Or go to PBC and fight Tank? Or better yet, fight at their natural weight and see what they got at 147? Either way, their road to glory still goes through PBC. At this point there is nothing that can be done except shut up and sign up!

We saw Terence Crawford had to learn the hard way! All the flaming ESPN and Top Rank did over the years was just a lost cause at the end. The largest Sports Media outlet in the world combined with the oldest Promotional Boxing company in the world, couldn't get Terence Crawford a meaningful fight. Nonetheless, they didn't even turn a profit on the kids' talent. What a shame and an utter embarrassment. In addition, we see what's going on with Vergil Ortiz. The kid is going through some health issues for sure, but with his type of talent, his exposure is little to none. What type of fights are in his future at 154 or 160? There's nothing Golden Boy can do for this kid. If this kid were to go to PBC he'd be an instant success with massive exposure. If you ask me he'd clean out the division in no time.

Now the question I ask you is. Why is it that fighters put faith in their promoters ability to work together with different 'paywalls'? Are fighters that gullible? Are their managers and trainers side hustlers working for the promoters? For example, if you're Shakur Stevenson and you're under the assumption that you're going to get a fight with Tank Davis under the Top Rank banner, you obviously are completely ignorant to the business of modern boxing and your team is leading you down a path of lies and deceit. Why is it that fighters keep signing with promoters that can't get them the fights they need?

– Nail Rahman

Hey Nail.

I think, a lot of times, fighters get signed young and either they don't think about what's going to happen years down the road or they buy into the promoter's sales job and think things will get lined up for them as they get to the top level. Now, when these fighters re-sign with their promoters, knowing full well that re-signing keeps them out of the loop? For me, that's a pure business decision. Like in the case of Terence Crawford re-signing back in the day with Top Rank. That had to be predicated upon him and his team feeling that the right business move would be to keep taking the ESPN money for the minimal risk. There's nothing disgraceful in looking after yourself and your family by taking easier money, but that WILL have an effect on how people see you as a competitor.

Crawford is a real competitor and it clearly burned him up to have to wait on a legacy fight.

Right now, PBC does seem to have a lock on most of the high-end stuff from 135 to 168 and the few top stars in that weight range not signed with PBC may be smart to try and find a way over there. But, then again, if there's still money elsewhere, expect it to be scooped up before they head out.

Inoue-Fulton Prediction

Hello Paul,

Who do you see winning this upcoming fight between Stephen Fulton vs Naoye Inoue? But before you say Fulton because he is higher weight class and has slick skills, I would like to say a few things about Inoue. I believe he is at his best right now. After having a difficult time with Donaire their first fight, he completely DESTROYED him their second fight. And he mocked that UK champion in his last fight.

Actually, I have never seen him have that much confidence and control. Almost conceit.

And the fight will be in Japan. Serious business.

I say Inoue wins.

Thanks.

– Brian C.

Hey Brian.

I might surprise you with this, but I also think Inoue probably wins the fight.

Fulton is an underrated fighter, but I think he may have problems with Inoue's timing and explosiveness. Because of that, he may fall behind on the scorecards in the first half of the fight and, against Inoue in Japan, with not much one-punch power to score knockdowns or a stoppage, that will be a hole he's unable to climb out of. I like Fulton's versatility as a boxer who can function just as well as a battler, and I definitely think that he has at least a couple of viable paths to victory, I just don't see him winning.

I seriously hope I'm wrong, though. I'll be pulling for the American.

If Fulton Wins…

Hi Paul.

Thanks for being a voice of fairness in a biased boxing media. Here's a question for you, given that bias in the media against certain fighters and in favor of certain other fighters. If Stephen Fulton beats Inoue, does he get the acclaim he deserves? Will he shoot up the pound-for-pound list? He has to, but I say he won't. What do you think?

– Samuel from PA

Hey Samuel.

You already know the answer to that question. Of course he won't. He has to get a token spot at the bottom of these guys' pound-for-pound lists, but he absolutely will not get "he's the man who beat the man" regard by these guys who fall all over themselves to bathe foreign fighters in fawning praise. And if he slips even a little bit in his fight after beating Inoue, he'll get pulled from the list altogether. That's why I pay no attention to pound-for-pound nonsense and why I don't care what most of the media people say. The bias is real and I don't even care what the reason behind that bias is anymore (although we all know why it's there-- and it's the same reason it was like pulling teeth for Tank Davis and Devin Haney to get their proper recognition). If Fulton beats Inoue, it'll be a huge accomplishment and he deserves the highest of praise. Period. And if pound-for-pound is a thing, he'll deserve to be there, right around where Inoue is right now.

Got a question (or hate mail) for Magno's Bulging Mail Sack? The best of the best gets included in the weekly mailbag segment right here at FightHype. Send your stuff here: paulmagno@theboxingtribune.com.