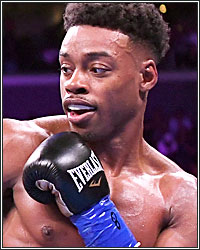 Welcome to another edition of Magno's Bulging Mail Sack, a Thursday tradition here at FightHype that routinely rattles cages, rocks boats, and way too often hurts tough guys' feelings. This week, we have comments/questions regarding Inoue, Spence-Crawford, upcoming mega-fights, and much more.

Inoue, Spence-Crawford

Hi Paul

Hope you and your family are enjoying the warm weather in Mexico.

I will start with Naoya Inoue, I can't place him as the best fighter in the planet but man...was I impressed? hell yeah! His jab is what sticks out the most for me, it reminds me to a prime Quartey.

The reason I can't place him as the best fighter yet is because even though he has been a unified champ at 2-3 weights, the only fighter he has fought with hall of fame credentials is Donaire (feel free to correct me if I am wrong). Regardless of this Inoue has a new fan in me.

The only comment I have about this Saturday's fight is that I hope Crawford dominates Errol Spence to ruin the rumored Canelo plans (if he passes through Charlo, which is not concrete). This is the only reason which I don't want this to be close.

Hope you enjoy the fight this weekend.

Best regards

– Miguel

Hey Miguel.

I'll go one step further and say that if pound-for-pound is a thing (it's not), my take is that nobody under 126 or at heavyweight can get the no. 1 spot, just because of the lack of diverse styles in those weight classes and a general lack of elite-level depth. It's hard to establish THAT level of qualified greatness if you're mostly fighting one type of opponent. For example, Terence Crawford's body of work-- if we're counting the relative skill level and level of accomplishment of competition-- surpasses Inoue's. And if Crawford beats Spence, that will surpass, by far, any win on Inoue's ledger.

Having said that, though, Inoue is clearly a great fighter and fun to watch. It's just funny to watch the level of deference some fans and media members give foreign fighters and how low the bar is for them to achieve greatness status when that bar is often placed unbearably high for our own American fighters.

If there are Spence-Canelo plans, I don't think they'll be ruined by a Spence loss. I think that fight could still be put together for fight no. 3 in the Canelo deal or maybe a no. 1 in a new deal. But Spence will be tied to Crawford via rematch clause in the immediate future, so I wouldn't worry too much about it. Plus, as you said, it's not entirely a given that Canelo beats Charlo.

Toxic Fandom

Hey brotha, hope you are doing well. I know since you are in the business of writing I guess you have to read all the nonsense online, but maybe you don't because you know your shit and no matter what anybody writes, you will still have some interesting takes! I'm only telling you this because I decided a long time ago not to read any of the comments on those threads because I found myself getting pissed off at the stupidity some people that really don't know shit about boxing write on those forums. Just some piece of advice bro because once I stopped reading that shit I found myself to be a lot happier. As long as the fight happens who gives a fuck about what those envious trolls that go online to talk down or shit on boxing because they hate their own lives have to say?

Anyway keep up the great work brotha love reading your thoughts!

Sincerely,

– Noel

Hey Noel.

Thanks for the kind words and advice. I hear you and I wish I could just completely cut out all of social media as a whole. Despite some pockets of sanity here and there, the online Universo Pugilistico is a toilet of bigotry, hatred, dumb tribalism, and misinformation (some intentional, some unintentional). Unfortunately, I do have to stay plugged in for the sake of my job. There's not a day that goes by, though, that I don't get frustrated and let down by the nonsense I see. I just gotta deal with it until I get my "fuck you" money and can retire from the business altogether, lol.

Next Megafights?

Hi Paul,

I'm going to keep it short and sweet: What are the next three Megafights you see realistically happening?

Thanks!

– Alexis Arango from Portland, Oregon

Hey Alexis.

I guess this will depend on what you count as a mega-fight, but realistically, I say: Devin Haney-Teofimo Lopez (probably happens in 2024), Tyson Fury-Anthony Joshua (also happens in 2024, if Joshua doesn't get picked off by Whyte or Deontay Wilder first), and Shakur Stevenson-Vasily Lomachenko. Just my semi-educated guesses.

Pound-for-Pound

Hi Paul!

I loved the way you acknowledged being wrong about a few things. I call it "tirarse al suelo". When you are wrong, and you realize it, throw yourself to the ground very quick, or someone will knock you. When you admit mistakes, you even take away someone's pleasure to correct you, lol.

Regarding the pound for pound lists: I think you're being a little too harsh with us, hard core fans. I love those lists. I love the way everyone gives his stupid -or less stupid- opinion about the matter. And you know what? I really think it kind of matters.

The lists entertain me. Teach me a few things. Give me opportunity to be a bit less ignorant about the boxers who appear on them. And after all, is the boxing industry not a way to entertain people? Is your dedicated work not a way to entertain us, your loyal base fan?

I'm not trying to make you change your opinion. I'm even kind of scared at you man! But I do try to say that, in a way, being at the very top of the food chain matters to the guy above all others. There have been boxers who were, in an undisputed manner, considered #1 pound for pound. I'm sure it was a great honor for Roy Jones or Floyd Mayweather, to name a few, who were absolutely the best boxers of their time.

We, from a fan perspective, generally enjoy the debate that comes from the biased or non biased point of view of the media people who write from their pockets, from their heart, or from their brain.

So, allow me to have a slightly different opinion from yours, but I think P4P rankings kind of matter. Both to the fighters and to the fans.

Saludos, estimado Mr. Magno.

– Carlos Navarro Sugich, from Hermosillo, Mexico

Hey Carlos.

If you catch me on a good day, the most positive thing you'll se me saying about pound-for-pound lists is that they're just harmless fluff. I have no doubt that the fighters see value in them as points of pride and/or marketing tools. And I know that some fans get a kick out of following this stuff and debating it.

My problem with pound-for-pound rankings is that they're completely subjective with no set criteria by which fighters are judged. And, seeing as how they're compiled by the media, they tend to be wildly influenced by bias and personal agendas. The media pound-for-pound rankings, as they exist now, are just as much an indication of media bias and preference as they are of fighter skill, ability, and body of work.

I reject the notion of pound-for-pound outright, but it's your right to enjoy these things if you like. I'm just here giving my take on things.

By the way, greetings from Michoacan.

Into The Twatterverse

Dear Mr. Magno,

Just wanted to drop you a line to say how much I enjoy your columns on fighthype.com.

In particular I enjoyed the correct and appropriate use of the word "twat" in your most recent "Notes from the boxing underground" article.

Tell me have you ever spent time in England and how do you rate our current crop of fighters?

Seriously though, love what you do, I've searched around for places you post articles but it'd be great if you could let me/your readers know where to look for you.

Best

– Ben (England)

Hey Ben.

Thanks for the kind words.

I've never had the pleasure of visiting England, but I've worked with enough Brits to pick up some of the best terms. Next, I hope to wedge in the word "bollocks" at some point!

As for the current British scene? It's seen better days. I'll leave it at that.

I write for a few different sites, but all of the "good" stuff is currently here at FightHype.com, the only place that will give me 100% creative freedom. If you want to check out some of my "classic" content, from when I was even meaner and nastier, check out: www.paulmagno.com. I'm still putting that site together, so it's not exactly a high-end layout and it only includes a portion of my complete body of work at the moment, but I think you might get a kick out of it. You'll find some serious stuff and some flat-out audaciously evil stuff (like "Jose Sulaiman and Julio Cesar Chavez Jr: An Erotic Love Story," for example). Perhaps, you'll get a better idea of why I've been blackballed by most of the establishment boxing media.

Got a question (or hate mail) for Magno's Bulging Mail Sack? The best of the best gets included in the weekly mailbag segment right here at FightHype. Send your stuff here: paulmagno@theboxingtribune.com.