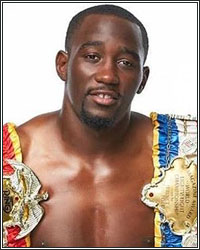 A big fight demands a big load of gooey, salty truth from the depths of my bulbous, bulging sack. So, get ready for a monstrous post-Crawford-Spence money shot this week, plus a few bits on Stephen A Smith and a revisiting of pound-for-pound stuff.

Crawford-Spence Revisited I

Good morning Paul!

This is a short list of what I saw in the fight:

- Crawford's performance was Hopkins-esque. Simply sublime footwork, counter-punching and overall ring generalship. He dismantled Spence like B-Hop did with Trinidad twenty+ years ago. An all-time performance by Bud, no question.

- Spence, though he was game from the beginning to the end, played right into the hands of Crawford. He was coming forward and backward on a straight line, loading his combinations with his hands, for a split second, both low. Crawford capitalized on that.

- From the fourth round on, Spence was out of ideas. I was wondering what could he do at that point, because he was outfought and outsmarted both on the outside and the inside. Spence couldn't impose his physicality and couldn't go to the body effectively because he was a sitting duck for Bud's return fire. If you were in his corner, what advice would you have given to Errol?

- Another bad habit of Spence-- over-reaching with the jab or staying too long idle in the middle of the exchange, cost him a great deal.

- This win cements Crawford in the pantheon of pure boxers, all-time. No-one can deny him that. However, compared even to Mayweather and Ward, Bud has by far the most paper-thin resume. Not to crap on what we just witnessed, I just wish we could get maybe another big fight out of Bud to cement his legacy even further.

What say you?

Goodnight from Italy, brother!

– Edoardo

Hey Edoardo.

All great points you make. "Hopkins-esque" is the perfect term for what we saw. Crawford absolutely dissected Spence. If you love the tactical side of boxing, what Bud did was like porn for you. For me, Crawford was my pick, always, because of his versatility, but I assumed his adaptability would be a factor DURING the fight, allowing him to make his way to a decision win with a smart Plan B or Plan C. Instead, he showed his versatility BEFORE the fight, switching things up enough to nullify Spence's best assets from the very beginning of the fight. Absolute genius. Spence's overall biggest weakness is that he fights one way and has never had to fight any other way. When things started going to shit last Saturday and he couldn't do the things he wanted to do, he was utterly lost.

By the way, this is one of the reasons I rate Crawford ahead of Inoue. Inoue's domination of Fulton was heavily physical-- the man is a phenom of raw ability and electric execution. Crawford, however, tweaked his game and targeted Spence's weakness. There was a cerebral aspect to the win that wasn't there in Inoue's steamrolling of Fulton.

If I was in Spence's corner, there wouldn't be much I COULD say at that point. He was done. Before the fight, though, I would've worked on altering Spence's timing. Maybe employ some different angles than usual. Work on being better able to tie up and rough Crawford up on the inside. You couldn't know what Crawford was working on, but you had to assume there was some high-end chess work going on in the Crawford camp. And, since completely altering Spence's style was not an option, I would've worked on being able to change up the pace and space of the fight, so Crawford couldn't so easily decipher his movements and actions.

Even doing that, though, might not have been enough.

I agree with you about Crawford's resume. Comparatively, it's thin. He might get his chance to add some heft to it now. A Boots Ennis fight and/or a Jermell Charlo fight would do that. I'd love to have a boxing time machine and see where Bud would be right now, if he had not re-upped with Top Rank five years ago.

Crawford-Spence Revisited 2

Paul, that's why when you write I read. Got to give credit where credit is due. You called it years ago. Time and time again you insisted Crawford would prevail over Spence. Crawford was by far the better fighter, athlete, and boxer.

Sadly enough, the demolition of Spence on behalf of Crawford was so obvious. I just overlooked it. A lot of others did too, but it took this fight for me to realize Spence's biggest weakness would be a recipe for disaster against Crawford. For some reason I never really realized how flat-footed Errol Spence is, and how he doesn't have any head movement skills. I mean the guy doesn't move his head for nothing and he has no lateral movement.

Conversely, we give Crawford credit for a lot of things, but his hand speed is severely underrated. On the inside with close power shots; hooks and crosses. Crawford's ability to quickly land flashing shots is impeccable. His hand speed combined with Spence's flat feet and head movement was a recipe for disaster.

Spence is looking to redeem his honor and of course he's going to want the rematch. It's going to be the same results regardless of weight. He's not going to obtain footwork and learn head movement within the next couple months.

The entire fiasco that I mentioned about Crawford wasting years with Top Rank is now meaningless. His demolition job of Errol Spence makes up for all the lack of big fights. Spence was the A side, and all Crawford did was take it from him in a complete wipeout. Spence fought all the big names PBC lined up while Crawford was getting millions fighting mismatches on Top Rank. But all he had to do was serve up a legacy defining ass whooping to negate his trials and tribulations of bad promotions.

Enough with the talk of Spence v Crawford II. I don't want to see that shit! I don't know anyone who thinks that fight makes sense. Give Crawford a homecoming match in Omaha. Then let's see Crawford v Ennis next spring.

– Nail Rahman

Hey Nail.

It was masterful and, honestly, Crawford is probably even better than I've been proclaiming all these years. As I mentioned in the response above, Spence fights in one way and has never had to switch things up. He's been THAT effective doing what he does. Against someone like Crawford, though, the hyper-focus and lack of versatility was a death sentence.

And, yeah, nobody wants to see Spence-Crawford II at this point-- except, maybe, a nest egg-minded Crawford. Somebody needs to talk Spence out of exercising the rematch clause. For me, Crawford-Boots is also THE fight, although the pull of moving to 154 for a shot at becoming a three-division, four-belt unified champ may be too strong to resist.

Pound-for-Pound Revisited

Hi Paul

Just reading your mail bag on P4P.

People often say, "if they were the same size."

But that's complicated as it means stretching or shrinking a person along with their attributes.

Is it not simply-- the best fighter in the world-- regardless of weight ?

Take care.

– Damien

Hey Damien.

That's why pound-for-pound is nonsense. There's no set criteria by which fighters are judged and ranked, so it always boils down to the media's biases and biased preferences with these silly rankings. "Who would win if they were the same size" is pure fantasy and even something like "best fighter" lacks objective meaning if there's no set criteria by which "best" is determined. Even judging fighters based on the rankings of opponents they've beaten within their own weight classes would be fairly pointless since some divisions/weight ranges are significantly deeper than others.

That's why I choose to ignore this pound-for-pound silliness. I'll leave that fluff for the fans who want to argue about stuff online and to the websites looking to grab at cheap clicks.

Stephen A Smith

Always enjoy reading your content I have a quick, easy question for you-- Why is Stephen A Smith so full of shit? He knows nothing about boxing and keeps contradicting himself on this live after the weigh-in. He's an idiot.

Thanks. Keep it up

– AF

LOL. This IS an easy one. Stephen A Smith just doesn't know boxing all that well. His boxing knowledge probably rates up there with your buddy from work who watches the big fights, but only pays attention to the main event at fight parties. Smith is on the main stage, though, because he has a big voice and a big platform. Like it or not, he's got reach that no actual boxing media person can dream to have.

Got a question (or hate mail) for Magno's Bulging Mail Sack? The best of the best gets included in the weekly mailbag segment right here at FightHype. Send your stuff here: paulmagno@theboxingtribune.com.