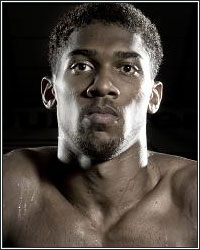 This Thursday, like every Thursday her at FightHype, I ask you to pull up a seat alongside my bulging, bulbous sack and wait for a load of gooey, salty boxing truth to be shot right into the faces of boxing's purveyors of ignorance. This week, we have questions/comments regarding Anthony Joshua, Robert Helenius, and Devin Haney vs. Shakur Stevenson.

Is AJ OK? What About Dirty Dillian?

Hi Paul.

Just wanted to get your thoughts on Anthony Joshua and his fight this Saturday. Instead of Dillian Whyte, he'll be fighting Robert Helenius on, literally, a week's notice. Do you see any complications arising from this turn of events? Assuming AJ gets by Helenius, how do you see the rest of his career playing out? What are his chances of regaining a world title and status as an elite no. 1 or no. 2 heavyweight. Also, what do you think about Whyte popping dirty again?

Thanks for putting in the work you do, I don't miss anything with your name on it because I can always count on some serious truth telling. Take care my man.

-- Terry from Philly

Hey Terry.

Thanks for the kind words.

I'm not going to go all the way out there and say that Helenius will upset Joshua, but I will say that Helenius as a +900 betting underdog (as of this writing) is a pretty irresistible long shot bet if you have some extra money laying around.

A week is very short notice, but it's not like Helenius is Pernell Whitaker. It won't take long to figure out what he does and what he'll be trying to do. The bigger concern for Team Joshua is whether Joshua's head will be rattled with the opponent change. Joshua's head has been flitty and floaty for years and we all saw how well he handled the last late replacement opponent he faced. But, having said that, Helenius is not as good or as tough as Andy Ruiz and, most likely, he'll go down hard early in the fight. By the way, Helenius fighting a week prior to the Joshua fight is, IMO, a positive for him. But it won't be a factor in this outcome.

Honestly, no matter what happens this Saturday, I think Joshua is a spent bullet and he'll never live up to the potential so many saw in him. He'll make money and he'll be able to beat opponents with his sheer physicality, but anyone approaching elite level will stand a good chance of beating him soundly. I don't believe his head and heart are in the game anymore and no trainer will put that burning drive into a fighter once its gone.

As for Whyte? Isn't this the third time in his career he's faced banned substance controversy? This is a long subject for another day, but I find it cute how people think that there's any real PEDs testing in boxing. There's not-- at least not in terms of truly random, independent testing with the regulation, enforcement, and binding consequences needed to make it truly effective. It's still a free for all out there. I try to stay away from PEDs talk for this reason. When the solution being offered up is PEDs testing conducted via the whims and whimsies of promoters and fighters, it's safe to say that nobody is really being serious about doing something.

Devin-Shakur

Magno.

Will we see Devin Haney vs. Shakur Stevenson or will that go down as another in a long line of fights that couldn't and/or wouldn't be made? From following the social media banter, it seems that Haney is not that serious about taking on Stevenson's challenge and that Stevenson is inflexible to the point of being belligerent when it comes to making a deal. What say you?

– Mark C.

Hey Mark.

Like the above mentioned PEDs stuff, social media negotiations are another thing I try to tune out. The reality is, for the most part, if people are really serious about making a fight, they don't negotiate in public-- unless it's a fighter who has no regard for his promoter's ability to negotiate fights for him, which, really, is more of a "them" issue than a "me" issue.

I don't blame Haney for not wanting to deal with Stevenson. Shakur is a tough, tough out and, possibly, a career-staller for him. And, at the end of the day, it's not all that big of a fight for the risk involved. From both a business sense as well as a practical sense, it's infinitely more logical for Haney, especially at a very young 24 years of age, to move up to 140 and pursue the challenges there. Only a Tank Davis fight would be big enough to keep him at 135.

So, where does that leave Shakur? He'll pick up some belts once they're vacated by Haney and there's at least one big fight out there under the Top Rank umbrella, against Vasiliy Lomachenko. Although, honestly, we might see Loma swerve away from Shakur for that same risk vs. reward issue. Stevenson finds himself in a bit of a Catch-22 predicament right now. He needs a truly big fight to elevate his name and bankability, but he can't get that big fight without the name value and the bankability. Will he need to leave Top Rank to get where he needs to go? I don't know. But it's beyond clear, with the story of so many stars before him and now with guys like Haney and Terence Crawford, that top fighters who maintain a level of independence and freedom tend to get to where they need to go faster and get a larger piece of the pie when they do get there.

Got a question (or hate mail) for Magno's Bulging Mail Sack? The best of the best gets included in the weekly mailbag segment right here at FightHype. Send your stuff here: paulmagno@theboxingtribune.com.