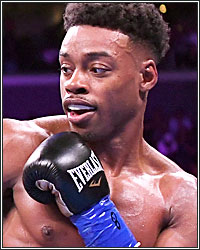 Every Thursday here at FightHype, we make a space among the video content for a good, old-fashioned written word money shot from the depths of my bulbous, bulging sack. So, get ready for some of that infamous Magno-rific gooey, salty, sometimes NSFW truth. This week, we have comments/questions regarding Errol Spence, Oleksandr Usyk, Shakur-Navarrete, the next wave of heavyweights, and the future of PPV.

PPV/Spence/Shakur-Navarrete

Hi Magno, wishing you and your family the best.

There is no doubt that illegal streaming affects the revenue of the business, but I believe that it is not as huge of a problem as it is portrayed. We can go back twenty years when there was a proliferation of the so-called black boxes in the predominant cable era, yet we would see fighters like Tyson and De la Hoya hit between one million and two million pay per views consistently. Ten years ago, illegal streaming was taking place, yet Mayweather and Pacquiao, individually did close to or over the one million mark, when they fought, it sold over four million PPV's. Recently we've had Ryan Garcia, Tank, the Logans, and the Tyson vs Jones exhibition doing great numbers. It is really a matter of having a fighter with the charisma that sparks the interest of the casual fans, as you have pointed out before. De La Hoya, Mayweather, Tyson, Ryan Garcia and Jake Paul had and have this charisma that attracts eyeballs. I truly believe that the vast majority of the fans that illegally stream fights, would not pay for the PPV, if the illegal streaming option was taken away from them. They would either watch the fight with a family member or a friend or go to a sports bar. Add the 30 percent increase to the PPV price and at the end, the promoters and networks are really not suffering that much from piracy as they complain so much about.

Instead of worrying about illegal streaming which is so hard to eradicate, they should focus on building stars, and making the super fights happen more often.

Finally, I hope that Spence takes a rest, fights Lara for the middleweight title, and rematches Crawford at a catch weight in this division, after Crawford faces Jermell. I Still have Crawford winning, but it would be more interesting and could inject the middleweight division with some much-needed hype.

Would also like to see Navarrete against Lomachencko. I don't like the proposed Shakur vs Navarrete fight; Shakur would smoke him in twelve rounds.

– Benjamin from Puerto Rico

Hey Benjamin.

I've actually been saying this for a long time. Piracy IS an issue, but the greater issue facing pay-per-view buys is the lack of mainstream/crossover star power in the sport. It doesn't take a marketing genius to see why some fighters DO produce big numbers and some don't.

The fighters who can generate big sales are those who have found a way to touch the mainstream fans, outside of the hardcore boxing base. Ryan Garcia has a huge social media presence. Tank Davis has a tremendous grassroots appeal. Jake Paul is also outside-of-boxing famous. Even going back to the 90s, guys like Mike Tyson and Oscar De La Hoya got tons of mainstream attention from media and fans-- because the mainstream embraced them and their respective stories. Mayweather and Pacquiao got their next-level star power by piggybacking off of De La Hoya and then becoming crossover stars via their non-boxing endeavors.

A fight like Crawford-Spence, which had great appeal to the hardcore boxing fan and generated a lot of "don't pirate this one" chatter, maxed out at anywhere between 550K and 700K buys. That's considered a massive success by today's PPV standards, but there was definitely a ceiling on how many buys could be expected because neither fighter had that crossover appeal.

The emphasis SHOULD be on creating the crossover stars boxing needs rather than on clutching at the coins slipping through the promoters' fingers.

And I also agree with you that most of those pirating shows probably can't/won't be converted to proper paying customers. For many, this is just a lifestyle choice and they get a kick out of playing online Robin Hood. I think very few would decide to stop, regardless of any changes made to pricing, quality of cards, or accessibility.

So, the focus should definitely be on building the appeal of the fighters and the fights, outside the world of the hardcore base.

As for Errol Spence? We'll see. I think with there being the possibility of a 154 lb. world title or two coming up for grabs fairly soon, the focus may be on him as a junior middleweight. As things stand right now, he seems set on getting that Crawford rematch next. But I would advise against that and probably have him wait on the dust to settle at 154. But fighting a smallish middleweight for a title is also an intriguing option.

And I also agree that Navarrete-Shakur would not be competitive. But to be fair, Shakur would one-side almost anyone he faces at the moment.

Usyk vs. The World

Hi Paul.

By my estimation, Oleksandr Usyk should easily beat Daniel Dubois this Saturday. But then what? Fury is avoiding him. Joshua already lost to him twice. Wilder is looking to a Joshua fight. And who knows what Andy Ruiz is thinking? Are we just going to deal with an Usyk who has to fight whoever is willing to face him? What do you see in the future of Usyk?

– Pete S.

Hey Pete.

Even with three of the four belts, there's just not much of an up side in fighting Usyk. Again, it's the risk vs. reward factor I talk about all the time. Usyk doesn't bring a lot of money to the table, so the top heavyweight money makers prefer to face someone with a more favorable risk-to-reward ratio. The big fights will eventually come to Usyk if he can stay undefeated for another year or so, entirely because he DOES have the belts.

But, honestly, I still have my doubts about whether he's a legitimate long-term, high-end heavyweight. Other than his two wins against Joshua-- which could easily have been products of a downtrodden Joshua, combined with a favorable styles matchup-- his heavyweight run has been "meh." He beat journeyman Chazz Witherspoon and then struggled his way to a close victory over Derek Chisora. That's it. Dubois is probably not going to be the one to test Usyk's realness, but he COULD be. I think any big heavyweight with a decent punch and a willingness to let his hands go could be the one to end Usyk's run at the top of the division.

The Next Wave of Heavyweights

Hey Paul,

Outside of Jared Anderson, who do you think are the next up and coming heavyweights that will make some noise in the division? At first I was thinking Efe Ajagba until I watched and lost $200.00 on his fight with Frank Sanchez.

Guys like Daniel Dubois are good, but based on what I see he's not going to be elite anytime soon. Guys like Dillon Whyte, Andy Ruiz, Derrick Chisora, Tony Bellow, Joe Joyce etc... are more like fill-ins to stack undercards.

I'm sick of all of the Fury, Usyk, Joshua and Wilder nonsense. And don't forget Eddie Hearns weekly "Deal Finalized Next Week" crap! I rather spend my time catching up on up and comers.

Damn I miss Tyson, Lewis, Holyfied and Bowe. Hell, I'll even take Wladimir and Vitali Klitschko.

Regards.

– Reggie Cannon

Hey Reggie.

There's not a lot happening beyond the top 5 or so-- and, lately, there's not a lot happening within the Top 5, either. Sad to say, but I don't see a whole lot when it comes to up and comers. Beyond Jared Anderson, there's Arslanbek Makhmudov, Bakhodir Jalolov, and I do kind of like Lenier Pero. Makhmudov is 34 and Jalolov and Pero are 29 and 30, respectively. So, they aren't exactly young in the boxing prospect sense. All have size and power and Makhmudov already has some good wins over solid gatekeepers. Nobody strikes me as especially special, to be honest. Only Anderson has that potential.

Got a question (or hate mail) for Magno's Bulging Mail Sack? The best of the best gets included in the weekly mailbag segment right here at FightHype. Send your stuff here: paulmagno@theboxingtribune.com.