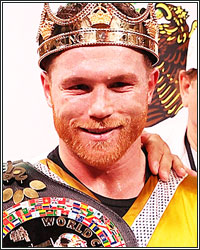 What do you do if you've already had a Hall of Fame career and have made more money than you could ever spend in a dozen lifetimes?

If you're me, you sit your ass down and give in to the wonderful world of gluttony and vice.

If you're Saul "Canelo" Alvarez, however, you keep plugging away, doing more, getting more, being more.

That's why Alvarez is universally regarded as one of the very best in his profession, raking in the big bucks and, conversely, why I'm not at all regarded in my profession, warming up leftover, slightly off, enchiladas for lunch.

Alvarez's insane drive is what made him a star. It's what continues to propel him forward, into a bout this September 30 at T-Mobile Arena in Las Vegas against unified junior middleweight champ Jermell Charlo when he could be playing golf full-time and lighting cartoonishly large cigars with hundred dollars bills (which, I assume, is what all rich people do).

The red-headed, freckle-faced kid from the Mexican Heartland, born and raised just outside of Guadalajara, Jalisco, was born driven. He was thirteen when he first seriously put on the gloves and, at 15, turned pro, beating grown men and working his way from local curiosity to regional attraction to national draw. By 17, he was already talking publicly about his desire to be a legend in the sport and, specifically, a legend in the eyes of Mexican fight fans. At 20, he formed his own promotional company and was overseeing his own rising career. The rest is world stage boxing history.

But it hasn't always been smooth sailing for Alvarez. The boxing world is a fickle one and one where the new and different are not exactly welcomed with open arms.

When some high-profile Mexican boxing legends blasted his quick and, in their estimation, too-early rise to prominence, a young Canelo could be seen seething at the doubt cast on his path to legend status.

And, through the years, actually up to the present tense, doubting and debasing Alvarez has been a cottage industry of sorts in the sport.

There's always been something in the way when it comes to giving Alvarez full credit—and, to be fair, that "something" is sometimes of Alvarez's (or his team's) own doing-- like that whole clenbuterol situation and the pockets of soft touches he's harvested at various points of his career. But, often, Alvarez is blasted just for being Alvarez—a guy fight fans (who often fancy themselves "hard" for following a hard sport) feel got fame too easily, got money too easily, smiles too impeccably, pouts too frequently, and generally doesn't fit into the standard casting idea of what fighters should look like and talk like. When you show up to weigh-ins in silk pajamas a certain portion of boxing fans will go out of their way to hate on you. And, unlike other Mexican legends, Canelo doesn't bleed and he doesn't generally struggle. As a superstar, he's not the rough around the edges blue collar bad-ass fans associate with Mexican fight fame.

Even when he went through a torrid 11-month, 4-fight run that saw him fully unify the super middleweight division, some fans poked holes in the feat. He fought all the champs-- but not necessarily the toughest fighters in his weight range.

A failed run at Dmitry Bivol's WBA light heavyweight title and a tepid win over Gennadiy Golovkin in their third go-round, had the critics semi-giddy. A somewhat lackluster and sloppy effort in dominating the wildly overmatched John Ryder in Guadalajara this past May seemed to reinforce the idea that Alvarez was now, officially, past-prime and on the quick decline.

And all of this doubt and direct/indirect derision is exactly what a millionaire in a poor man's sport needs.

"We'll see if it's true that I've lost a step. We'll see," Alvarez told media at a recent press conference to hype his fight with Charlo. "I understand what the people said and I agree. I didn't look my best in my last two fights, but I know why and I'm ready for this fight. We'll see what happens. We're going to see something different."

Alvarez's ego wasn't going to let him sit around soaking up criticism and accepting a diminished spot at the top of the sport. In June, the 33-year-old Mexican star signed a 3-fight deal with PBC, home to all of the biggest challenges for him-- Jermell Charlo, Jermall Charlo, David Benavidez, Demetrius Andrade, David Morrell, and, even, the beefed-up winner of Crawford/Spence. As the kids say, he wanted all the smoke.

A big ego is a prerequisite for accomplishing big things, especially in a sport like boxing where a fighter puts himself out there, alone, to live or die based on his own ability and execution. Nobody became successful at anything, including boxing, without a raging case of "look at me and what I can do!" Alvarez, though, has seemed particularly ego-heavy throughout the years—and it's something that pushed him, perhaps, to be a better fighter than his natural assets suggested he could become. Without that drive to be the legend he saw himself becoming, he most likely would not have worked as hard on certain nuances and tactics to match more naturally gifted athletes.

That ego, that hunger, that drive is what brought him to PBC, to Jermell Charlo, and to a run that looks to be every bit as ambitious as any other run in his career.

As a fighter with firm plans to walk away at 36 or 37, Alvarez recognizes the need to light a fire under himself for this last chapter of his career. Time will tell if that fire fuels him to further greatness or if it burns him to the ground.