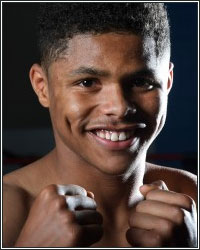 Every Thursday here at FightHype, I pull out my gigantic, bulbous, bulging sack and give truth-minded boxing fans a gander. This week, I shoot ropes of truth all over comments/questions regarding Shakur-Martin, Crawford-Spence 2, and Ramos-Lubin.

Shakur vs. Martin

Hey Paul.

Shakur Stevenson-Frank Martin just got announced today (Tuesday), but I see people all over Twitter bad mouthing the fight and bad mouthing Frank Martin. Isn't this what everyone says they want-- fighters daring to be great and isn't this fight the best one among fighters willing to fight Shakur? Make it all make sense!

– Sam from Detroit

Hey Sam.

Don't get me started. Frank Martin is catching more flak for making the fight with Shakur Stevenson than Vasiliy Lomachenko got for turning it down. Seriously. This criticism and snippy "he's gonna get exposed" dip-shittery comes from the usual PBC Hate Squad. But, still, it hits a nerve with anyone even marginally interested in fairness and in having a consistent set of moral/professional standards when it comes to boxing.

This reaction from the other day does, however, serve to single out those who are just bursting with agendas and to reinforce the idea that they will never, under any circumstances, ditch their bias.

Honestly, I can't think of a reason in the world people wouldn't be happy this fight was made. Granted, I'd rather see Shakur against Haney, Tank, or Lomachenko. But with those fights out of reach, Martin is the best remaining option out there at 135. I think Shakur will prove to be a full level above Martin, but it'll be a good matchup nonetheless. If "daring to be great" and "crossing to the other side of the street" to make a fight are issues with you, then you should be really happy with this fight being made. You should be applauding Martin, not firing off angry tweets about him.

But, I think we all know, that none of this is really about boxing for these people.

Ramos vs. Lubin

Hi Paul.

While everyone's talking about the Canelo-Charlo fight in the main event on September 30, I'm all about the Jesus Ramos-Erickson Lubin war that will be taking place on the undercard. This one has Fight of the Year written all over it. Personally, I think Ramos wins and he starts to make his case as the future of 154. What do you think about Mono-Lubin?

– Luis

Hey Luis.

I like Ramos-Lubin a lot and it's a ballsy fight for both sides. Lubin is putting himself in a "must win" situation with this one and he's doing it against a raging bull of a fighter. He's had a tough luck career so far-- clipped by Jermell Charlo in 2017 and battered by Sebastian Fundora last year in fights that, with the right tweaks and/or changes in fortune, he could've won-- so I think the risk is necessary at this point. He needs a big, high-profile win or he'll have a tough time getting back to the near-top. Ramos, meanwhile, will be facing the best fighter of his career in Lubin and he needs to showcase his world class chops, especially for Canelo's Mexican audience. This will be one of those fights that I hope the casuals at the PPV fight party actually watch.

Errol Spence in the Bud Rematch

Hi Magno.

Spence is going to be wrecked in this rematch with Bud Crawford. I don't even know why he'd exercise his rematch clause. Maybe he wants that one last payout. Make no mistake, Errol is going down harder this time. It's going to be ugly.

– T-Stone

Hey T-Stone.

I can't say that I disagree all that much with your take on how the Crawford-Spence rematch will play out. Boxing conventional wisdom says that whoever won the first fight will probably win the second fight, and more convincingly. Crawford's win had nothing to do with Spence being weight drained or physically limited from past accidents/injuries. It was a tactical master performance that made that fight look easy. For Spence to have a chance in the rematch, he'll have to make some drastic changes to his style, his technique, and to his basic ring approach. Spence will essentially need to change everything about who he is as a fighter. Can this be done? It's remotely possible, but not at all likely. I think Spence may be able to hold out longer and negate some of Crawford's effectiveness, but just a little...and not enough to win. I'd love to be proven wrong, though. I'd love for this fight to be a competitive back-and-forth war. We'll just have to wait and see.

Got a question (or hate mail) for Magno's Bulging Mail Sack? The best of the best gets included in the weekly mailbag segment right here at FightHype. Send your stuff here: paulmagno@theboxingtribune.com.