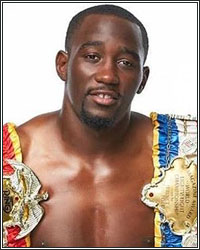 Every Thursday, right here at FightHype, I take time out of my busy schedule of producing hateful content to address readers' questions and comments regarding the sport we all love (and sometimes love to hate). This week, we tackle the continued saga of "diminished" Errol Spence and "difficult" Terence Crawford. We also look at William Zepeda and whether he's "the real deal" or just another low-ceiling, but entertaining scrapper.

Spent Spence, Tainted Crawford?

Hi Magno,

I know that I've busted your chops before about being a Crawford fanboy and as much as I would like to give him his flowers (seriously), I'm just not ready to get on board just yet. So, two questions I'd like to get your take on:

1) Was Crawford beating Spence a bad thing?

Crawford has a reputation for having unreal (some might say delusional) expectations when it comes to his terms for making fights. He does not seem to have a firm grasp of the value that he brings to an event and has admitted himself that the fight with Spence would not have happened without Spence making concessions. Are we in for another few years of Crawford pricing himself out of fights? There are RUMORS that he is wanting more money if Spence wants the rematch to be at 154. Additionally, it seems that his ego is already getting the best of him with his recent Twitter rants against potential PBC opponents Keith Thurman and Danny Garcia, claiming that they will never get a fight with him for claiming that the Spence that Crawford beat was not the same Spence that Garcia fought. Which brings me to my next question.

2) Was the Spence that Crawford fought the same Spence that Porter and Garcia fought?

It seems that more and more people are coming out saying that there was something wrong with Spence. For example, the Garcia and Thurman interviews that sent Crawford in to his Twitter rant. I think that, if we were to be objective and look at the body of evidence, it's fairly simple to come to the same conclusion. I can't remember the last time I saw Crawford beat someone as bad as he beat Spence. Crawford's last 7 opponents did better against him than Spence did, and that list is by no means a "who's who" of boxing: Jeff Horn, Jose Benavidez, Egidijus Kavaliauskas, Kell Brook, Shawn Porter, and David Avanesyan. So, we have three options, 1) These guys are all better than Spence 2) Crawford got exponentially better virtually overnight or 3) Something was not right with Errol Spence. Given that 1 is simply not true and given that the probability of Crawford getting that much better at this stage of his career is low, I think that option 3 is the most likely explanation, something was not right with Spence. I mean, we are not talking about Crawford washing a Benavidez or a Porter, which he did not. He totally washed Errol Spence, a career-long welterweight and legit pound-4-pounder.

Yes, Crawford is a great fighter, a phenomenal talent, and I know people are going to say I'm making excuses for Spence, yada-yada, but given the data, I think that there are question marks around his win over Spence. Maybe Spence is finished? Maybe it was the weight? Who knows? But we all know that was not the Spence that we are used to seeing. What do you think?

Appreciate You.

– Will

Hey Will.

1) When it comes to the business side of the sport, Terence Crawford has always been his own worst enemy. Now, people could probably take me to task for saying that since the guy did have a lucrative ESPN deal as a Top Rank fighter and he fell into that big money/easy work bout on BLK Prime against David Avanesyan. And, of course, he then got the huge payout with Errol Spence. But, really, he could've done significantly better-- both in terms of legacy and money.

Crawford, despite being elite-level inside the ring, was belligerent with media and standoffish with fans and when he had the chance to become a promotional free agent in 2018, instead of following the freeman path to superstardom paved by names such as Oscar De La Hoya, Floyd Mayweather, and Saul Alvarez, he made the decision to take the sure-thing money and re-sign with Top Rank, despite knowing full well that the promotional company would be unable to deliver him the "big" legacy fights he craved. The decision effectively ended his run at the elite in the welterweight division before it even began.

As I wrote for my other gig, at the fully rebooted The Boxing Tribune (www.theboxingtribune):

"But those five years lost chasing shadows and openings that never came, spinning his wheels with fights against Jose Benavidez, Amir Khan, and The Mean Machine, were of his own doing. In some alternate universe where Crawford realized the value of free agency and took his talents to the open market back in 2018, he'd have already notched wins over Thurman, Garcia, and a prime Porter by this time and, most probably, it would've been Errol Spence coming to him for a legacy fight and not the other way around."

And, honestly, the reality is that Crawford never even would've had the opportunity to showcase his greatness against Spence without Spence and his people being open to the fight-- something that Crawford, himself, acknowledged to Spence moments after his victory. Spence absolutely did not HAVE to fight Crawford.

Men don't change. Not really, anyway. And, after the post-victory glow, we're seeing Crawford go back to being Crawford. Unfortunately, that probably means we'll again see him grasping at mountains while stalling himself on speed bumps. This time, though, as THE man at 147, he's failings will serve to roadblock the entire division.

2) I don't think we can draw those kinds of conclusions between Crawford's past performances and his performance against Spence. The great ones generally DO rise to the occasion and it makes sense that Crawford would be better prepared for this biggest fight of his career against his biggest opponent to date. It stands to reason that he'd be sharper and more motivated for that fight than he was for any other.

I just don't like to disrespect a man's accomplishments because, ultimately, when two fighters enter the ring, they are both signing off on being fully prepared for the fight. No excuses. If you make the decision to get into the ring, you forfeit your right to claim you weren't at 100%. Spence's state of mind/body is not Crawford's responsibility.

Having said that, though, it's reasonable to believe that the Errol Spence that fought Terence Crawford was not PRIME Errol Spence. Did the accident(s) and eye surgery diminish Spence as a main stage fighter? Maybe. It's just as likely, though, that the inactivity brought on by the car wreck and the surgery had just as much of an impact on Spence's performance. Coming into the Crawford fight, Spence had only fought three times in close to four years, with significant time spent unable to train during that run due to his injuries.

Still, though, that's not Crawford's fault. Bud signed up to fight Spence. It was Spence who decided which version of himself Crawford would meet.

Stylistically and strategically, Crawford delivered a masterful performance. He figured Spence out, shut him down, and took him out. It's hard to imagine any version of Spence not getting beat by Crawford. I think this victory was more tactical than physical. An absolute prime Spence may have lasted longer and may have put up more of a fight, but, IMO, the end result would've been the same.

But, as you know, I've always been a Terence Crawford true believer, lol.

William Zepeda

Hello Paul

Hope you and your family had a nice Independence Day weekend. I would like to get your input on William Zepeda. I am Mexican so I will always be excited when a prospect meets the eye. I was so impressed when he defeated Hector Tanajara, he had all that volume and Mexican technique mix which reminded me of Margarito (believe what you want about the guy, but he brought excitement during his fights). Then I started seeing some of his fights with Rene Alvarado and some other guys and I am into the idea he is sadly an illusion, his chin is not there and that is a must if you want to maintain that style at elite level.

The only elite fighter I see him beating is Devin Haney. Haney does not have the best chin himself and he does not possess the power to make Zepeda think. You would think he would clinch his way to a decision, but with so much volume coming his way I doubt he can get away with it.

Best regards.

– Miguel

Hey Miguel.

Zepeda reminds me a lot of Lucas Matthysse from a few years back. I don't mean stylistically, but in terms of how impressive he looks when matched "right" and the way fans/media have fallen in love with his style. I feel, though, that when he meets someone who can box and move and think in there-- like Matthysse did versus Danny Garcia-- he'll look significantly less impressive. And, given his chin and the way he takes punches, I think, at the elite level, the wheels may fall off the bandwagon cart in a very ugly way. Zepeda will have his successes, but I think guys like Shakur Stevenson, Tank Davis, and Vasiliy Lomachenko would make him look very bad. I even think Haney would shut him down because of his speed and athleticism. The truth is any boxer/mover/stylist may give him real trouble. He certainly is entertaining, though.

Got a question (or hate mail) for Magno's Bulging Mail Sack? The best of the best gets included in the weekly mailbag segment right here at FightHype. Send your stuff here: paulmagno@theboxingtribune.com.