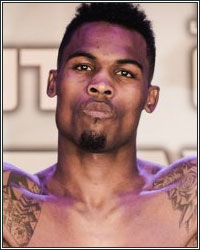 Every Thursday here at Fight Hype, we make a space among the video content for a good, old-fashioned written word money shot from the depths of my bulbous, bulging sack. So, get ready for some of that infamous Magno-rific gooey, salty, sometimes NSFW truth. This week, we have comments/questions regarding Canelo-Charlo, Ellerbe-Tank, and Big Bang Zhang.

Canelo vs. Charlo

Hey Magno.

Okay, gun to head time. Who wins this Saturday-- Canelo Alvarez or Jermell Charlo? And how does he win? No cop outs, either. Tell us like you have to put money on it. Break it down for us.

– DJ

Hey DJ.

I see legitimate paths to victory for both guys. But, gun to head, I'd pick Canelo by late stoppage. Charlo has the ability and the skill set to do everything Dmitry Bivol did to Canelo-- and he's shown bits and flashes of being able to do that-- but he's never executed that focused of an effort, over the course of an entire fight. It's a big leap of faith to assume that he'll suddenly be able to do that against the biggest and best fighter he's ever faced. Just watching the video of his first fight with Brian Castano and the way Castano found ways to get inside to land big shots should give anyone real doubts as to Charlo's chances.

But, like I said, Charlo has everything to be ABLE to beat Canelo. If he puts in the effort of his lifetime, he can win and I honestly would not be all that surprised. The problem is that I think Canelo will be extra sharp coming into this bout after three straight lackluster outings and won't allow Charlo to get into his groove.

By the way, I don't think size will be a deciding factor in the fight. Charlo may be moving up two divisions for this fight, but everyone fights below their "walking around" weight these days and I'd be willing to bet that Charlo is a real-life 180-pounder anyway. Not having to drop down so low below his natural weight is a benefit for a 30-plus-year-old fighter. Alvarez, meanwhile, has probably maxed out on his fighting weight and is fighting as heavy as he successfully can.

I like Canelo-Charlo, though, and I think it should make for a compelling watch.

Big Bang Zhang

Hi Paul.

I think I really underestimated Zhilei Zhang. Hell, I picked him to lose twice against Joe Joyce. I'm more and more liking his chances against the top names in the heavyweight division and I think he can beat any of them on any given night. He's big, strong, and always focused. How do you see him matching up against guys like Fury, Usyk, Joshua, and Wilder?

– Simon

Hey Simon.

I've slept on Zhang, too. He's a big guy with legitimately heavy hands and surprisingly smooth punch delivery. It also doesn't hurt that he's a southpaw. I haven't seen it mentioned anywhere else, but being a southpaw in the heavyweight division is a big plus. There aren't a whole lot of high-end lefties among the big guys. Joe Joyce, for example, had only faced one southpaw as a pro before meeting Zhang-- Lenroy Thomas way back in 2018. There just aren't that many southpaws out there and not even that much in terms of quality southpaw sparring. This helps Zhang to a significant degree.

But we also have to put things into perspective here. Prior to meeting and beating Joyce, Zhang's only main stage claim to fame was a relatively close loss to Filip Hrgovic last year. Before that, he wasn't even fighting quality journeymen. He had a draw with Jerry Forrest in 2021 and had high-water mark wins against B-team journeymen Andrii Rudenko and Devin Vargas in 2019 and 2020, respectively. It's too early to definitively say that his domination of Joyce wasn't simply due to having the right style at the right time against the right opponent.

Having said that, though, he's a big guy with a punch and legit self-confidence. That makes him capable of beating anyone on any given day. All of the top heavyweights right now are dripping with real, exploitable weaknesses-- except for Tyson Fury, who doesn't seem all too eager to fight any real boxer anytime soon.

At the very least, Zhang will be an entertaining contender.

Ellerbe-Tank, What's Up?

Hi Paul

Hopefully this email finds you well...I want to ask a simple question that I don't have a clear answer for.

What is Leonard Ellerbe's role in Tank's promotion? With Tank's recent announcement of him delaying his return to 2024, Ellerbe still has things to say such as he is not fighting Shakur or Haney. Last I heard, he was not Tank's promoter, but he keeps talking about plans for him.

P.S. This guy annoys me big time since the Mayweather era.

Best Regards.

-- Miguel

Hey Miguel.

I honestly don't know to what extent Ellerbe and Tank Davis are still working together. I was under the impression that there wasn't anything more than a friendly informal adviser-ship at the moment. I saw the video you were referring to, the one about not fighting Shakur or Haney. What I think happened there was that Ellerbe was asked about those potential matchups for Tank and he gave what he said was his personal opinion. The way the clip was cut and posted on social media, it gives the impression that he was speaking in a much more formal capacity. But he clearly says that he's merely giving his personal take.

Video without context, shared on social media, especially by those with some sort of agenda, is the bane of my existence as someone who tries to deal in truth and reality. But, what can you do?

Got a question (or hate mail) for Magno's Bulging Mail Sack? The best of the best gets included in the weekly mailbag segment right here at FightHype. Send your stuff here: paulmagno@theboxingtribune.com.