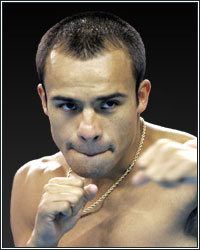 In the latest episode of Mayweather vs. Marquez 24/7, lightweight champion Juan Manuel Marquez revealed the secrect to his success in his recent string of victories since losing a razor thin split decision last year to pound-for-pound king Manny Pacquiao. "I think that this has helped me. I've done it for the last five or six fights with good results. I also drink my urine because that's where a lot of proteins and vitamins are, part of your vitamin intake, and why not drink them again instead of wasting them," he stated as he discussed some of his unorthodox training methods, which includes drinking his own urine.

Although the drinking of his own urine may be extreme, it's just one of many techniques Marquez is utilizing as he trains for his anticipated September 19 clash with Floyd Mayweather Jr. Lifting rocks in the mountains of Mexico at an elevation of 14,000 feet, Marquez is preparing his body for the move up in weight. "The training needs to be a different for this fight because it is at a different weight. As we are going up in weight, we are working out to gain muscle, working in the altitude to get our legs, core and arms stronger," he commented. On a consitent diet of raw quail eggs, 25 to be exact, Marquez has worked hard to add size and muscle to his lightweight frame. Several times a week, he also visits a hyperbaric chamber. "For me, the use of the hyperbaric chamber after a day of training is fundamental. I come here and it helps me recuperate. It helps me feel better. We look at it as an extra point in the preparation for the fight and this has helped us a lot," Marquez explained.

The extreme measures that Marquez is going through in training proves that he is a fighter that will go to any length to gain an edge inside the ring. With the bout less than 14 days away, the lightweight champion is eager to shock the world and pull off the upset and he's willing to go out on his shield if necessary. "I fight for all my family, for my parents, brothers, my children most of all. When I'm along and I visualize it, I see that it's going to be a difficult fight. I'm preparing myself to die in the ring," he reiterated.

For the record, current UFC light heavyweight champion Lyoto Machida is also a fighter who drinks his own urine during training leading up to his bouts and, thus far, the peculiar practice has worked as Machida is undefeated in his mixed martial arts career. Come September 19, we'll find out how well it works for Marquez.
[ Follow Ben Thompson on Twitter @fighthype ]