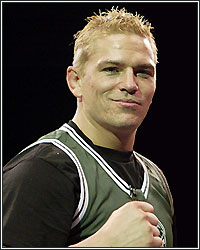 According to trainer Shawn Tompkins, MMA lightweight Chris Horodecki will be heading to the WEC. "It looks like Chris Horodecki will be showing up in the WEC," Tompkins revealed in a recent conversation with FightHype.com. Although contracts have yet to be finalized, Tompkins seemed confident that a deal would be in place within the next couple of days. "We are really close to solidifying the rumor and within the next day or two, I should be able to tell you for sure," he added.

According to Tompkins, Horodecki loves the organization and is really excited about the move. Having high hopes for his young protégé, Tompkins expects Horodecki to be fighting for a title very soon. "Chris would love to go for that WEC lightweight title," he remarked.

The baby-faced Polish fighter is 13-1 and currently riding a 2-fight winning streak, including his very first submission victory over veteran William Sriyapai at Ultimate Chaos back in June. His only loss came via 1st round TKO at the hands of Ryan Schultz in the waning days of the IFL.

It will be interesting to see if Horodecki can hold his own against the many talented lightweights already with the WEC, including Benson Henderson, Donald Cerrone and Jamie Varner just to name a few. Full interview with Shawn Tompkins to follow shortly.
[ Follow Percy Crawford on Twitter @MrLouis1ana ]