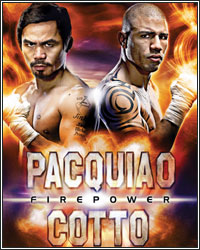 Both Manny Pacquiao and Miguel Cotto made weight for their highly-anticipated clash this Saturday at the MGM Grand in Las Vegas, Nevada. A ripped and ready Manny Pacquiao weighed in at 144 pounds as he smiled and laughed with the crowd in attendance. In contrast, an intense Cotto had no problems making the agreed upon weight as he tipped the scales at 145 pounds. Both fighters looked to be in great condition and ready to go to war.

Cotto appeared to look bigger in his upper body, but Pacquiao's legs looked monstrous...like bodybuilder legs. At one point, Cotto did crack a brief smile as he looked up at the crowd and let it all soak in. There was a moment when both trainers exchanged words, as Roach questioned just how close Cotto was to making the weight. When both fighters met face to face, a steely-eyed Cotto didn't take his eyes off Pacquiao, who simply smiled at him and patted him on the arm.

Entourage's Jeremy Piven interviewed both fighters aftwards:

Cotto on cutting weight...

"I'm pretty healthy. I ate really well for this fight. My health and my strength is too much for tomorrow night."

Pacquiao was all smiles as he threw out souvenirs to the fans in attendance.

Pacquiao on how long he obstains from sex before a fight...

"This is like Jimmy Kimmel Show, huh? It's funny. Of course when I start my training, I have to focus on my training and focus on the fight. No more night time."

Pacquiao on his concert after the show...

"After the fight, we have an after-fight party at Mandalay and I'm going to sing 8 songs with my band from the Philippines and I hope you will come after the fight."
[ Follow Ben Thompson on Twitter @fighthype ]