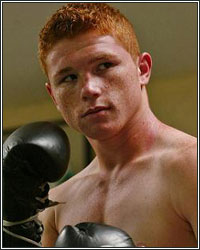 At just 19-years-old, Mexican boxing wunderkind Saul "Canelo" Alvarez holds an undefeated record of 31-0-1 (23 KOs). In his four years as a professional fighter, the biggest challenge of his career will come in the form of Puerto Rican Jose Miguel Cotto, the older brother of superstar Miguel Cotto, and whose record of 31-1-1 (23 KOs) mirrors that of Alvarez, except for his one loss, a disappointing unanimous decision defeat at the hands of the former Undisputed Lightweight World Champion Juan Diaz. Alvarez and Cotto will face off on May 1 as part of the televised pay-per-view undercard of Who R U Picking? Mayweather vs. Mosley with Alvarez making his HBO Pay-Per-View® debut.

A punishing puncher, "Canelo" has yet to be tested by the likes of a veteran opponent of Cotto's caliber.

"I know what I'm up against," said Alvarez. "It doesn't faze me. I want to be a world champion; beating Cotto will get me one victory closer to achieving my goal."

The older Cotto knows a thing a thing or two about world titles. Having been close to winning the WBA World Lighweight title twice (once in the Diaz loss and another in a draw against Prawet Singwancha), Cotto knows a world title is not as easy to capture as it seems.

"This is going to be a great fight, a war inside the ring," said Cotto. "My experience will show him what I'm about. Alvarez doesn't know who he is about to fight. I will have a big win on May 1."

Although Alvarez's goal may seem lofty, he has been preparing since he first started boxing eight years ago, when he picked up the sweet science at age 11 and subsequently dropped out of school in the eighth grade, against his parents' wishes, to pursue boxing full-time. It was after seeing his oldest brother Rigoberto (Rigo) make his professional boxing debut, "Canelo" was hooked.

Now in his fourth year as a professional, Alvarez holds the NABF, WBA Fedecentro, WBC Youth, and WBO Latino welterweight title belts and since turning pro, has certainly made his mark. Known in his native land as "Canelo" ("Cinnamon") for his white skin, freckled face and red hair, he has turned into a fan favorite, becoming a boxing rock star, drawing multitudes of fans and selling out large venues up to 15,000-seat capacity. Golden Boy Promotions' President and 10-time world champion, Oscar de la Hoya, has high hopes for Alvarez. "I think he has it all," said De la Hoya. "He has the skills and the charisma. He can be a superstar; it's only a matter of time."

For Alvarez, coming to America, where he has only fought twice before in 2008, means the next step. He hopes to lure Mexican American fans to join his followers and to become what other great Mexican champions such as Chavez, Morales and Marquez have become-a hero representing the great pride and tradition of the storied Mexican fighter.

"I fight for my people each and every time I step in the ring, and now to fight in Las Vegas on such an important night of boxing is the next step of my career," said Alvarez. "It's a very important fight for me and it's an honor to be part of this big Mayweather vs. Mosley event. Making it an even bigger fight, it's taking place on Cinco de Mayo weekend, it continues the great boxing tradition of Mexico vs. Puerto Rico and I am facing a tough opponent in Jose Miguel Cotto in order to show the world that I am a great fighter and a future world champion."


---
Alvarez vs. Cotto will be the bout immediately preceding the main event bout between boxing superstar and six-time World Champion Floyd "Money" Mayweather and welterweight mega-star, five-time World Champion and current WBA Welterweight World Champion Sugar Shane Mosley. Mayweather vs. Mosleyis promoted by Mayweather Promotions and Golden Boy Promotions, and sponsored by Cerveza Tecate, AT&T, DeWALT Tools and StubHub. The 12-round welterweight battle is set for Saturday, May 1 at MGM Grand in Las Vegas and will be produced and distributed live on HBO Pay-Per-View® beginning at 9 p.m. ET/6 p.m. PT.
The other televised undercard bouts include Daniel Ponce De Leon (38-2, 32 KOs) against Cornelius Lock (19-4-1, 13KOs) in a 10-round featherweight contest and Hector Saldivia vs. Said Ouali (26-3, 18KOs) in a 10-round welterweight fight.
Tickets, priced at $1,250, $1,000, $600, $300 and $150 not including applicable service charges, are on sale now and limited to 10 per person and ticket sales at $150 are limited to two (2) per person with a total ticket limit of 10 per person. To charge by phone with a major credit card, call Ticketmaster at (800) 745-3000. Tickets also are available for purchase at
www.mgmgrand.com
or
www.ticketmaster.com
.
Seven of the MGM MIRAGE properties will host closed circuit viewing of Mayweather vs. Mosley. Tickets for the closed circuit telecasts at all venues are priced at $50, not including applicable service charges and handling fees, go on sale today. All seats will be general admission and will be available at each individual property's box office outlets and at all Las Vegas Ticketmaster locations (select Smith's Food and Drug Centers and Ritmo Latino). To charge by phone with a major credit card, call Ticketmaster at (800) 745-3000, or visit
www.mgmgrand.com
or
www.ticketmaster.com
. Ticket sales are limited to 20 per person.
The Mayweather vs. Mosley pay-per-view telecast, beginning at 9 p.m. ET/6 p.m. PT, has a suggested retail price of $54.95, will be produced and distributed by HBO Pay-Per-View® and will be available to more than 71 million pay-per-view homes. The telecast will be available in HD-TV for those viewers who can receive HD. HBO Pay-Per-View®, a division of Home Box Office, Inc., is the leading supplier of event programming to the pay-per-view industry. For Mayweather vs. Mosley fight week updates, log on to
www.hbo.com
.
An all new episode of HBO®'s all-access reality series "24/7 Mayweather/Mosley" debuts Saturday, Apr. 24 at 8:30 p.m. ET/PT. Episodes one and two are available on HBO ON DEMAND®. The four-part series chronicles the backstories of the two prizefighters as they prepare for their May 1 welterweight showdown in Las Vegas.