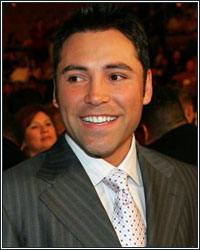 When Oscar De La Hoya announced his socialist wet dream of becoming the only promoter in boxing and eliminating all competition, people rolled their eyes and scoffed it off. Top Rank President Bob Arum, who has done just as much privatizing of the sport among his own fighters, called him an idiot, and Gary Shaw jokingingly stated his intention of filling out a job application with De La Hoya's company. It seems that his idea has been met with much resistance, as nobody is really is on board with what he has to say.

Well, everybody except me.

De La Hoya is on the right track, but instead of an all-mighty promoter running the show, why not an all-mighty commission? For quite some time, I've told anybody that could listen that a federal commission, or just a commission based in the United States, could greatly enhance the quality and legitimacy of the sport. Boxing is too big of a sport to be run like the UFC. Plus, the game has been around for over a century, so any type of consolidation tactics like this one simply wouldn't work.

A commission, however, could be put in place with the following purposes:


Ensure that all State Athletic Commissions have unified rules that ensure fairness for the safety of all fighters above all things. This would include a yearly physical and neurological testing before granting a license; not to mention, Olympic-style drug testing for every fight – or at least much better testing than what currently exists.


Properly train ringside judges, referees and other offiicals, to enforce fair scoring and the following of proper procedures in and out of the ring, like hand wrapping.


Unify the major sanctioning bodies to create one system that will be easy to understand and thus eliminate all other frivolous belts, like the idiotic WBC silver belt. The goal of the commission would be to pursue a unified champion in every division to give the sport identity and to ensure that the best are fighting the best.


Set up a retired fighters fund and health insurance for those who gave so much in the ring only to leave with neurological damage or nothing at all.


Ensure that fighters are fairly compensated for their fights, to avoid being a victim of crooked promoter and their accounting practices.
While there are other functions I think a commission can hold, I couldn't imagine anything more important than the issues stated above. Stability wouldn't come to the sport right away, but it would better increase the quality of the sport and make sure that the people in the ring are being taken care of. My dream envisions an ideal work environment for the fighter. De La Hoya, on the other hand, is just trying to make a big cash grab.
What De La Hoya failed to disclose is that promoters in and of themselves have driven the sport to where it is; De La Hoya and Arum more so than others because of their inability to work with each other, using boxing as a battlefield instead of a sport. Plus, if you were to pick anybody to become a boxing czar, why would you pick De La Hoya? This is the same man who tried to steal Manny Pacquiao from his Top Rank contract with a briefcase full of cash. Does he seriously think he is the right man for the job?
Alas, a change like this is way too big for the sport to comply to at once, especially considering that all the big promoters in the game would prefer to turn it down and maintain the status quo. Not to mention, all the sanctioning bodies would quiver and weep at the possibility of their sanctioning fees vanishing. The focus for a movement like this is a step in the right direction, but realistically speaking, it's one that the sport may never be ready to take.