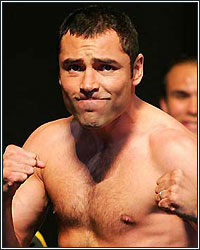 According to a recent post on his official Twitter page, future Hall of Famer Oscar De La Hoya believes that he knows the secrect to beating Floyd Mayweather and he plans on giving it to WBC welterweight champion Victor Ortiz prior to his September 17 showdown with the undefeated pound-for-pound champion. "Me and Castillo have been the closest in beating Mayweather. Believe me, I have the formula, which I'm going to pass on to Victor," De La Hoya would post yesterday. Whether or not De La Hoya actually knows the blueprint to handing Mayweather his first loss remains to be seen, however, he does bring up a valid point.

It's true that both he and former lightweight champion Jose Luis Castillo have come the closest to beating Mayweather on the scorecards. With scores of 116-112, 115-113, and 113-115, Oscar De La Hoya would lose a split decision to Mayweather in 2007. Although many observers felt that it was a clear victory for Mayweather, there are some who felt De La Hoya could have easily gotten the nod if he didn't abandon his jab midway through the fight. It's a decision that De La Hoya would admittedly regret. Utilizing constant pressure, his jab was having success finding its mark in the early rounds before, without any real explanation as to why, De La Hoya altered his strategy.

Likewise, Jose Luis Castillo would have a great deal of success during his first encounter with Mayweather, losing a very controversial unanimous decision by the scores 116-111, 115-111 and 115-111. Although the final scorecards do not reflect it, the fight was extremely close and there are many who feel that Castillo did in fact hand Mayweather the first loss of his career. With his constant pressure, Castillo was able to stay on top of Mayweather, bullying him to the ropes where he took the opportunity to land effective body shots. Although Mayweather would later claim a shoulder injury limited him during the fight, and an immediate rematch proved that he was indeed the better fighter, there's no denying that the pressure and body punching of Castillo were indeed effective.

Thus far, no one has been able to come up with a complete blueprint on how to beat Mayweather. That being said, both Oscar De La Hoya and Jose Luis Castillo have proven that there are indeed ways to be effective against the virtually impenetrable defense of Mayweather. Perhaps a combination of pressure, a good jab and effective body punching is what De La Hoya is referring to when he boasts that he has the "formula". There's no doubt that Ortiz, who actually does possess all three key components, will closely study the tapes of Mayweather's fights with De La Hoya and Castillo. The question is whether or not he'll be able to put it all together on the night of September 17.

For the record though, it should be noted that any time a Golden Boy fighter steps into the ring with Floyd Mayweather, De La Hoya always seems to know the secret to beating him.