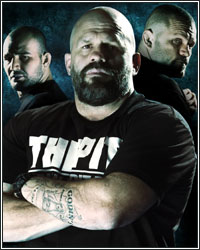 FightHype.com recently caught up with "Pit Boss" John Hackleman and you don't want to miss what he had to say about Liddell's upset loss to Keith Jardine as well as Chuck's future plans as they look forward to facing Wanderlei Silva in December. Plus, Hackelman share's his thoughts on Forrest Griffin's win over Shogun Rua and much more. Check it out!

PC: How has everything been going with you?

JH: Good. Very good. You know we weren't happy with the last fight, but I mean, you can't really bitch that much about it. His timing was just a little bit off. Other than that, it was just two guys that fought their ass off. It wasn't that he did a bad job. He lost a close fight.

PC: You've been around Chuck for a long time. At what point did you realize that it wasn't going to be his night?

JH: I just think he kept missing by a split hair. His timing was just off. His game was just off and I just kept thinking he was going to connect all the way to the end. When he came back to the corner, his conditioning was really good. Nobody that wasn't in top shape could've fought that fight. It was a war and he lost a close fight. I kept thinking he was going to get through and catch him, but it didn't work out that way.

PC: How is he doing mentally after two losses back to back?

JH: He's OK physically and mentally he's disappointed, but he knows he lost a close fight. He wasn't beating himself up over it. He just knows that he lost a close fight and better luck next time.

PC: How long do you give Chuck after a fight like that to not even mention the fight to him and...

JH: A week and then he has to be back in the gym to start doing other stuff. There are a couple of points we made on this fight, but it's hard to come down on him. He made a couple of little minor mistakes technically. Other than that, his timing was a little off and that's why he lost the fight more than anything is that his timing was a little off. Jardine's timing was right on.

PC: Some people still feel Chuck took this fight lightly. Can you clear that up?

JH: We're not stupid. Anybody that takes Keith Jardine lightly is stupid and we definitely didn't. If you take Keith Jardine lightly, you're just a complete moron. We didn't take him lightly. We knew it was going to be a tough fight. Chuck probably has a little more skill and he probably could've won, but on that night, he didn't. He caught him and caught him, but he just couldn't land right on the button. His timing was a split second off and Jardine's was on and that was the difference. You can't take anything away from Jardine. If he lost, he probably would say the same thing, but it just didn't work out our way.

PC: I know you guys were eyeballing a fight with Shogun, but his knee surgery will prevent that fight from happening. Will you still like to get the Wanderlei fight?

JH: Looks like the Wanderlei fight is going to happen.

PC: Ok, is it still going to be in December?

JH: December, yeah!

PC: How are Chuck's ribs doing? He took a lot of body kicks.

JH: They were up high on his left side and I'm sure they stung, but it wasn't like a solid knee or anything. They just bruise a little bit and then they go away. He's already back sparring.

PC: Were you surprised that Shogun was tapped out by Forrest Griffin?

JH: Yeah, pretty much. I didn't know which way to go. I definitely didn't think it would be one-sided like a lot of people. Any given fight, you never know what's going to happen and as you saw with Shogun, you could be in top shape and gas. Every night is different. You have those nights in the gym all of the time. You just hope not to have one of those nights in the actual fight and unfortunately, Shogun had one of those nights.

PC: Why do you think the Pride guys are having so much trouble in the UFC?

JH: I don't think they're having that much trouble. Rampage and Anderson are doing fine. I think a lot of people thought they would just come over here and take over and I don't think they were overrated, but they were fighting in Japan and was held kind of higher up than these guys. I knew they wouldn't come over and take over the UFC. When you're fighting in Japan and not in the US, people don't get to see your fights as much and they start building up this aura of invincibility.

PC: A lot of guys are going off of those Youtube clips, huh?

JH: Yeah! Hey, have you been checking out my interviews on Youtube?

PC: No, I didn't realize you were doing interviews on Youtube. Don't steal my job!

JH: I did one with Wanderlei, Shogun and I'm even in one with Jardine before he fought Chuck.

PC: What, do I just type in your name?

JH: I post a lot of them on my site. I don't know how to do it on Youtube. I guess you just type in John Hackleman and a bunch of them come up.

PC: What else have you been up to?

JH: I've just been running my gym. I'm doing an affiliation program where people can basically buy into The Pit and run their gym using some of my curriculum and stuff like that. That's going good.

PC: Any new word on the new DVD?

JH: Yeah, you go to the PitWorkout.com and I think the second one is out. I also have an instructional out. I have some good stuff going on. The Pit's out there. I teach over there 5 days a week. I guess 6 days because I have the fighters over there on Sunday.

PC: How often do you train still?

JH: I train 5 days a week. I train the same days my fighters do. I do everything but spar. I don't want to spar anymore. I've sparred too long.

PC: Do you still hit hard?

JH: You'll have to ask Chuck. Chuck says I could still beat him, but I think he's just being generous. He still talks about our first sparring session from back in the day.

PC: I read about that. When did that happen?

JH: Like '92 or '93. Yeah, we used to go at it. That's when I was still fighting.

PC: I heard you were a hard puncher man.

JH: Yeah. You know I talked to Earnie Shavers, right?

PC: Yeah, you told me.

JH: We still do the Earnie Shavers workout. Who else called me, oh, Howard Davis. That's right I gave you his number.

PC: We did an interview together.

JH: How did you like that?

PC: It was cool. He was a real nice guy. I hate that Din Thomas blew his knee out.

JH: It just so happens I ran into Din Thomas and Howard Davis and we hung out and shit, you know, and do you know what color Din Thomas's toenails were for his last fight?

PC: I have no idea.

JH: He painted them black for his last fight. Where did he get that from?

PC: Chuck Liddell?

JH: Me. I started that. Chuck did it like a year after I did mine, but now he does his blue.

PC: What's the deal with that?

JH: Ah, some girl I was with did it and I just left it like that. I called the American Top Team guys and told them I didn't give them permission to do that. What's been good with you? Where are you at?

PC: I'm in Louisiana. You have to come down here and hang out.

JH: I hate New Orleans.

PC: Ah man, why?

JH: I fought there once. I couldn't wait to get out of there. I think it was just a bad fight and I didn't like the people that were involved in the fight. I had a terrible experience in Salt Lake City when I fought over there, so I don't like Salt Lake City. I love Japan because I love to fight over there. What happened to Jermain Taylor? I didn't get to see it.

PC: It was a good fight. He had Pavlik hurt bad and dropped him in the 2nd round and punched himself out. Pavlik came back and stopped him in the 7th.

JH: The guy he was fighting didn't even look like a boxer. He looked like a tennis player or something. He is that guy. I saw a picture of the guy and he just didn't look like a fighter. Where is he from?

PC: Ohio. I know you're getting ready to head in the gym. Thanks for your time.

JH: No problem. If you want to set something up with Chuck, let me know because it looks like they're going to do the Wanderlei fight in December.
[ Follow Percy Crawford on Twitter @MrFighthype ]