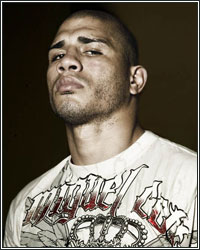 Two days ago, the boxing world was surprised to learn of Miguel Cotto's announcement that he would have a new trainer in his corner for his long-awaited rematch with Antonio Margarito. The services of Hall of Fame trainer Emanuel Steward, who worked with Cotto for his last two fights, have now been replaced with that of Pedro Luis Diaz Benitez. Since the announcement, a lot of diehard Cotto fans have complained about the decision, questioning his chances at victory because he'll now be trained by a man who very few know anything about. I, on the other hand, am giving him the benefit of doubt, so I took the opportunity to do my own research to find out more about Cotto's new trainer. So who is Pedro Luis Diaz Benitez?

Here are some of his credentials:


Ph.D. in Pedagogical Sciences
President of the AIBA in Scientific Commission for America
Ex-professor in University Sports in Cuba
Made different studies in theory and methodology in the training process of high performance athletes
Pedro worked on multiple Olympic cycles training the Cuban boxing team. During his time, he elaborated on the training process of the Cuban boxers. He has participated as a coach in Olympic Championships, World Cups, Pan American Games, Central American Games, Goodwill Multiple tours of Europe and national and international tournaments of recognized quality, as well as training bases in terms of height and stops or joint training.
Together with Dr. Alcides Sagarra Caron, considered the coach of the century, he helped in the preparation of internationally renowned competitors.
He has given Olympic courses, seminars, workshops and clinics on the preparation of Olympic Competitors and the Theory and Methodology of Sports Training in different countries: Argentina, Brazil, China, Puerto Rico, Guatemala, Canada, Colombia, Mexico, Venezuela , Spain, Ecuador, Panama, Trinidad and Tobago among others.
He has conducted various research on areas like:
Selection of potential sports talents.
Control of Cuban boxers preparedness High Qualification.
Electrocardiographic studies on the Cuban national team boxers.
Individual work group of divisions in the Cuban Boxing.
Physical Modeling by groups of divisions in Cuban National Boxing Team.
Study of the physical layer Ecuador Olympic Scholars preparing for Beijing 2008.
Among his publications are:
Training and Technical Training Equipment
Control Preparation. A requirement of the sport today
Tests for the Special Control of High Qualification boxers
Olympic Champions. Training, Control and Performance
Train, compete and win
High Performance. Science and Technology Management.
Also important to note that:
For his performance in High Performance Sport, he was awarded the Olympic Merit Medal.
He was Technical Director of the Olympic High Performance Centre in Guayaquil, Ecuador. Ecuadorian Olympic Committee.
Advised boxing in the Republic of China, winning for the first time the Asian Games, with 4 gold and 4 silver medals.
So what does this all mean for Cotto? Merely that, at the very least, he'll have someone in his corner that isn't a total novice. How all of that will translate under the bright lights of the big stage remains to be seen, but I wouldn't count I wouldn't count out the WBA jr. middleweight champion just yet.
All info was courtesy of
www.efdeportes.com