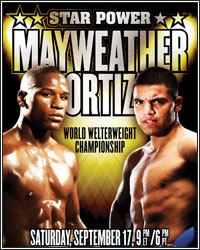 Ever since FightHype.com reported that the September 17th clash between undefeated pound-for-pound champion Floyd Mayweather and former WBC welterweight champion Victor Ortiz was expected to do a minimum of 1.3 million pay-per-view buys, there's been a lot of speculation as to exactly what the official numbers really are. Although the final tally has yet to be determined, Kevin Iole of Yahoo! Sports and Dan Rafael of ESPN.com have both also stated that they too are being told that the number is well over 1 million. It seems that some fans, however, are more apt to believe a rumor that first began on Twitter and took of a life of it's own when a relatively unknown blogger wrote a story passing hearsay on as fact. As of this writing, FightHype.com stands by the information our source provided us in our initial report, but due to the overwhelming number of emails and tweets I've received regarding the subject, let's take a look at the timeline of events to get a better understanding of what some boxing fans choose to believe when it comes to certain fighters.

09/18/11 - Just one day after the fight, Kevin Iole of Yahoo! Sports stated on Twitter that he heard the event did somewhere between 1.3-1.4 million buys.


09/25/11 - Eight days after the fight, FightHype.com reveals that a source said to expect at least 1.3 million buys.
10/07/11 - Twenty days after the fight, Steve Kim of Maxboxing.com stated on Twitter that he heard the number of buys could be as low as 850,000.
10/07/11 - On the same day, when asked during a weekly chat if the numbers provided by Steve Kim were true, Dan Rafael stated he was told the numbers were much higher.
10/08/11 - Twenty-one days after the fight, Dan Ambrose of Boxingnews24.com, a site that is somehow connected to EastSideBoxing.com, writes an article combining two of Steve Kim's posts on Twitter, suggesting Kim's number of 850,000 was official.
10/09/11 - Twenty-two days after the fight, Steve Kim clarifies that he does not believe there were 850,000 buys, but instead, a number right around 1 million buys.
10/14/11 - Twenty-seven days after the fight, when asked again during a weekly chat if there was any official word about the numbers, Dan Rafael reiterates that the the pay-per-view did over 1 million buys.
Thus far, it appears as though there's been a lot more reports about the event doing "over 1 million" than there are about it doing "below 1 million". Even Steve Kim, the original source of the rumored 850,000 buys, ammended his comment to suggest a number around 1 million, and yet, for some reason, certain fans want to hold on to a story written by someone who took a comment from Twitter as though it was gospel. At this point, it's unclear as to exactly when or if the official numbers will finally be released, but like I said nearly a month ago, according to our source, you can expect a number somewhere right around 1.3 million. In fact, our source assured us that Mayweather made more money for this fight than he did in his last.
Truth be told, it won't be the first time that it took longer than expected to get word on "official" PPV numbers that may have fell. Thus far, we have still yet to hear the "official" numbers from Pacquiao vs. Mosley. In fact, despite Bob Arum saying that it too brought in 1.3 million buys, Pacquiao's most ever, Dan Rafael commented just this past Friday that, "
No, there was never an 'official' announcement but Arum said he thought it could reach 1.3 million. The real number, from what I am told, is a little below that in the 1.2s, which is still tremendous.
" And yet, the same fans who seem to be concerned about the "official" numbers from Mayweather vs. Ortiz are no longer too concerned about getting the "official" numbers from Pacquiao vs. Mosley. Go figure!
[ Follow Ben Thompson on Twitter @fighthype ]