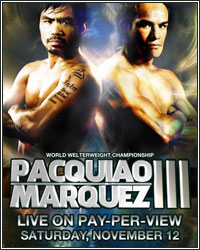 35 years ago, Muhammad Ali was looking for an opponent that was going to be both an easy night, but a decent payday in addition to that, so his handlers decided on a third fight with Joe Fraizer, who many thought was a spent force and would be easy pickings for the declining Ali. What instead happened on that scorching night in Manila was a war beyond words. Frazier's relentless assault, which had toppled Ali once before, took him to hell and back for 14 rounds of sustained carnage before Fraizer's corner was forced to halt the fight. Nobody thought Fraizer had it in him, but he always had a style that troubled Ali and was always a danger.As we come to current day, we see the same potential in a third fight between Manny Pacquiao and Juan Manuel Marquez, two fighters who's legacies are defined by their two epic battles.

Though casual fans are easily roped into what will be their final clash, the general overture is that Marquez has finally got his chance at vindication due to a lack of financial options for Pacquiao and recent showings that he may be on the downside of his career. The argument is that Marquez, who is jumping two weight classes for the fight, is Frazier to Pacquiao's Ali, a stylistic nightmare that will push him to the brink each time out, and even though the deck is highly stacked against him, Marquez has a shot. Pacquiao is a big favorite to close out their rivalry in definitive fashion, but are we on the eve of another barbaric clash of the ages?

Manny Pacquiao, WBO Welterweight Champion
Age: 32
Height: 5'6 1/2"
Record: 53-3-2 (38 KO)
BoxRec Ranking: 1
Last Five Fights: 5-0 (2 KO)

Juan Manuel Marquez, WBO and WBA Lightweight Champion
Age: 38
Height: 5'7"
Record: 53-5-1 (39 KO)
BoxRec Ranking: Unranked at Welterweight. #1 at Lightweight
Last Five Fights: 4-1 (2 KO)

Power: Pacquiao
Speed: Pacquiao
Technique: Marquez
X-Factor: Pacquiao (Advantages in youth and size)

What is there to say about Pacquiao that already hasn't been said? He's an offensive dynamo who never stops attacking and drops his opponents with angled strikes they can't see coming. He's torn up three weight classes since his second encounter with Marquez and is second to none pound-for-pound. In this third fight against Marquez, Pacquiao finds a break from the bigger fighters he's been in against and faces an opponent that may still frustrate him, but can no longer fight him on even terms. It couldn't have come at a better time because it seems that the accumlated blows from the bigger fighters are starting to wear on Pacquiao, as indicative in his very sub-par showing against a non-willing Shane Mosley last May.

Though I suspect Pacquiao may have peaked, he may not look like it as he's facing off against an opponent who has had to take several of his own punches just to establish an offensive rhythm, and even though they'll weigh in more-or-less the same, Pacquiao has grown into a Welterweight. In their prior fights, Pacquiao started quickly and scored knockdowns all before the fourth round only to tire out later down the stretch. He must start quickly once again to expand his aged opponents energy and balance his attack to the head and body to close the show early as he is highly expected to.

For Marquez to win, it will take nothing short of a time machine or divine intervention to finally defeat his nemesis, and staying away from power punches, which is something that he hasn't been doing in his past five fights, when his opponents have landed 37% of their power punches. Outside of the obvious, it was clear that whatever movement and jab Shane Mosley had last May was enough to frustrate Pacquiao, who dropped his punch output in half. Pacquaio showed an uncorrected deficiency in that fight that he has yet to correct and that is to cut off the ring, so it is feasible that Marquez can get hurt multiple times through the fight, but survive by moving around the ring and jabbing.

The clear answer for Marquez is to attempt to put on the most thorough boxing clinic of his career and hit without being hit. He will be at too much of a disadvantage in every physical aspect once he steps into the ring, but crisp counter-punches and body shots, along with dictating the pace with his excellent jab and footwork, might nullify some of that. As we've all seen with Miguel Cotto and Antonio Margarito, you cannot beat Pacquiao up in a brawl, and the more the match devolves into one, the chances of winning are slim, but can Marquez stay away long enough to land those shots needed to make it to the finishing line?

Unfortunately for those optimistic fight fans and Pacquiao fans, there hasn't been enough smoke and mirrors from the massive press tour to cover the fact that this fight is still what it always was: a mismatch. It was high time, after a string of one-sided and borderline boring fights, that Top Rank found an opponent that will give Pacquiao the opportunity to do what he's known for and decapitate his foe. Who better than the foe who's claim to fame was two instances of "almost got 'em?" Pacquiao will dish out a one-sided drubbing that will end in four rounds. I'm not expecting any less.

Bonus Pick:

If Timothy Bradley is on the fast track to fight Pacquiao in 2012, he'll need an impressive win over Joel Casamayor to make believers out of him. Expect Bradley to beat the shell of Casamayor in a foul-filled fight, and the boxing world groans at the possibility of what is next.

Potshot Picks is 24-7 (77%) Year To Date*

*Pending final ruling on Dawson TKO2 Hopkins 10/15

Danny Howard can be reached via e-mail (dhoward@fighthype.com), Twitter (@DBHoward126) and on Facebook.