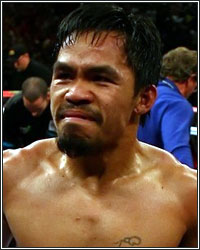 Sources have informed us that representatives of Top Rank have sent word to Team Mayweather that, at this time, they are not interested in making a mega-fight between 8-division world champion Manny Pacquiao and undefeated pound-for-pound champion Floyd Mayweather. Apparently, due to Pacquiao's subpar showing in his majority decision victory over Juan Manuel Marquez this past Saturday, it appears that Top Rank has decided to forego negotiations with Mayweather to instead focus on making a fourth matchup between the long-time rivals.

Despite what the scorecards read on Saturday night, most observers felt that Marquez clearly earned the victory over the WBO welterweight champion. Even the look on Pacquiao's face immediately following the final bell appeard to be that of a fighter who knew his opponent had gotten the better of him. After Pacquiao was declared the winner, a series of excuses would follow, from outside distractions to foot cramps to Marquez just having his number due to his counter-punching style.

Naturally, everyone in Pacquiao's corner believe that although the fight was close, their guy certainly did enough to edge out the victory. That being said, it's clear that they also believe that it might be wise to make sure they tie up any loose ends before moving forward with the biggest and most difficult fight of Pacquiao's career, a showdown with Mayweather. Pacquiao's trainer, Freddie Roach, expected a dominant performance, even boldy predicting a knockout inside of 6 rounds. What he witnessed instead was a lesson in the fine art of counter-punching, as Marquez frustrated Pacquiao from the outside, making him pay with well-placed counter shots as the punches of the Filipino icon fell short and he stumbled off balance.

"What can you say? It's Marquez's style...It was the kind of fight I don't want to do again, but I think we have to. He [Marquez] has given us problems three times now and he is very good at what he does," Roach would explain shortly after the fight. "Mayweather is a bit of a counterpuncher also. He can give us trouble. We need to learn to deal with these counterpunchers better."

A bit of a counterpuncher? That's "a bit" of an understatement from Freddie Roach. Mayweather is the best counterpuncher in the sport. Given that a beefed up 38-year-old Juan Manuel Marquez, who HBO commentators constantly reminded us was "much slower" than Pacquiao, was able to have the type of success he had, I think it's pretty obvious as to why Top Rank immediately informed Team Mayweather that they were not interested in negotiating a May 5 mega-fight. Simply put, on Saturday night, it became crystal clear that Pacquiao needs more practice against counterpunchers after one just exposed quite a few flaws in his game.

Those that were hoping for a Mayweather vs. Pacquiao showdown to take place in May can forget about it. Don't blame Mayweather...don't even blame Pacquiao...instead, blame Juan Manuel Marquez for removing Pacquiao's veil of invincibility and making his handlers think twice about facing a style that he may not be quite ready for.
[ Follow Ben Thompson on Twitter @fighthype ]