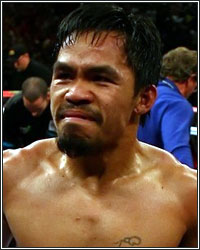 Desperate times call for desperate measures, and believe me, Manny Pacquiao is desperate. On the heels of allegedly doing his best pay-per-view numbers to date, which Arum says should be "around" 1.4 million buys when the numbers are finally tallied, Manny Pacquiao announced that he's willing to take a smaller purse than Floyd Mayweather in order to make the mega-fight a reality. "Walang problema kahit na mas maliit ang premyo ko. Ang importante ay matuloy lang ang laban," Pacquiao would relay to Manila Bulletin journalist Nick Giongco from his home in General Santos City, which loosely translated means, "I have no problem taking smaller prize. The important thing is making the fight." While the gesture from Pacquiao is admirable, the fact remains that it doesn't really matter what he is or is not willing to do, as the man who's calling the shots, his promoter Bob Arum, is still not doing anything to make the fight a reality.

On the surface, the idea of Pacquiao agreeing to a smaller purse will sound great to the naive penny-per-click "journalists" who continue to spin Arum's web of deceit. However, just ask yourself, why exactly would Pacquiao agree to take less money against Mayweather now that he's coming off of the most successful pay-per-view he's ever participated in? Does that really make any sense? Do you seriously beleive that Bob Arum would allow him to do that after years of proclaiming that Manny Pacquiao is the attraction, not Mayweather, and he would never do anything less than a 50/50 split? Come on, man. Something tells me that Pacquiao and his promoter are not on the same page and someone will have some serious tap dancing to do when Arum heads to the Philippines in the coming weeks.

According to multiple sources, the truth of the matter is that Manny Pacquiao is currently in a serious financial crisis, and because of that, he's willing to do and say whatever it takes in order to make the most amount of money as quickly as possible. I'm sure many of you, particularly diehard Pacquiao fans, will find that hard to believe, but trust me, Freddie Roach wasn't kidding when he told Brin-Jonathan Butler, "He goes through money like you wouldn't believe. He can't say no. Of course he'll have to keep fighting. He does now. He won't be able to stop." From what we're told, Pacquiao's financial situation is so bad right now that he's basically at the mercy of his promoter. Although Pacquiao desperately wants to make the biggest financial fight possible, the mega-fight with Floyd Mayweather, Bob Arum will do whatever it takes to prevent that from happening because he's now in a position to keep Pacquiao fighting Top Rank fighters for the next couple of years, which in turn keeps all the revenue in-house.

We'll have much more information to come shortly, but for now, just know that Pacquiao's admission that he's willing to take the smaller purse to face Mayweather is meaningless because his promoter is not negotiating the fight. Stay tuned!
[ Follow Ben Thompson on Twitter @fighthype ]