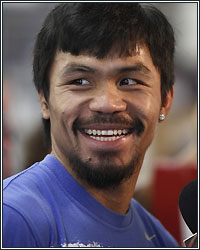 According to promoter Bob Arum, the cut that Manny Pacquiao sustained in his November 12 majority decision victory over Juan Manuel Marquez is much more serious than anybody realizes. Evidently, Jeffrey Roth, the Las Vegas plastic surgeon who stitched up the cut immediately after the fight, has informed Arum that Pacquiao will not be able to spar until April 1, which ironically is also April Fools' Day. "I'm not on an expert on that and neither are you. Jeffrey Roth is saying he should be good to go on April 1. If he's fighting on May 5, that's a problem, because he wouldn't have the time to spar," Arum would explain to Kevin Iole of Yahoo! Sports, essentially ruling out the possibility of Pacquiao facing Floyd Mayweather on his planned May 5 return to the ring. It should be noted that, according to Iole, Dr. Roth is currently dating Bob Arum's stepdaughter.

At this point, it's unclear if Dr. Roth has examined the cut, which required a total of 28 stitches, since he initially worked on it. Pacquiao returned to the Philippines on November 21 and has not been back to the United States since then. Admittedly, as Arum pointed out to Iole, I too am no expert, however, I would think that Dr. Roth might want to have another look at the cut before standing firm on his opinion that Pacquiao would be unavailable to spar nearly 6 months after the injury. Considering that Vitali Klitschko was able to fight less than 6 months after receiving 60 stitches to repair an eye that was ripped to shreds with four cuts by Lennox Lewis, perhaps Pacquiao might want to consider seeking out out a second opinion.

For whatever it's worth, Arum did say he plans on adding Floyd Mayweather's name to the list of opponents he plans on presenting to Pacquiao, but if anyone was still hoping that there was a chance that the two would face off on May 5, you can now officially forget about it. "There is no magic to the May 5 date. I understand there is magic to May, because [Mayweather] has to go to the hoosegow on June 1. I get that, but the magic is in [making the fight in] May, not necessarily on May 5," Arum reiterated to Iole. Hoosegow? Who uses that word instead of just using "jail"? Nevertheless, it's funny that there's no magic in May 5 for a Mayweather fight, but when it comes to Juan Manuel Marquez, Arum had a totally different opinion of the date. "I'm not married to May 5, so Manny could fight on another date in May. If Manny's opponent is Marquez, I'd be much more married to the date," he told Dan Rafael of ESPN.com just four days ago, prior to Mayweather's incarceration being postponed. Go figure.
[ Follow Ben Thompson on Twitter @fighthype ]