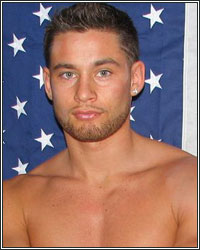 Most 27-year-old boxing prospects in the prime of their careers are getting ready for the marquee victory that will vault them into contender status for a world title shot. Most of these boxers have a decorated amateur pedigree and have been active in the sport before hitting puberty. Junior welterweight Chris Algieri (12-0 6 KO's) isn't most prospects, however, and he isn't waiting for his chance. He plans on taking it. Algieri's beginning in boxing began long before he turned pro in 2008 at the age of 24. Truth is, he has been training for his opportunity for a long time.

Algieri grew up in Huntington, New York, watching soccer and boxing with his grandfather. Soccer did not interest the youngster, but he was always drawn to the contact and physicality of boxing. At the age of 10, he began doing martial arts and it just stuck to him. By the age of 15, he received his black belt and began competing in amateur kickboxing. Three years later, and still undefeated as an amateur, Chris decided to take the next step and turn professional. Just two years into his professional career, still undefeated, Chris won a world kickboxing championship, fulfilling one of his goals in the sport.

The ultimate goal in kickboxing came full circle in 2007, when Algieri captured the ISKA World Welterweight Championship, the biggest title in the sport. Kickboxing, however, did not offer a strong enough source of revenue, so he decided to look back at the sport he grew up watching with his grandfather. Having not lost a fight of any kind since he was a teenager, Algieri decided to forgo an amateur career and immediately turn pro. "The sports are very similar. The hand strikes and hand techniques are similar. The thing is, boxing is a lot faster and the speed at which combinations can be thrown is faster. The biggest thing was dealing with speed and conditioning. In kickboxing, I was always known as a puncher anyway, so this has been a smooth transition. I turned pro at 19 and never looked back. I won world titles at 21 and 23, and then retired and jumped into boxing," stated Algieri as he prepares for his 13th professional fight this Saturday night against Curtis Brown (10-5 5 KO's) in his hometown of Huntington.

Algieri is a very ambitious guy. He holds a Bachelors Degree in Health Science and a Masters in Clinical Nutrition. He is currently studying for the MCAT's and eventually wants to be a doctor after his fight career is finished. For those thinking that trying to balance a boxing career and aspirations of another profession is impossible, remember that former lightweight champion Juan Diaz was putting himself through school and studying to become a lawyer.

At 27 years old, Algieri knows the window is closing for his opportunity at greatness. "There is a timeline. I can go to school forever, but I gotta do this boxing thing now. Definitely three or four years is my goal before moving on to becoming a doctor...2012 is gonna be a big year and put me in a position to be a top contender. I've had some injuries in the past that have kept us sidelined...I don't wanna say I'm in a rush, but we wanna keep taking big steps this year," he explained.

Algieri uses his smarts and skills from kickboxing in the boxing ring. He doesn't watch tape on his opponents because he believes it can actually be detrimental when stepping in the ring. "Boxing is all about rhythm and you can't find another man's rhythm by watching tape. I figure that out in the first round anyway."

Before his last fight against veteran Bayan Jargal, Algieri signed with Joe Deguardia's Star Boxing. Algieri feels this is a big step to getting bigger fights and fighting for a world title in 2013. "What other goal is there? If I didn't think I had a shot at it, I wouldn't be doing it. The sport is far too dangerous. One of my goals has always been to win the green belt. I want the green belt from the WBC."

Time will tell if Chris Algieri's skills and past success will translate into the boxing world as he steps up in competition. One thing is for sure. The ambitious, driven New York native will put every ounce of strength into achieving his goals. He hasn't lost a fight since before he was 15 and plans on keeping it that way until he retires from boxing and steps into the medical field.

You can follow Chris Algieri on Facebook and Twitter @ChrisAlgieri.

Email questions and comments to dkassel@fighthype.com, "Like" The Boxing Observer on Facebook, and follow me on Twitter @BoxingObserver.
[ Follow David Kassel on Twitter @BoxingObserver ]