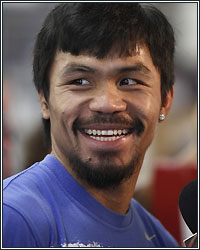 Earlier this week, Floyd Mayweather made it clear that he didn't think a fight with Manny Pacquiao would ever take place so long as he was still with his current promoter, Bob Arum. "The only way I think the fight with the guy who got 3 losses, and I don't know how many draws, the only way that that fight will happen is he has to leave Bob Arum. And I'm not telling him to leave Bob Arum," he would tell reporters in attendance at Tuesday's press conference in New York. No, Mayweather did not directly tell Pacquiao to leave Top Rank Promotions, but the suggestion was certainly implied. It's a subject that he has direct knowledge about, opting to follow in the footsteps of Oscar De La Hoya before him in deciding to part ways with their long-time promoter to go it alone. It's a decision that substantially benefited both fighters, financially and professionally.

De La Hoya's last fight with Bob Arum was in 2004, a knockout loss to Bernard Hopkins. Afterwards, he would fight four more times. Three of those fights took place on pay-per-view [vs. Mayorga, Mayweather, and Pacquiao], and one [vs. Mayweather] set the record for most pay-per-view buys [2.4 million]. In fact, his bout with Mayweather was said to have generated roughly $120 million in revenue and netted De La Hoya $52 million, the highest purse ever for a fighter. All of that took place without having to share the profits with Bob Arum. De La Hoya would also go on to build up his own fledgling promotional company to become the only real direct competition to Top Rank Promotions.

Likewise, Mayweather's last fight with Bob Arum was in 2006, a 12-round unanimous decision victory over Zab Judah. Since then, he has catapulted his career to heights that even Bob Arum must be surprised about. Prior to his departure from Top Rank, Mayweather only participated in two pay-per-view bouts, with numbers right around 350,000 buys. Afterwards, he participated in six pay-per-view events thus far and he's now averaging at least 1.2 million buys per fight, the biggest obviously being the aforementioned bout with De La Hoya, which netted him $25 million. Without the help of a promoter, Mayweather has managed to become the highest paid fighter in the sport, earning numbers upwards of $40 million when he fights, and best of all, he does not have to share the profits with Bob Arum.

With all of that being said, I can't help but wonder just how well Manny Pacquiao might be able to do without the services of Bob Arum. Although he's certainly doing well under the Top Rank Promotions banner, the fact remains, he's still giving up a good portion of revenue to a promoter when, perhaps, there's really no need to. After all, Pacquiao has established himself as a top draw in the sport, so just how much "promotion" does he really need now that he's become a global icon? Perhaps Mayweather said it best at Thursday's press conference when he remarked, "Why go back and do business with Top Rank? And I left Top Rank to do my own business, to become my own promoter, to become my own boss, and to make decisions that I thought was great for my career, and once I left Top Rank, man, the sky's the limit." Pacquiao might want to consider following in the footsteps of De La Hoya, Mayweather, and now Cotto before him just to see for himself if the sky is truly the limit.