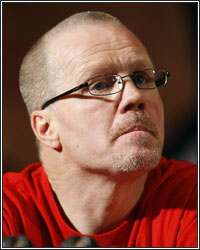 "I don't get involved in racism and stuff like that. I'm just about the sport. He just needs to sign the contract and fight Pacquiao and shut up," remarked Hall-of-Fame trainer Freddie Roach when asked for his thoughts on Floyd Mayweather's response about being labeled a racist. While leaving the popular BOA Steakhouse in West Hollywood, California, Roach was spotted by paparazzi, who immediately bombarded him with questions about a mega-fight between Mayweather and Manny Pacquiao. As far as he's concerned, he wants the fight just as much as everyone else does, but it's Mayweather who seems reluctant to please the fans.

"I want that fight as badly as you do. You know, Manny spoke to him on the phone. He said, 'Manny, after boxing, I have nothing and you have everything.' He says, 'I'll pay you four-hundred thousand and I'll take the rest,' and Manny hung the phone up. So, we got Manny to call him and he told us, basically he told us he doesn't want to fight," Roach explained. Although Roach said Mayweather offered four-hundred thousand, we assume he meant forty million, as he appeared to be referring to the phone conversation that took place between Mayweather and Pacquiao back in January. What's interesting, however, is that he said Mayweather told Pacquiao that he has nothing after boxing. Whether or not those words were actually spoken from Mayweather remains to be seen, however, that does some shed some light on his concern about "self-preservation" and keeping the lion's share of the money. After all, when his career is all said and done, exactly what does Mayweather have after boxing?

Oh, to be a fly on the wall when that conversation took place.