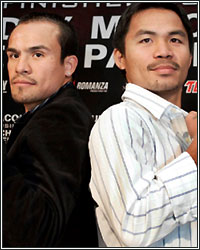 "The main reason for me to continue is that I want a rematch with Manny and that is the main factor for me to come back. I have the fight on April 14, but I train very hard again. I think I won the last fight and I am looking for the rematch," remarked three-division world champion Juan Manuel Marquez, who talked about a potential fourth fight with ring rival Manny Pacquiao. After losing a controversal majority decision in their last encounter this past November, a fight that many believe he should have won, Marquez seriously considered retiring, blaming the politics of the sport as the reason why Pacquiao was awarded the decision. As the weeks went by following the loss, Marquez fortunately had a change of heart and is determined to face Pacquiao one more time.

"I considered retiring because everybody knows I want to fight Manny again and that I won the last fight and I feel very angry about that decision," he explained as he spoke to the media during a conference call to promote his April 14 return to the ring. "Everybody knows I was looking for the rematch with Manny but I don't know what happened. The most important thing is I like to fight and I will fight on April 14 and I am very happy about that but I don't know what happened with the rematch."

Before Marquez can get the rematch with Pacquiao that he's hoping for, he must first get past the once-beaten Sergey Fedchenko (30-1, 13 KOs). Even after that fight, there's no guarantee that he'll get another opportunity to face the 8-division world champion, as Pacquiao has expressed little interest in facing someone he already holds 2 victories over. Regardless, Marquez plans to fight on in hopes of getting that fight, and no matter who he faces next, assuming all goes well next weekend, he insists that his days of fighting at lightweight are over. "The person that I fight next...the most important thing about that person is that he is in the 140's, above 140," he added.