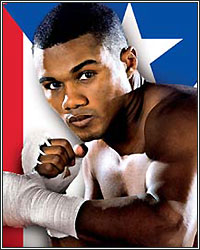 The inspiration for this list arose on the night when I, like the vast majority of you boxing fanatics out there, affixed my attention to Miguel Cotto's entertaining battle with the great Shane Mosley in New York. Cotto would impressively hammer out a majority decision that seemed to reaffirm his position as the premier Puerto Rican fighter in the sport today. The whole spectacle got me thinking, who are the 10 best fighters to hail from La Isla Bonita?

Narrowing down such a list is harder in practice than in theory. Of course, as the beer was flowing, I thought to myself that this would be easy. Once sobriety hit me the following day, I realized that Puerto Rico is known primarily for three separate things, rum (oh yeah), beautiful women (hell yeah) and fighters. It's not just that the island produces fighters, but it produces great fighters. Narrowing a list down to 10 proved to be harder than anticipated, but after a few Bacardi and Cokes, I felt confident in my selections.

As always, feel free to contact me with your two cents if you feel that I omitted a deserving fighter. Now, without further ado, below are my 10 greatest Puerto Rican boxers of all time (in no specific order):


Sixto "El Gallito" Escobar (43-22-3, 19 KO's) - Barceloneta, Puerto Rico
El Gallito became the first Puerto Rican world champion when he stopped Tony Marino in 13 rounds back in 1936 for the world bantamweight title. It was a moment that resonated with the people of the small island in such a way that schools and businesses were ordered to close so that every able body could attend a congratulatory parade through the streets of Barceloneta. Escobar should be credited for opening the door to stardom for every Puerto Rican pugilist to this day. He was inducted into the International Boxing Hall of Fame in 2002.

Carlos Ortiz (61-7-1, 30 KO's) - Ponce, Puerto Rico
Ortiz achieved the distinction of being Puerto Rico's second world champion when he stopped Kenny Lane to secure the vacant world light welterweight title in 1959. At the time, the light welterweight division was still in its infancy and was widely disregarded by those in the media as well as the fighters themselves. Undaunted, Ortiz set his sights on his coveted prize, the WBA lightweight title that was being held captive by Joe "Old Bones" Brown. Ortiz achieved his dream in 1962 when he and Brown did battle in Las Vegas. While Ortiz was known for his swarming pressure style of fighting, in the Brown fight, he opted to box 15 tactical rounds, earning him his long sought after title as well as the love of his fellow countrymen. Ortiz was inducted into the International Boxing Hall of Fame in 1991.

Wilfredo "Bazooka" Gomez (44-3-1, 42 KO's) - Las Monjas, Puerto Rico
Standing a mere 5'5" and campaigning in the diminutive bantamweight division, Gomez was a whirlwind of two-fisted pain that laid out 42 of his opponents and left him with a jaw dropping KO percentage of 88%. Gomez had a simple plan of attack for anyone brave enough to toe the line with the Las Monjas native: aggression, and lots of it. Head, neck, body, arms; wherever a punch could be landed, Gomez threw one. His crowd pleasing style aside, Gomez challenged some of the best the game had to offer, but perhaps no fight illustrates the greatness of Gomez like his 1978 battle with then undefeated Carlos Zarate in Puerto Rico. While Zarate will go down as one of the greatest Mexican fighters of all time, Gomez will always be remembered for his 5th round stoppage of the Mexico City native. The fight itself was a fiercely contested battle with each fighter refusing to concede an inch of real estate. In the end, the fistic barrage of Gomez proved too much for the tough Mexicano and upon Zarate's corner throwing in the towel, the crowd erupted in shared jubilation shouting "Viva Puerto Rico!" Gomez was inducted into the International Boxing Hall of Fame in 1995

Wilfredo "El Radar" Benitez (53-8-1, 31 KO's) - Bronx, NY but raised in San Juan, Puerto Rico
Benitez was a defensive genius, simple as that. The nuyorican was as slick as greased ice with an uncanny ability to slip punches as easily as we breathe air. Such was the boxing intelligence of Benitez that the charismatic pug won his first title, the WBA light welterweight belt, at the tender age of 17, a record that still stands to this day. Benitez would go on to beat some great fighters in his career including the likes of Antonio Cervantes, Carlos Palomino, Bruce Curry and the great Roberto Duran. Unfortunately, as great was his skill was between the ropes, his taste for the spoils of stardom often conflicted with the rigorous demands of training. To say that Benitez maintained a lackadaisical view on training would be a gross understatement. The man liked to party and would often engage in bouts with as little as two weeks of dedicated training. One has to wonder what limits Benitez would have reached had he truly dedicated himself to the sport, but perhaps the true testament to his greatness is how much he accomplished without really trying. Benitez was inducted into the International Boxing Hall of Fame in 1996.

Felix "Tito" Trinidad (42-2, 35 KO's) - Cupey Alto, Puerto Rico
Perhaps no fighter in the history of Puerto Rico resonated with the impassioned people of the small island the way "Tito" Trinidad did. The former three-division champion embodied the jingoism of his Puerto Rican constituents with his unwavering pride and passion. Trinidad could possibly be the most beloved fighter La Isla Bonita has ever produced as his presence brings out throngs of rabid fans who adore his every move. When you combine a charismatic personality with TNT-infused hands, the end result is a truly special fighter whose only losses came at the hands of two of the best fighters boxing produced during his era in Bernard Hopkins and Winky Wright. Trinidad's greatness lies in his victories over the likes of Pernell Whitaker, Hector Camacho, Fernando Vargas, Oscar De La Hoya, William Joppy, David Reid, Yory Boy Campas and the list goes on. Regardless of the outcome of his impending fight with Roy Jones Jr., you can guarantee that "Tito" will be a future first ballot Hall of Famer.

Edwin "El Chapo" Rosario (47-6, 41 KO's) - Toa Baja, Puerto Rico
Growing up on the impoverished streets of his beloved Toa Baja, Rosario knew that he had to fight his way out of his barrio. Fortunately for "El Chapo", fate bestowed him with superb natural talent along with power in both hands. Rosario managed to score a unanimous decision over the tough Jose Luis Ramirez, who at the time sported an awe-inspiring record of 82-4, to win the WBC lightweight title. While long rumored drug problems may have prevented him from having a much more glamorous career, one cannot question Rosario's heart and courage. It's a shame that he exited this world too soon when, at the age of 34, he was struck down by an aneurysm in 1997. Rosario would be inducted into the International Boxing Hall of Fame posthumously in 2006.

Jose "Chegui" Torres (41-3-1, 29 KO's) - Playa Ponce, Puerto Rico
A genuinely gifted middleweight, Torres did not get his much coveted title shot until he moved north to the light heavyweight division (though he did win the Puerto Rican Middleweight Title in 1962). Torres exploded onto the scene, and into the hearts of Puerto Rican fight fans, when he blasted Willie Pastrano in Madison Square Garden. The referee stopped the contest after nine rounds and Torres became the first fighter from Latin America to win the light heavyweight title when he captured the WBA and WBC belts with the win. Torres would defend the light heavyweight title four times before running into the crafty Dick Tiger in 1966. Tiger would beat Torres by unanimous decision and go on to beat Torres again in the rematch. The latter nearly caused a riot at the Garden. He would retire two years later and go on to become a noted writer and representative for Puerto Ricans in the New York City boroughs. Renowned American writer Norman Mailer assisted in teaching Torres how to become a writer in return for boxing lessons. Torres penned "Fire and Fear", a book chronicling Mike Tyson, as well as "Sting like a Bee", an autobiography of Muhammad Ali. Torres is now considered one of boxing's most esteemed spokesmen.

Estaban De Jesus (57-5, 32 KO's) - Carolina, Puerto Rico
While he most certainly is remembered as the man to pin the first loss on Roberto Duran's Hall of Fame career, few realize how gifted a lightweight De Jesus was. Your prototypical boxer-puncher, De Jesus captured the WBC lightweight title when he boxed a 15-round unanimous decision over the aptly named Guts Ishimatsu. With a belt firmly placed around his waist, De Jesus went on to beat a number of good fighters in his championship defenses, including Ray Lampkin, Hector Julio Medina and Buzzsaw Yamabe. It was an impressive run until De Jesus was dethroned in the highly anticipated rematch with Duran. Unfortunately for De Jesus, personal demons conspired to destroy his illustrious career. In 1981, he was convicted of killing a 17-year-old after a traffic dispute and was sentenced to life in prison. It was while incarcerated that De Jesus contracted the HIV virus due to the sharing of heroin needles. With the grim reality placed before him, he became a born-again Christian and turned his life around. One month after being paroled, De Jesus died of AIDS in 1989.

Wilfredo "Pride of Puerto Rico" Vazquez (56-9-2, 41 KO's) - Bayamon, Puerto Rico
While Vazquez will never be considered one of the best featherweights to lace up a pair of gloves, one cannot dismiss his tough-as-nails attitude and beautiful left hook. A three division title holder, Vazquez would go on to win the WBA bantamweight title, the WBA super bantamweight title along with the WBA featherweight title. In a career that spanned the globe, Vazquez would meet and beat such tough fighters as Juan Polo Perez, Thierry Jacob, Luis Enrique Mendoza, Bernardo Manuel Mendoza, and Yuji Wanatabe. If not for a 7th round TKO loss to Naseem Hamed, who knows how long Vazquez could have reigned.

Hector "Macho" Camacho (78-5-2, 37 KO's) - Bayamon, Puerto Rico
Say what you will about his flashy, arrogant style, but you cannot discount the heart and talent that Camacho possessed. Tearing through division after division, Camacho brought flair and attention that many, to this day, resent him for. Still, the fact remains that "Macho" took on a multitude of great fighters and, while not always victorious, he never gave in. Just look at his gutsy losing effort to the great Julio Cesar Chavez. Though being thoroughly beaten from pillar to post, Camacho valiantly survived to go the distance. It should also be noted that he managed to do the same with both Felix Trinidad and Oscar De La Hoya, though both were in losing efforts as well. But it was not all loses for Camacho, who has beaten some great fighters himself. Fighters such as Edwin Rosario, Vinny Pazienza, Greg Haugen, Sugar Ray Leonard, Roberto Duran and Ray Mancicni all lost to the elusive fighter from Bayamon and that is why he shall always remain one of Puerto Rico's finest.