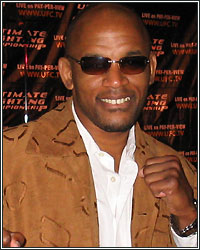 The always charismatic Shonie Carter had a lot to say about the UFC and some of today's fighters and you don't want to miss it. Never one to hold his tongue, Carter shares his thoughts on Matt Hughes, Randy Couture, Brock Lesnar, Dan Henderson, Karo Parisyan, Rashad Evans, Dana White and much more. Check out this must read exclusive.

PC: How's everything going Shonie?

SC: I'm doing alright. I'm hanging in there.

PC: How is your arm doing after your fight with Brad Zazurak?

SC: It's not broken. When I threw him, I pinched a nerve in my neck, the nerve that's attached to your trapezoids, and it was after I threw him and it literally paralyzed my right arm. It wasn't that he was hitting me, I just wasn't able to get up. Herb Dean stopped the fight because I kept going up under the ropes. I'm not going to sit there and let this big, giant 185-pound giant elbow me in the face. He had nothing to do with it. If you saw a picture of me now, you wouldn't even think I was in a fight. People were wondering if he had done something to me and I'm like, "No!" I was winning. He came out with a high leg kick because he had been training in Thailand and I ducked under the kick and we went into a clinch and I had his back, but he spun around into a clinch and I threw him immediately and that's what happened. I had side control and I went for a rear naked choke, had the hooks in and literally ended up in my guard. It wasn't anything he did. I can run off and win 20 fights in a row and everybody would treat it like no big deal. A kid that comes up and is given a gift gets all of this press. I'm so established in my career and I still don't know what it would take for me to get recognition.

PC: When the injury happened, did you know something was wrong right away?

SC: As soon as I threw him I was like, "Ah crap, this is going to suck."

PC: How was it for you to fight over in Canada my man?

SC: Overall, it was ok. It was boring. This loss just bugs me man; everything about it. I can't work out. You know how frustrating it is to be in your gym and can't do nothing? It sucks man because I can't even roll around with anyone.

PC: What's the timetable on your injury and how long will you be out?

SC: I'm going to a chiropractor every day this week and make sure I get snapped and cracked, you know, the usual. I'm looking to get back in training by the middle or end of December. It just bugs me man. No matter what happens in a fight, like when I fought Marcus Davis, I broke my hand and I didn't tell anybody about it, but he beat me, whatever; shit happens and that's why I'm trying to be cool about this one, but it just irks me so bad. I don't know why maybe I'm getting to be a grouchy old fighter. It's like dammit man!

PC: I think it may have to do with the way the media is saying it was only his 3rd professional fight and he beat Shonie who has over 50 professional fights.

SC: Yeah! I went into the fight with a pinched nerve because I hurt it a few weeks back in a fight and then I fought 2 weeks prior to that and it was hurt. I did 3 fights in 3 weeks. I'm like, look, this kid ain't that good. I could fight him again and beat him 10 times out of 10. He would never beat me again. He cut to make 85 and I'm not even a 185-pound fighter and I guarantee you I'll beat him every time.

PC: Is that something you're pursuing, a rematch with him when you get back right?

SC: As soon as I get back, I'm going to see what's up because I know the UFC was tripping about me fighting. I'm like, look, I can't sit around and wait all year and they didn't use me all year. I mean, my rent was due. Even me going to CanadaÂ…I mean, the whole story behind me fighting goes beyond the fight. I owed child support and I was paying the mom instead of paying the state. I go to renew my passport and they cease my passport and give me 24 hours to pay it or I'm going to get a knock on the door by the sheriff. You know they don't play that shit. I had to go with a cashier's check for damn near $4,000 for two child support payments. I was giving up money, so I did that and then what happened, the promoter Mark Pavelich forwarded me most of the money so I could pay it off. I go and pay the department of child support and I got a copy of the check to show that I paid it and everything. I went up there and fought for the little bit that was left over minus the Western Union fees. I had to pay the corner licenses, you know, all of the good shit that comes along with fighting. I paid that off and barely broke even on this fight. After that, I do the fight and I come back and I'm still breaking bread, so really, it was nothing to be gained from that.

I'm like, this young kid is getting a lot of press and they gonna fuck around and put him on a WEC or UFC card and he's a fucking victim. They'll murder him. He looks up to par though; big Dolph Lundgren, shaves his head and muscled down, but real lean kid. He's bigger than Jason Macdonald. I fought Jason Macdonald and I beat him. Everybody wants to use me as a measuring stick on how good they are or ain't. It's been like that because I could name so many fucking fighters that got into the UFC by fighting me, winning or losing. It's like, fuck man, you put these guys in the UFC after they fought me, but you won't put me in at all in my weight division. They want me to sit back on my thumbs and get older and older, but I'm not 25; I'm 35. If the UFC is not going to put me on, then fucking cut me. I want my UFC Hall of Fame award, but ain't no award, no medal, no plaque or no belt paying my bills. It's to that point and I'm like, this is some bullshit. Dana White can give himself a 5 million dollar raise and a $700,000 swimming pool and Monte Cox just got himself a brand new Cadillac Escalade and a 1.8 million dollar house and I'm like, motherfucker, I'm trying to upgrade to a 2 bedroom apartment. I'm like, what the fuck man; none of those guys have taken one punch. Well, Monte may have because he's done some boxing, but that's pussy ass boxing. I respect them for what they do, but ain't none of them got in a cage and did the shit I did. These young kids think they did something because of a sparring match with me because that's what it was, a warm-up because of a freak accident; a slight workout. Dude you got lucky.

PC: You feel like you are overlooked?

SC: Yeah. There's guys in the UFC that have dropped like 3 or 4 fights in a row. People mimic their shit off of me and I can't get in. I'm up toÂ…that was my 203rd fight. What the fuck else do I gotta do? I look at guys like Chris Leben, Pete Sell and Phil Baroni; all had 3 or 4 losses in a row and they can still get in. Guys come into the UFC, first gift is to fight Quinton Jackson for a world title and now he's about to fight Anderson Silva for the title.

PC: You've been in the game so long Shonie, it seems like you should have more opportunities.

SC: Right. I'm doing a seminar at the Martial Arts Expo and they were calling me begging me to do a seminar. They got guys doing shit in Jiu Jitsu that I was doing in '98 and they getting on the cover of a magazine. I'm like, that shit's old. Karo getting credit for judo and I've been throwing people since 2000 and 2001. He was in high school when I was doing that shit. Joe Riggs told me one time, "You know Shonie, when I saw you fight for the first time, I was in 4th grade." I'm like, ain't that a bitch. He's in main events and I've had 5 legitimate world titles. Go look at my MySpace page and tell me what belts you see and 3 or 4 belts were missing. I have respect for the young guys. I don't have nothing against them because they doing what they do, but I'm like, what the fuck? I love Randy Couture to death, but he came off of a TKO loss and fought for a title. Grant it, he won, but what the fuck man! I'm fighting 3 or 4 fights in that many weeks and if I didn't have a pinched nerve, I would be fighting this week. I called California for the seminar and they want me to do a 2-hour seminar and I'm like, sure, why not, just tell me where the funky dividends are at. I'm not making it hard; fly me out, put me in a hotel and put me in the Expo. People ask why do I think I deserve this. Man, before you could spell mixed martial artsÂ…before you seen it, I did it. I was there before Matt Hughes. When Matt Hughes was a wrestler and he was a freshman, I beat him. They don't want to hear that.

PC: How is your confidence man? It sounds like you think you can't win for losing?

SC: It's to the point now to where if I drop a decision or whatever the fuck, excuse me, but let's count the ones that didn't get away. I walked up to Brock Lesnar at the Silva and Franklin rematch and I tell him, "Congratulations, welcome to the big show." He ain't had a good fight yet and he looks at me and smirks like, who's that guy. I walked away like, oooh weee, respect your elders young man. Dude, he gonna get tore up. They talking about he's used to the big show; wait until he realizes that this shit is real. Wait until he's in that 3rd five minute round and that other heavyweight is across the cage from him bouncing up and down. I told him, "don't worry about me, I'm a welterweight buddy." He's lucky I never had a growth spurt. Hey, mark me in this interview. You will see him (Brad Zazurak) in the UFC or WEC before you see me. Watch. That's what they tried to do when they had me fight Jason Macdonald, Jason Black and Steve Berger. The only one I give credit to is Jon Fitch because that boy has been whooping peoples ass. He can squab. They also did it with Karo and Josh Haynes. He was a finalist on The Ultimate Fighter and dude, I clowned him. He got clowned by Bisping. I give Bisping a little bit of credit.

PC: Were you surprised Rashad didn't knock him out?

SC: I don't know why Rashad didn't drop a straight right hand on him. I was like, Rashad, please get this over with. I don't want to be out here all night. I'm trying to go to the club after the fight. He was dragging out a 3 round fight for nothing. That's a knockout bonus that he let get away. I fought Rich Climente and he's on his 5th fight of a 6 fight contract. What the fuck man? Now he's fighting Melvin Guillard on the 29th. They just like fucking me. They either going to put me in 5 UFCs next year or cut me; 1 of the 2. I already have other companies begging and bugging me and I tell them I can't negotiate until I get the official cut from the UFC; that's a breach of contract. I'm just hanging in there waiting.

PC: We're going to get a lot more of you on FightHype.com. We'll put this out there and let them know they need to holla at you.

SC: Somebody needs to holla at me brother. Put me in a movie. Did you see Forrest Griffin on the show; Randy and all these guys? What the fuck man? I'm cost affective. I come with my own wardrobe. All of the fighters getting sponsorships and you see my shorts be looking blank as fuck. No Toyo Tires, no Ecko or Xyience. What's up Affliction and Tapout? Put this in the interview: space for hire on Shonie's trunks. I'll even wear boy shorts if I have to and you know I hate wearing them fuckers. I'll wear biker shorts. I don't care. Fuck that, put patches on them. It could be Mom and Pops Greasy Spoon. I don't care.
[ Follow Percy Crawford on Twitter @MrFighthype ]