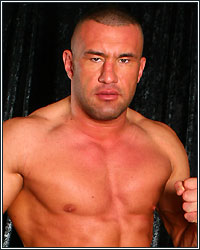 K-1 super heavyweight Jerome Le Banner talks about his performance at the 2007 K-1 World Grand Prix, his future plans and much more. You don't want to miss what he had to say as he talks about future fights with Mighty Mo and K-1 WGP Champion Semmy Schilt, the possibility of one day fighting in the Octagon and why he thinks it would be a pity if Tim Sylvia became the UFC heavyweight champion again. Don't miss this must read exclusive.

TN: Jerome, how are you doing?

JB: I'm good. I feel great. My injury wasn't a big one; a painful one, but for once, I don't need surgery. Three surgeries in 2007 were enough! I have lots of nice projects and you will hear from me a lot in 2008.

TN: You looked impressive against the monster Hong Man Choi and were up on the scorecards after the first round against Schilt. Was it your prior knee injury that caused the fight to be stopped?

JB: Thanks. Yeah, I thought that my fight verses Choi was okay. I don't like the decisions. Whatever. Usually, I look at myself with a very critical eye, but this time, due to the opponents size, I was a little bit happy with how the fight went because I had ACL meniscus surgery 8 month ago. So it was a good fight. If you don't count Mighty Mo's one-punch KO over Choi, I'm clearly the guy who fought him the best way so far. I won all the rounds and showed I can have some cardio! The monster is unfightable; it's very difficult to battle this flesh tower. You guys can't imagine what it's like to fight a 7'2", 367 lbs. giant. It takes a lot of energy! Really! Even the champ, Semmy Schilt had a hard time against him last year and lost a controversial decision.

Against Schilt, in the semi-final, I hurt my knee. I wish I could've continued, but my corner threw in the towel. They were right. I wasn't able to continue at 100% so it was the best thing to do even though it made me very angry with myself. Damned knee! But, you know, I only had eight months to recover, restart training and plus, fighting at the K-1 Elimination in September after only five months. Usually, it takes six months to restart training and nine months to compete again. At eight months, I already had three fights. My doctor says I'm crazy! The surgeon said he never saw that, ever! And he's a professional athlete specialist. Whatever! I will be at 100% in 2-3 months. I was at 80% at this Grand Prix, but with serious preparation, I showed the real Le Banner! I'm back guys...Rock'n Roll attitude (laughing).

TN: You have such an aggressive and methodical style. What's your secret behind this?

JB: There are no secrets; it's just my way to fight. I don't even think it's possible to fight with a different style, at least, not for me. I never have any strategy. I go and bang. This is what the fans love; I bring them what they want. I love and respect the fans. In Japan, win or lose, the fans always support you. If you give 100%, they just respect that and give you love and support. They deserve all my effort and I'll always makes the fans pants wet! The day that doesn't happen anymore, I'll retire.

TN: You've faced the who's who of K-1. Who has been the best opponent you've faced?

JB: Peter Aerts and Ernesto Hoost were the toughest opponents. I beat both of them, both of them beat me. We kinda KO'd each other several times in fights, which made K-1 history. They're the best K-1 fighters ever. Andy Hug was one of the best too. These three guys aren't just champions in the ring; they're champions in their whole life. Awesome guys and nice characters! Rest in peace Andy.

TN: Who would you like to face next?

JB: I'd like to face Mighty Mo. He's the hardest puncher in K-1 with his right hand and it would be a puncher's war, something explosive, a fight for the fan's pleasure. I'd also like to face Schilt in a super-fight for the super heavyweight belt. Last time, I showed how to beat him! I think Peter Aerts and I are the only ones who can beat him today. They're building Hari and Manhoef's names; I'll gladly fight them though...and their giant friend Bregy too. With 2 fights versus Choi and 2 others versus Schilt, I'm used to fighting the freaks!

TN: If Tim Sylvia wins the heavyweight belt in February against Antonio Rodrigo Nogueira, any chance of us seeing you coming to the US to try and knock him out?

JB: (laughing) It's been a long time since anybody talked to me about the "big sausage"...that guy is so unspectacular. He's so ugly and annoying. Seriously, it would be a pity if the UFC had him as a champ again...he's not Couture, Noguiera or Fedor! When I challenged him like 2 years ago, I was just tired of seeing that guy and reading and hearing fans and commentators saying he was a world striker, etc. Don't get me wrong, the guy is good, he has some skills and a little bit of heart, but...is this enough? Just ask your US readers: Does Tim Sylvia have the skills, the style and charisma to be one of the greatest? I say no! You know, I have enough money to live a beautiful life without fighting or working anymore, but I love my sport. I love fighting. I have this spirit in my blood. I just can't stop. This is too strong! It was a challenge. Our sport is full of challenges and challenges make the fans happy and excited! It is the essence of the fighting sports.

I would love to fight him! I would love to fight at least once in the UFC cage. It would be a very nice moment. If it happens, I'll beat down this uncharismatic fighter. I'll show the US fans what an exciting fighter is; not a conservative motherfucker who just wants to win without giving a good show. To get fan's love, you have to bring it all to the table. That's it! Back in 2005-2006, UFC tells me they'd love to have me, but they couldn't bring enough money to pay me what K-1 pays me. Today they can. I'm a K-1 fighter, I'll stay a K-1 fighter, but in my contract, I have the option to fight in other promotions so it would be possible.

I doubt Sylvia would accept a challenge like this. He couldn't stand and bang versus me or any other top K-1 fighter! If he's the UFC champ again, it'll be impossible...the UFC won't allow their champ to fight a guy from another organization. Can you imagine, I come in to the UFC, I knock him out and I go back home (laughing). It would be such a mess! If he loses versus Nog, I'll be happy to fight him! Hey, Dana White, make this happen! Or imagine a season of "The Ultimate Fighter" show with Sylvia and I as coaches and we fight at the finale! It'd be great. I'm sure I would train the guys well! "USA versus the world" or "the search for the next heavyweight champion" (laughing). I think the fans will love this show!

TN: Is there anything you'd like to say in closing to your fans or sponsors?

JB: Yeah, thank you all. Thank you for everything. Too many fighters don't understand that if they live and get success, money and everything, it's because of you. Without the fans, the sport is nothing. Sylvia needs to read this! Please visit my site www.lebannerofficial.com; you will have some news about all my projects: movies, video games, documentary, autobiography, seminars and my future fan club...everything (laughing).

I'd also like to thanks my sponsors: Affliction, Serious Pimp, Fairtex and my partners Bigpoint.com and Bad Boy Japan. Please, everybody visit them and buy their stuff. They're the best in the market!