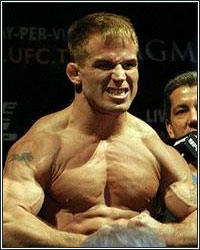 Former UFC lightweight champion Sean Sherk fires back at BJ Penn as he shares his thoughts on some of Penn's recent comments and his upcoming title clash with Joe Stevenson. Check out what he had to say about Penn, Stevenson, Roger Huerta, boxing's pound-for-pound king Floyd Mayweather Jr. and more.

PC: Since the last time we spoke, you've been stripped of your title and now BJ Penn and Joe Stevenson are fighting for it. What are your thoughts?

SS: I've been wrongfully stripped so they're fighting for something that shouldn't even be available. I don't know how I should feel about this. It sucks, but there's nothing I could do about it so I just have to get back in there and win it back I guess.

PC: What was your reaction when you got the call that you were going to be stripped?

SS: I was pretty surprised. I didn't see that coming. I've been through a lot here and I've done so much to prove my innocence so I was pretty surprised when I got that call.

PC: BJ Penn is concentrating on you a good bit, although he'll be facing Stevenson. Would you like to fight BJ in the near future?

SS: I'd like to fight BJ, you know? I think that would be a good fight for me. He keeps talkin' tons of crap, which I think is pretty funny because he's getting ready to fight Joe Stevenson and he's spending more time thinking about me than he's thinking about Joe so obviously I'm in his head already and that's good. I like that matchup with BJ. There are a lot of things I see in BJ that don't match-up real well with me. I'd love to fight BJ Penn. He has a big mouth and I'd love to be the guy that shuts him up.

PC: BJ's been saying a lot of things about you. Some of the things he's been saying are that you've been cheating for a long time and now everyone knows it. He also said that he and Stevenson will be fighting for a real title and not a steroid title. I'm sure you would like to respond.

SS: He said I've been cheating for a long time and everybody knows it?

PC: Basically what he's saying is now that you've tested positive, the whole world knows that you've been cheating.

SS: Oh, nice! My response is I've done everything I could do to prove my innocence, including a polygraph examination. I'd like to strap him up to a polygraph and find out when was the last time he smoked reefer. The guy is a pothead and he wants to talk about natural title belts and that's not true. He's got secrets and he's not fighting for a natural title belt so he could say what he wants to say, but I hooked myself up to a polygraph and I'd like to see him do the same.

PC: Do you give Stevenson a chance at beating BJ Penn?

SS: I give Joe a good chance man. I think Joe has a great shot at winning that fight. BJ'S got no gas tank; everybody knows that. BJ Penn is tired after about 6 or 7 minutes; he's completely gassed out. The longer the fight goes, the better Joe will do. I hope Joe wins that fight man. Joe deserves this title shot a lot more than BJ does. Joe has won four in a row. He's been on a hell of a winning streak and BJ has lost two of his last three in the UFC. I think Joe deserves this shot more than BJ does and I hope Joe wins this fight. If Joe doesn't win this fight, then I get to fight BJ and get that belt back from him.

PC: I talked with Hermes Franca and he said he has a ton of respect for you, but he just doesn't feel like you proved your case of not taking Nandralone and the commission knocked 6 months off of your suspension just because you said you didn't take anything.

SS: Who said that?

PC: Hermes Franca.

SS: Oh yeah! We had a lot of evidence and I don't know if people realize the stuff that we had. We had a lot of evidence to prove my innocence. We had clean blood work, a polygraph, we found contamination in one of my supplements; I got like seven of my supplements tested and one of them tested three times. On top of all that, we actually found carryover in the testing. There was actual carryover showing that the machine was messed up. With all of that stuff, I don't think there's a commission in the world that wouldn't have overturned that. I think the California Commission is unfair. Everything that they put me through in the course of a few months was bullshit and the hearing was bullshit. I thought I had a substantial amount of evidence and we're going to bring this thing to a judge and I think the judge is going to see it my way too.

PC: I don't know if people realize the amount of money and time you're putting into this investigation.

SS: I didn't do it. There's no way in hell I want to...I mean, the damage is already done. I've lost my belt, I've been fined, I've been stripped, suspended and it will be a long time before I'm able to fight. 10 months will have gone by before I can fight again. The damage is done; now I'm just trying to clear my name. I didn't take Nandralone and there is no way I'm going to sit there and let someone accuse me of something I didn't do. I'm coming after these guys because that just doesn't sit well with me at all. I can't even describe how I feel about the California Commission. Everything that they had done, from the way they treated my case to the way they treated me, was bullshit. I want to bring this thing to a judge and see how he feels about it.

PC: Will this change anything as far as your supplementation before fights?

SS: Yeah, actually it will. I'm going to have to cut some things out obviously. I take like 22 different supplements and there are a lot of different supplements out there that can trigger a positive Nandralone test and these are things out there that are legal. I can't stop taking the Creatines, Glutamines, the Amino's and the protein; that's stuff that you need. There are different things I will do to prevent stuff like this from happening again, like a pre-fight test. I will start taking a urinalysis and blood work test before I fight, that way I know it's clean. I will go and get that stuff done and have that sitting at a lab just in case this stuff happens again. I'll have a pre-fight sample ready to be tested. Another thing is to just make sure my stuff never goes to Quest Laboratories. That's the lab that tested my stuff and they made a lot of mistakes. I don't care where I fight, I gotta make sure my stuff doesn't go to Quest Laboratories. That's mandatory (laughing).

PC: It seems like the UFC is really putting a lot into Roger Huerta and he just had an amazing fight with Clay Guida. What do you think of Huerta as a fighter?

SS: I've seen him fight a couple of times and the fights I've seen have been awesome. He's dynamic, he's explosive and the guy has heart that just won't stop. I think he's a great fighter. He's probably one win away from getting a title shot. He still has to beat a top-level guy I think. He's got to beat a Stevenson, Frankie Edgar or a Florian. He has to beat a top-level guy. He gets one win over a top-level guy and he's lined up for a title shot.

PC: I know you feel like they took everything away from you this year. What are your goals for 2008?

SS: I want to pick things up where they left off. I want to get that title back. To be honest with you, I don't feel like I lost it. I feel like the title is still mine and if someone wants to be considered the UFC champion, you have to beat the champ to be the champ. The belt was wrongfully taken from me and I feel like whoever wins the Stevenson and Penn fight has to beat me. You beat me and you're the champ and I feel like a lot of people are going to feel that way as well. My goal is to get back in there and fight as soon as possible and get that belt back and pick things up where I left off.

PC: Floyd Mayweather Jr. is hinting at fighting in mixed martial arts. I know when he mentioned it before, Dana White offered him you and said you would kill him. What do you think of a boxer like Mayweather Jr. getting involved in MMA?

SS: Ah man, I would love that. That was talked about when Mayweather was fighting De La Hoya and that was really something that he wanted to happen. I want it to happen, but Mayweather don't want that to happen. I mean, realistically, the guy's not hurting for money. He's probably one of the richest guys out there and that wouldn't be a good fight for him. I'm not going to box with him; are you kidding me? I'm going to take that fight to the ground as fast as I possibly can and then we're talking about a fish out of water verses a shark. There's a big difference there.

PC: Like I told you before man, I can't wait until you can get back in there again. I appreciate your time. Is there anything you want to say in closing?

SS: I'd like to thank the UFC for all of the support they've given me throughout this whole thing. Minnesota Martial Arts Academy has been great and they got my back no matter what. I want to thank Affliction and all of my loyal fans out there.
[ Follow Percy Crawford on Twitter @MrFighthype ]