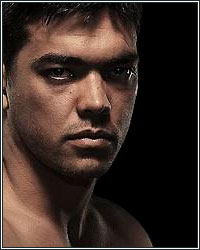 Undefeated UFC light heavyweight contender Lyoto Machida talks about his big win over Sokoudjou at UFC 79 and his future plans as he hopes to get a title shot some time before the end of this year. Check out what he had to say about Chuck Liddell, Tito Ortiz and much more!

PC: Congratulations on your win Lyoto. How do you feel about your performance?

LM: I was very happy with my performance. My goal was to finish this fight.

PC: Sokoudjou was the favorite coming into this fight. Do you feel you get the respect you deserve?

LM: It doesn't matter if I'm the favorite or not. All that stuff goes right out the window once you close the Octagon door.

PC: Sokoudjou was obviously a dangerous striker. Did you feel your advantage on the ground would be as dominant as it was?

LM: I was prepared to go whereever the fight went. I felt that I was better standing and on the ground.

PC: You train with one of the most deadly strikers in mixed martial arts. How much did Anderson help you prepare for this fight?

LM: I wasn't able to train with him as much as I would have liked to, but it was enough to get the job done.

PC: You were very emotional after the fight. How big was this win for you?

LM: It was a very big win. I hope people start to recognize that I'm here to stay and I would like to fight for the belt by the end of this year.

PC: You have a very difficult style for your opponents to look good against. Sometimes your elusiveness is mistaken for you being labeled as a boring fighter. Was one of your goals in your fight against Sokoudjou to finish him?

LM: My goal has always been to finish fights. I also believe in fighting strategically.

PC: What do you say to people that think you are a boring fighter?

LM: I guess everyone has a right to their own opinion.

PC: I spoke with Chuck Liddell's trainer John Hackleman and he told me you would be the last guy he wants Chuck to face because it's tough to prepare for you. What do you have to say in response to the respect Hackleman is showing for your skills?

LM: I respect Chuck as a fighter, and as a person, for what he has done for the sport. I also respect John Hackleman as a coach. I'm honored he feels that way and if the opportunity ever came up to fight Chuck, it would be an honor to fight such a legend in the sport of MMA.

PC: How do you see a fight between yourself and Chuck Liddell playing out?

LM: I'm really not sure. I would do my best to finish the fight.

PC: Do you think you should be next in line for a title shot after Rampage and Forrest Griffin fight?

LM: That's up to the UFC. I believe I'm ready for a title shot. If they gave that opportunity to me, I would gladly accept it.

PC: You may be fighting Tito Ortiz next. Is that a fight that interests you?

LM: Of course! Tito is a legend in the sport. I would love to test my skills against his.

PC: Tito is a great wrestler. What do you think of him as a fighter and how would you break him down?

LM: Tito is a very strong wrestler who has great ground and pound skills.

PC: Is one of your goals for 2008 to become the UFC light heavyweight champion?

LM: Yes

PC: You had 4 fights last year. Can we expect that same kind of activity this year?

LM: I hope so.

PC: We've seen a lot of upsets in 2007. It's hard enough to win from fight to fight, but you have remained undefeated and have beaten some great fighters. What do you think is the biggest key to your consistency?

LM: I'm always very relaxed and I come very well trained. I've been competing for a long time. I just work really hard and stay focused on my goals.

PC: What did you think of Chuck Liddell's fight against Wanderlei Silva?

LM: I thought it was a great fight that kept you on the edge of your seat. I believe it showed what kind of heart both of those guys have.

PC: I appreciate your time. I hope you get your shot at a title some time this year. Is there anything you want to say in closing?

LM: I would like to thank all the fans that rooted for me and I would like to thank my family, friends, and of course the UFC for making 2007 a year to remember. I would also like to thank Bony Acai and Sinister brand for the support and for believing in me.
[ Follow Percy Crawford on Twitter @MrLouis1ana ]