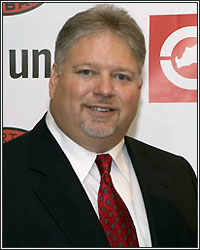 President of M-1 Global Monte Cox talks about the future of his organization and gives an update on several fighters that he manages. Check out what he had to say about Fedor's recent win over Choi, their next show tentatively scheduled for April or May as well as the likelihood of a fight between Fedor and Couture or the possibility of signing Josh Barnett. Plus, don't miss updates on Matt Hughes, Tim Sylvia, Robbie Lawler and much more.

PC: Congratulations on getting your first M-1 show in the books. How do you feel it turned out?

MC: Thanks! I thought it went good. We needed to get a fight for Fedor and the Japanese fans wanted to get in the Pride era and that's kind of what the theme was more than anything else; kind of a goodbye to Pride. I think that worked really well.

PC: They had some great fighters on the card as well as some great fights. How do you feel the fighters performed?

MC: I think there were some fights that were better than others. In general, I think Misaki did very well. I think Fedor did what he was supposed to do. I'm pretty happy with everything.

PC: How important was it for you to have that event in Japan?

MC: I think it was more important for the Japanese. We want to do business in Japan and the Japanese wanted somebody to put on kind of a farewell for Pride and we stepped up and supported it. We want to go back and do more shows in Japan and I think after doing this one, it will be easier for us to do them in the future.

PC: How did the deal come up with HDNet Fights to broadcast the event?

MC: We've been having talks with HDNet about doing M-1 Global shows ever since we've been put together. When they found out we were doing a show, they expressed interest in being a part of it so we found a way to make it happen. They said they wanted to do it live, which was a really good undertaking, and they did it. Everything just seemed to work out.

PC: That was a great way to end the year getting Fedor active again. How does M-1 capitalize on the success of the first show and how many events can we expect from you guys in 2008?

MC: We're probably looking at doing 3 or 4 big shows in 2008. We want to do at least 2 of them in the States and 1 in Japan. Then we want to have one more that could be in Japan or could be in the U.S. We're just not sure where that fourth show would go.

PC: Any time a guy is fighting someone so big, there's a risk of something bad happening. Fedor was your key acquisition. How do you feel about his performance?

MC: I think Fedor has proven over the years that he's the best fighter in the world. There were people that said Choi wasn't that good and he was a can and things like that. That's crazy! This guy was a quality kickboxer. He wasn't as experienced in MMA as maybe we would've liked, but you have to remember, this show was done in Japan and it was done for the Japanese people. For them, this was a really good match and an interesting match. They love the whole David vs. Goliath thing. They have a rivalry with the Koreans, so beating a Korean is always a good thing for them. This was a match not made for the people on the underground in the U.S. It was made for the people in Japan.

PC: I'm sure you've seen where some people want you to pick between managing and being M-1's President. Do you think you could be successful at both at the same time?

MC: I think so. My thing is, I've been managing fighters for 13 years and I've been managing guys on my roster for 10 years. I'm not your typical manager. I'm not a guy that just grabs a guy that's successful and say, "Hey, I'll manage your career." I'm the guy that builds these guys. I take them when they only got 2 or 3 fights and potential and take them where they are. I've got a lot of time invested. They're my friends and my teammates; they're not just people I manage. It's a lot of time and effort involved and I have no interest in deciding whether or not I'm going to continue managing. My decision won't be persuaded by someone who writes for Yahoo or somebody on the underground because that doesn't really matter to me. What matters to me are the fighters. If the fighters want me to continue managing them, then that's what I'm going to do. If they think I don't have enough time or they choose to go with somebody else, that's their call. I won't be upset about it. I don't mind, but as soon as I got the M-1 job, I had basically every fighter on my roster calling me saying, "You're not going to quit managing us, are you?" I told them, "No!" They were all like, "Thank goodness." I'm more worried about the fighters than I'm worried about what people think.

PC: It has to feel good that they showed that concern?

MC: Right! As you know, and most people know, my fighters don't sign contracts so they could walk any time they want. If they want to go with someone else, every single one of them is free to do so. I don't have no hold on them, never have, but they chose to stay so that should say something.

PC: Are you guys targeting any certain fighters that you would like to bring in?

MC: We're certainly always looking. My situation is this…I'll tell you what I'm not going to do. I'm not going to go out and round up every fighter that the UFC or IFL or whoever has discarded, sign those people and become the scrap yard of MMA. That's not my goal. I see it all the time where people will put on a show with 8 former UFC guys and say, "Look, I'm as good as the UFC." It's nothing against the fighters, but I don't want to have a team or a show put together of people that other shows don't put on. I want to have key individuals. When we signed Fedor, every organization in the country would like to have had Fedor. When we sign other guys, they're all going to be guys that any other organization would like to have. That's how we're going to put our team together. We should be announcing in the next 2 weeks some more of our signings.

PC: When will we get the next show?

MC: I'm thinking in April or May we'll do our next show.

PC: The fight everyone wants to see is obviously Fedor against Randy Couture. Do you think that's a fight that we could see this year?

MC: Who knows whether that fight will ever come about? I mean, I would love to see it. No one is going to put on that fight without us since we have half of the equation, but at the same time, I'm very familiar with contract disputes in the UFC and I'm familiar with how binding their contracts are so I'm not counting on that fight happening. If he indeed becomes a free agent and he legally becomes available to fight, then yeah we would be 100% interested.

PC: You managed Matt Hughes for a while. He just suffered another loss to Georges St-Pierre. Would you like him to just run his new gym and step away from fighting?

MC: The new gym, Matt's not going to be there running the gym and sweeping the floors and things like that; trust me on that. He's using his name and influencing something to start a gym, but I think it's up to Matt. It's what's in your heart. Matt's the kind of guy who's used to being the best. If he feels he can no longer be competitive, I can't see him spending anymore time fighting. A loss to St-Pierre is nothing to be ashamed of. St-Pierre is about as good as it gets in that division. I think Matt has the desire to fight Matt Serra and hopefully we'll get to see that fight before he calls it quits.

PC: Josh Barnett is a hot free agent that everyone seems to want to see what his next move is going to be. Is that someone you would be interested in bringing to M-1 Global?

MC: Yeah! Obviously Barnett is a quality guy and a very good heavyweight. I know several organizations have already been in contact with him and they are already negotiating with him and we've contacted him. It just comes down to business for M-1. Is it better for us to sign Josh to an expensive contract and have him fight Fedor or would it be better to let someone else sign him to an expensive contract and co-promote an event with them so he fights Fedor. We're not going to be able to sign every guy who's a top competitor for Fedor. Some of the guys we're just going to have to partner up and share the profits with somebody else.

PC: When can we expect to see Robbie Lawler again and how is he doing physically?

MC: I just saw him a few minutes ago in the gym. He's not working out yet, but his bicep is healing. He thinks that before the month is over, he'll be able to get back in the gym and hopefully we'll see him fighting in March or April.

PC: Tim Silvia is another one of your guys. He has excellent strikes. How do you like his chances against a guy so good on the ground like Nogueira?

MC: I don't like his chances on the ground, but I don't think he's going to go there. I like his chances of finishing Nogueira on his feet and I think that's the way that this one will probably go. Nogueira is going to try and get it to the ground and Tim's going to try and keep it up and whoever executes their gameplan is going to win.

PC: I appreciate your time Monte. Congratulations on becoming the President of M-1 Global. Is there anything else you would like to say?

MC: No, I think we covered it all. Thanks!
[ Follow Percy Crawford on Twitter @MrFighthype ]