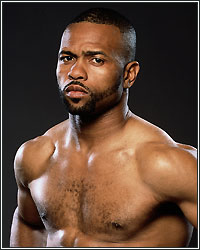 Well that didn't take long. Just two days after his win over Felix Trinidad, it appears as though Roy Jones Jr. believes he's back at the top of the food chain. Before the fight, Jones had openly stated that if a highly-publicized bout between Bernard Hopkins and Joe Calzaghe was not a done deal, he was looking forward to flying out to Wales in hopes of securing a clash with the Welshman himself. Of course, the very next day after the fight, Golden Boy CEO Richard Schaefer announced that Hopkins-Calzaghe was indeed a done deal and set to take place on April 19th. Undeterred, Jones turned his attention to several other options he thinks are open to him and it appears the one that he's most interested in is a clash with none other than Oscar De La Hoya.

In a short boxinqtalk interview, Jones went through a list of possible names for future opponents, but the one who he seemed to talk about the most was Oscar De La Hoya. When asked if he had planned on continuing his campain near the 169 pounds he had just fought Trinidad at, Jones replied, "Oscar De La Hoya is the only guy I plan on fighting that low for. If I can get De La Hoya, I'll fight him at 166. He's talking about making a big fight, it's whatever he wants to do. I don't call nobody's name. I'll fight anybody, I don't care."

It's funny to hear Jones say that he "don't call nobody's name" when he just took the time to mention Oscar De La Hoya's name, not once, but twice, despite the fact that it was never brought up. Jones would continue, "Wherever I go, I go. If Oscar wants to fight me and he's talking like he might want some of this, I'll go to 166 for him. He's the only person I'll go to 166 for, nobody else. If he's chicken, he'll say nothing, if he wants some of this, all he has to do is say so."

It seems like nowadays, a fight with Oscar De La Hoya is what every fighter wants regardless of their weight and it appears as though they'll say or do whatever it takes to make that fight happen. Surely it won't be long before heavyweight champion Wladimir Klitschko throws his name into the De La Hoya sweepstakes. Seeing as how Oscar is already talking about fighting a rematch with the CURRENT pound-for-pound king Floyd Mayweather Jr., I don't think he's going to be too interested in fighting a FORMER pound-for-pound king any time soon. There's probably no need for Jones to hold his breath or mention Oscar's name again. That being said, there are other options out there for Jones. The winner of the Pavlik-Taylor rematch is certainly a possibility and Jones welcomes that fight, saying he'd be willing to make it happen as early as May or June.

Jones even went so far as to throw out the possibility of a fourth fight with Antonio Tarver, stating "Come on with it. I don't care. He knows what he was looking at the other night, all he has to do is think he can get me again and I've got something for him." As much as I hate to admit it, it sounds like Showtime may have just found that opponent they were in search of for Tarver. Not exactly a fight I want to see, but hey, as long as it's free, I guess I won't complain too much so long as the winner agrees to face the winner of the upcoming clash between Chad Dawson and Glen Johnson (two names that Jones failed to mention in his list of options). Ah, but let's not kid ourselves. We already know there's not enough money in the pot to make Jones or Tarver back up all the talking they do. The reality is that we'll just have to wait and see which network is willing to pony up the most money for Roy's next fight since it's apparent he's just waiting on the highest bidder.
[ Follow Ben Thompson on Twitter @fighthype ]