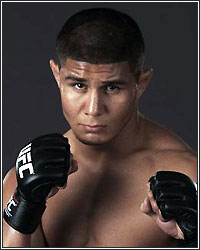 UFC lightweight contender Joe "Daddy" Stevenson talks about his recent loss to BJ Penn at UFC 80. "I want to be the champ and the best thing to do is to get back in there," stated an upbeat Stevenson. Check out what he had to say about the fight, his future plans and much more.

PC: How are you doing physically?

JS: Great man! I don't have not one scratch on me except for my forehead (laughing).

PC: How long did it take for them to close that gash my man?

JS: They stitched it right after the fight in the back locker room so it was fine. I flew on an airplane and everything. I got back and my boy Nate from WarriorWear took me out to Disneyland. He hooked it up for me and the family because it was such a good fight. I'm about to go do this autograph signing at the ASR Convention for Stagr and I'm just trying to get all of my eggs back in a row. I just started running. I'm a little pissed off at how the fight went. I want to be the champ and the best thing to do is to get back in there.

PC: You gained a ton of fans after that gutsy performance. How do you feel about your performance?

JS: I think I did good. I just got cut. I think it was getting better and better for me and sometimes you eat the bear and sometimes the bear eats you.

PC: Even when he had top control, you were doing a great job of avoiding too much damage with the exception of the elbow of course. At any point in the fight, did you feel as thought it was like "I'm in here with the great BJ Penn"?

JS: The whole time, I was just thinking about what I was supposed to do next. Should I try and stand up, get up, get against the cage, do this, do that. That's all I was thinking the whole time.

PC: Elbows are legal and I'm not disputing that, but do you think it would've been a different fight had you not got cut like that?

JS: I think it definitely helped him sink in that choke, but you know what, I'm not going to be that guy. He beat me. It was his day, it wasn't mine and I'm not going to be like, "Oh, you see that elbow, it…" No, he won.

PC: I know that was a very emotional loss for you. What all was going through your mind after the fight?

JS: Man, I wanted to cry. I gave everything I had. I put in my life savings, took away time from Christmas, New Years, time from my family man…I sacrificed everything and it would've paid off. I would do it all again if I had to.

PC: I was emotional for you man. I talked to a lot of fighters that told me how you were in Big Bear busting ass. I'm sure it had to be tough to lose like that?

JS: I saw the tape and it looked like I was crying, but I had something in my eye…my blood (laughing).

PC: How soon would you like to get back in there and try and turn things back around?

JS: I just opened up a new school here in my hometown of Victorville and I want to take about 5 months off before my next fight. I want to do everything right. I got another baby on the way with my beautiful wife. I want to keep everything in line and go out there with no distractions.

PC: Who do you like in the fight between Sherk and Penn?

JS: I don't know. I think I have more personality in my left hand than they do in their whole body. Good thing they're good at other stuff. I think BJ was a little tired and Sean was probably a little jet lagged, but I think it's going to be a good fight man, between two bad ass people. You never want to see anyone that beats you lose so I want to go with BJ, but then again, you never know until they go out there and do what they're going to do.

PC: In my opinion, shit, you've been erased it, but do you think that fight is the one that erased the title Ultimate Fighter from your name?

JS: Yeah, definitely! I think I proved that I'm one of the best out there. I not only have the heart of a champion, but I have fuc…freaking the ability to be a champion. I'm still a little emotional from the fight so I'm still cursing a little bit.

PC: This is FightHype man; you know you say what you gotta say. Frank Trigg said he thought you were the 2nd best lightweight only behind BJ and I see on the message boards where you've gained a ton of fans. You're getting a lot of props my man.

JS: What are they saying because I haven't really been on the computer yet?

PC: Mostly that you gained a new fan with the amount of heart you showed; how you could've easily quit and guys saying they weren't big fans of yours before, but they are now. I have to ask you "Daddy", was there any point in the fight where you were thinking about quitting?

JS: No, not at all. I was thinking about finishing. I was thinking, "I gotta finish him. I don't want them to stop it. I gotta beat him."

PC: Is that why you started the 2nd round the way you did, because you were concerned about them stopping it?

JS: No, my coach told me, "That's the last round he wins Joe!" I was like, "Alright, I have to turn it on."

PC: When he hit you with the elbow, was it initial pain or just your vision being altered that was difficult?

JS: No, no! It didn't hurt. I had to check it like, "What was that? Ah crap!" It was just a well placed elbow man.

PC: I know you're on your way to a signing. We gotta start getting back together more man.

JS: Yeah man. Just text me up man. I'm sorry, I was just really busy before this fight. No worries man. Well I'm going to let you go I'm driving through the snow. Peace!
[ Follow Percy Crawford on Twitter @MrFighthype ]