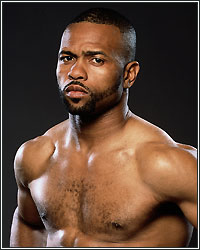 What good is an interview nowadays without the typical plea for a De La Hoya fight? Just to clear up any confusion there may have been the last five times he mentioned De La Hoya's name, Roy Jones Jr. touched on the possibility of fighting the winner of Pavlik-Taylor 2 before speaking in-depth about his desire to break pay-per-view records with the Golden Boy.

"If they want to come up to 168, unless Oscar decides that he wants to break all the PPV numbers and he wants to do something in boxing history, if he wants to participate in boxing history because he's not going to win the fight. Which is the same thing he's doing with Floyd. He won't win the fight, but he will break the PPV record and sell more homes than ever been sold. Fighting me will be the same for him as Mayweather. He won't win the fight, but it will be the biggest event of all time. He's not going to take the fight because what kind of chance will they give him. Bernard killed him and I beat Bernard with one so what chance would they give him? None." He continued, "That's the only fight, I think, because besides him and Floyd, this is the only fight that could emerge and surpass what even him and Floyd could make right now," stated the eight-time world champion in a boxinqtalk interview.

Wow! Jones-De La Hoya bigger than Mayweather-De La Hoya II? Really?? No way! I can't see that. No way a fight with Jones is bigger than a fight with the reigning pound-for-pound king! I'll have to do some research on that one.

I'll tell ya what fight could possibly be bigger than Mayweather-De La Hoya II....

Wait for it...

Wait for it...

TYSON-JONES!!! WOOOOOOOOOOOOO!!!! Remember where you heard it first! Come on...tell me you wouldn't buy it in a heartbeat. You know you would. Somebody start putting that one together. Hint! Hint! By the way, how come Roy's so intent on calling out these smaller guys? Stick to picking on somebody your own size! As far as I'm concerned, he should take care of that unfinished business with Johnson and Tarver before he tries to pick a fight with someone else.
[ Follow Ben Thompson on Twitter @fighthype ]