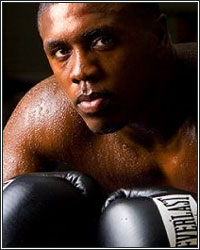 "I just want to be remembered every time I step in there," stated undefeated welterweight contender Andre Berto as he made it clear that he's always looking to bring exciting fights for the fans every time he steps into the ring. Check out what he had to say about his upcoming clash with Michel Trabant this Saturday, Feb. 9 at 9:45 PM (ET/PT) on HBO Boxing After Dark as he hopes to get in line for a shot at a title.

PC: How's training going for your fight this Saturday?

AB: Training has been going good. I'm just staying busy and staying consistent. I had a few of my partners come down and help me with my sparring. I had my man Andre Dirrell and Curtis Stevens to spar with down here so it was a full camp.

PC: Michel Trabant is the most experienced fighter that you have fought so far in your career. What have you gathered from watching tapes on him as far as what type of fighter he is?

AB: He ain't nothing special. He's kind of mechanical and he's a little slow, but you know he stays consistent and stays busy so I can tell that's probably how he beat a lot of his opponents, you know, but then again, a lot of the guys he's been fighting are from Germany and they're not up to par to the level of fighters out here in the US.

PC: Although he hasn't faced the best competition, he's never been stopped before. Do you think it's a first time for everything come Saturday night?

AB: Oh yeah! It's always a first time for everything. I been hearing he hadn't been stopped so that's definitely something I can look into. A lot of people know that's my specialty so we'll see how it goes.

PC: It seems like you've been stepping up at the perfect time with your opponents. How do you feel about the way your career has gone so far?

AB: Everything is going pretty good man. I've been getting a lot of love from the fans. I been getting a lot of good feedback from the network so you know I'm doing something right. Everything is going good and HBO stepped up to the plate and got me on the network early in my career and I believe I've been delivering what they want to see; so everything is going according to plan man. I can't complain.

PC: A lot of fighters that have been fighting a lot longer than you have never reached that pinnacle of fighting on HBO. How special does that make you feel for the network to embrace you this early in your career?

AB: Ah man, it's definitely a blessing. I've always watched it on TV growing up and now I see myself walking to that ring, seeing that big HBO banner, watching myself on HBO shows and seeing advertisements of myself on HBO is definitely a blessing. It's a dream come true and a lot of hard work. It's a lot more to come.

PC: A lot of young fighters hit that stumbling block and slip up along the way, but you seem to look stronger every fight out. What have been the keys to your consistency and to looking spectacular every time out?

AB: Just everything! A lot of people feel like I'm on top right now, but I always train and fight like I'm losing. I always train like I have something to prove. A lot of entertainers in general, you know, they perform every night for a few months to where us boxers have 4 or 5 times a year to have that stage to perform and I just want to look good every time I go out. It don't matter what type of opponent or even if it's a world champion, I just want to be remembered every time I step in there.

PC: I think 2007 was your final graduation from prospect to contender and our fans agreed with me. You recently won FightHype.com's Fans Choice "Prospect of the Year". how does it feel to be recognized by the fans for all of your hard work?

AB: Ah man, like I said, it's a blessing and a lot of hard work. That just lets you know that I'm doing something right and I'm just bringing the people what they want to see. I'm going to continue doing it, so you could let it be known that I'm going to give them what they want to see and I'm going to keep bringing it to them.

PC: It seems like it never fails for you and your brother to fight a week or so apart from each other. Do you guys get a chance to prepare together or is it done in separate camps?

AB: Yeah, we pretty much go to separate camps. This camp I did here at home and he did his here at home also so I've been trying to help him out with his boxing a little bit because he has a really big fight coming up. He's in terrific shape right now and he's trying to get himself together all around and keep it moving and keep that Berto legacy going.

PC: You were supposed to fight a slick boxer in Steve Forbes. Was it difficult for you to switch opponents being that these cats' styles are different or did you have adequate time to make adjustments in your camp?

AB: Yeah, it was good. It was early enough. I think just being one of the top amateurs and me going to the Olympics and everything else, I think I've pretty much seen every different style out there. Training down here, we had to adjust some stuff a little bit, but we gonna make it happen.

PC: What can the fans expect to see from Andre Berto on February 9th?

AB: The same old me, you know, speed, power, explosiveness and just an exciting fight. I'm one of those type of guys to where if I'm fighting a guy that isn't on my level and still let him stick in there and play around with him for 10 or 12 rounds, that's not me. I'm going to try and get him out of there so it's always going to be exciting.

PC: I'm sure you have big goals for 2008, starting with a win Saturday. What are some of your goals for this year?

AB: 2008 is definitely going to be a big year for me. I'm making a lot of different changes being that I'm stepping out and taking more control of my career. 2008 should just be a huge year for me man. HBO is behind me 100% and this year, I'm looking forward to moving from getting prospect or contender of the year to a world champion this year. That's the goal and I just have to stay focused and make it happen.

PC: We'll hook up again after this fight my man. Good luck this Saturday. Is there anything you want to say in closing?

AB: Everybody just keep riding with me and I'm going to keep bringing exciting fights and thanks for the love. I appreciate it.
[ Follow Percy Crawford on Twitter @MrLouis1ana ]