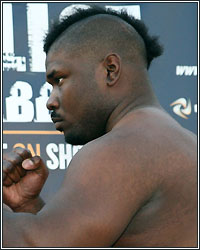 EliteXC heavyweight contender Brett Rogers talks about his big win over James Thompson during EliteXC "Street Certified". Check out what he had to say about his performance, his future plans and much more as he talks about the possibility of going toe-to-toe with Kimbo Slice.

PC: Congratulations on your win over James Thompson.

BR: Oh okay, thanks man.

PC: How did it feel to keep your undefeated record intact?

BR: It felt great man. It felt real good. I plan on keeping it that way for a little while longer.

PC: How do you feel about your performance?

BR: I was hoping it would just be a stand-up fight, but overall, I can't knock anything. It was a good fight for what it was, being that he had a little more reputation than me. It feels good to be the underdog?

PC: Were you surprised when they started to boo you after the knockout?

BR: No. It didn't bother me that much man because I knew he had a fanbase there too. It was just a small chunk of the crowd so it really didn't bother me that much. I got a laugh out of it anyway so it was all good.

PC: You seemed to be pretty relaxed during his bull rush, which he's known for. Did you expect that and therefore prepare for it?

BR: I did expect that. I watched tapes on him and in his last couple of fights, that's what he's known for doing. I saw he lost his last 3 due to a knockout so I figured he was going to rush across and try to wrestle me down to the ground, you know. I just stayed calm with it and waited for my opportunity.

PC: Your takedown defense was on that night. Who had you been working with to defend those takedowns?

BR: Basically everybody on my team loves to wrestle man. I got my guy Ricco Washington and Isaiah Larson; pretty much everybody on my team loves to wrestle. I thank everybody for that.

PC: When would you like to get back in there and fight again to capitalize on this big win?

BR: As soon as possible man. From what I hear, I could have a fight in a couple of months. If I had it my way, I would fight every month, but every other month is cool as long as it's consistent. I don't like ring rust. It doesn't do anybody justice.

PC: I know, going into that fight, you questioned his chin. Did you know that if you could get him to trade with you, that you would eventually knock him out?

BR: Yeah. I knew if it would've been a stand-up fight man, it wouldn't have even lasted that long. Everybody and anybody that would've done a background check on him would've done the same thing I done. They would've went out there and just banged with him. Why wrestl? Everybody loves the KO.

PC: Was it frustrating you the way he kept attempting to take you down or was it just a matter of time before you got the distance you needed to let your shots off?

BR: It was just a matter of time. I wasn't real frustrated just because I expected that from him. When you're a stand-up fighter, you're going to be frustrated when somebody is trying to take you out of your game. That's what he was trying to do was take me out of something that I love to do. I was just patient man. That's the name of this game.

PC: Kimbo Slice is definitely a striker. People are starting to buzz about you guys fighting. Is that a fight you would be interested in?

BR: I'm like this man...I'm doing this for the money to support my family and everything so whoever Elite puts in front of me, it's just going to be that fight man. The word is going around that they want me to fight him and if the money is right and I know in advance, then I'm down for whatever. He's a striker, but it's not just a striking game too. If I was focused on something else, I would be focused on that too. I don't know. We'll see.

PC: How do you think he looked against Tank?

BR: I feel that everything he did was expected. I knew he wanted to stand and bang. I was shocked how soon the fight ended. I'm a fan and I thought there was going to be a little more banging. I ain't putting Tank down, but I thought he was going to bang a little bit more.

PC: The EliteXC heavyweight division is really shaping up. What did you think of Antonio Silva's win over Ricco Rodriguez?

BR: That fight was interesting too because I thought there would be more banging between those two as well. Then, once it went to the ground, I was expecting a little more ground play being that both of them are known for good ground work, but we didn't see too much of that. I'm not saying I'm disappointed; it still was a good fight. I had my odds on Silva just a little bit (laughing). If Ricco's listening, I'm not trying to be funny or nothing, but "Bigfoot" is a big man and I give him credit.

PC: What would you like to have accomplished by the end of this year?

BR: I'm in the game for the titles. I told my managers that, you know. I'm quitting my job for this so it's gotta be real. I'm taking it real. Where's that money at? With the title so along with the title comes everything else. I'm hoping 2008, if I'm not fighting for the title, I'm right around the corner. Word out to my managers. Keep on getting me good fights so I can get there.

PC: You gotta put that out there for them, huh?

BR: (laughing) Yeah, I gotta put that out there.

PC: We have to get you on the site more my man. I appreciate your time. Is there anything you want to say in closing?

BR: I want to thank my hometown of Minnesota and my teammates out there at Team Bison at the Brunette's Gym and for any of the sponsors out there listening, please believe that I always step in health.
[ Follow Percy Crawford on Twitter @MrFighthype ]