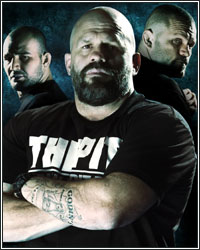 "I honestly think Rashad is a tougher fight," stated Pit Boss John Hackleman as he talked about the change in opponent from Mauricio "Shogun" Rua to Rashad Evans. Check out what else he had to say as he talks about Chuck Liddell's next fight at UFC 85. Plus, Hackleman shares his thoughts on UFC 82 as he talks about Herring's win over Kongo and Silva's impressive victory over Dan Henderson...so impressive, in fact, that Hackleman would like to have the UFC middleweight champion come train with them at the Pit. Don't miss it.

PC: How have you been?

JH: Good! I'm doing good. How are you?

PC: I'm good. Thanks for asking. I'm sure you guys are disappointed that the Shogun fight isn't happening?

JH: Yeah we are.

PC: What are your thoughts on switching over to Rashad Evans as an opponent and how much does that change your gameplan?

JH: The gameplan is not going to change that much; a little bit. It's business as usual. We're a little disappointed, but Rashad is a great fighter. We're taking him very seriously, but we think at the end of the day, Chuck's superior firepower will win it out.

PC: Did you guys ask for the Shogun fight or was that name just tossed out there to you guys and you took it?

JH: No, we all just came up with a bunch of names and that one made the most sense at the time.

PC: A win over Rashad could possibly set up a 3rd fight with Rampage. Is that something you guys are expecting?

JH: No! We're not thinking of him. We're not thinking about it. It's business as usual for Chuck in training. We're not thinking of that at all. We're just thinking of this fight and whatever happens after this fight happens.

PC: You told me for the Jardine fight, you had a tough time getting Chuck motivated...

JH: (Cutting in) Who said that? See, that's a misquote. We were motivated like crazy. It's just Jardine decided to beat up Chuck.

PC: Damn John, don't beat me up. I didn't finish. You said it was tough getting him motivated in the corner and it was the first time in awhile you had to yell at him in the corner.

JH: Oh, yeah, yeah! No, it was Jardine being extra hard and he didn't know when to pull it back a little bit. He wanted it to be a big shot and win the fight (laughing).

PC: Switching to Rashad from a fight with Shogun, you don't see a motivational letdown being a problem?

JH: No! In fact, I think Rashad...and taking nothing away from Shogun, and don't tell him I said this because he might come at me with one of his knees or something.

PC: I'm sure you're not worrying about that!

JH: (laughing) I honestly think Rashad is a tougher fight. I'd rather fight personally and for Chuck, I'd rather fight Shogun than Rashad. I'm not taking away from Shogun, but I think, since the first time I've seen Rashad, I thought he was one of the best 205-pound fighters in the world.

PC: I was going to ask you that. Rashad is young and a name like Chuck on his resume under the W column could have him a little hungry for this fight.

JH: I think it will. There's no way anybody will take Rashad lightly.

PC: Rashad likes to box and stand and bang. Do you think he will play into Chuck's hands and do that?

JH: I don't think Rashad's going to stand and bang with Chuck. I just don't. I think he will use his footwork, speed and try to bring his wrestling into play. I don't think he's going to stand and bang with Chuck, but we hope he does (laughing).

PC: Is Chuck in the gym just maintaining right now?

JH: Yeah. We started camp early because Chuck had some trips. He has to go to England for a publicity tour and then we're going to come back to training next week so we started a week early.

PC: I know you didn't agree with having Chuck fight in London. Is that because you didn't want him having to adjust to a different time schedule?

JH: Oh (laughing). No, I just don't like traveling so I was being selfish. Chuck loves to travel though, but I was trying to talk him into doing it here.

PC: They didn't budge for you, huh John?

JH: No, they didn't. They did a lot for this one though so I gotta say the UFC is a great organization.

PC: Have you started breaking down footage of Rashad yet?

JH: No, not yet. I'm going to start that next week. It's just business as usual now. Chuck's leaving Monday and then coming back Sunday. He's bringing some training partners there to keep his training going.

PC: Chuck just put out an autobiography. Can we expect to see an autobiography from John Hackleman soon?

JH: Did he? Yeah! Actually, we're going to write one and we're looking at a reality show called "The Pit". They're actually going to come next month and film the pilot. We're looking at a lot of things; we're staying busy.

PC: It seems like you're always in the gym when I talk to you?

JH: Yeah, we're doing a lot of stuff. We're not scared. We're not scared; we back it up. Glover's teaching class right now. Glover Teixeira, you know, he just had a 5-second knockout like 2 or 3 weeks ago. He knocked out Jorge Oliveira 5 seconds into the first round. Glover knocked out Sokoudjou and then Lighty just had his second first round knockout. You remember, he went from K-1 to MMA. He just had his second first round KO last week. The Pit's taking off. Glover's teaching a kid class right now; he's abusing the children.

PC: Glover still has that punching power, huh? Was it a KO by punch?

JH: Yeah, a right hand. What he has that a lot of fighters don't have, which is going to do him well in his career, is that one punch, put you to sleep Mike Tyson power. That's what he did with Sokoudjou and this guy. His idol is actually Mike Tyson and he hits like him too. I think he will do well in MMA. He's kind of like Igor Vovchanchyn only he has better skill, but he has that same knockout power.

PC: I have to ask you this since I've been getting asked a lot. We haven't seen Chuck KO anyone since the Ortiz rematch. Do you think he's losing his power?

JH: I don't think so. If you look at the fights that didn't get stopped, his timing was a little off against Jardine and Jardine's timing was a little on and against Wanderlei, Silva brought it all. I don't think so. If you look at Wanderlei's face, you can see he hurt him a lot.

PC: Who do you like in that Wanderlei-Jardine fight?

JH: I don't know. I like them both. I think it will be a war. How did you like Silva and Henderson's fight?

PC: Silva is an animal. He's really good!

JH: He's unbelievable, huh? If we get our way, Anderson Silva is going to come over here and train with us. What about Nogueira? What an animal, huh?

PC: Definitely. I'm still taking in what you just said about Anderson. That would be nice if you can get him over there.

JH: I know!!! What did you think about Herring and Kongo?

PC: Heath really looked good and Kongo has improved a lot.

JH: I think both of them looked a lot better. Kongo's ground game looked a lot better. Was that Cecil Peoples that gave the fight to Kongo? That was crazy.

PC: I remember a comment about Kongo getting with you once.

JH: Yeah, Joe Rogan said that. I would rather have Heath though. I love Heath, but he's a crazy guy though.

PC: I always forget how young Heath is when they show his age. It's hard to believe he's not even 30.

JH: He's been everywhere. You know he lived in Holland for years. He's the one that the guy kissed and he knocked him out and got disqualified.
[ Follow Percy Crawford on Twitter @MrFighthype ]