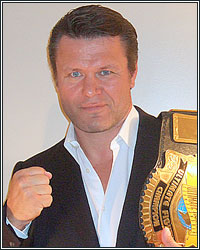 "I'm really hoping to bring the excitement back and kind of refresh people's memory of where we came from. We used to all have some type of martial arts style and we were way more exciting," stated legendary mixed martial artist and UFC champion Oleg Taktarov as he talked about the differences between today's fighters and those from his era. You don't want to miss this exclusive as Taktarov speaks in-depth about his return to MMA and his upcoming clash with Don Frye during the April debut of YAMMA Pit Fighting. Plus, Taktarov shares his thoughts on Kimbo Slice, Brock Lesnar, Dan Severn and much more, including accusations that Ken Shamrock used steroids. Check it out!

PC: It's an honor to speak with you. How have you been doing?

OT: I've been fine, thank you.

PC: How has training been going for your upcoming fight against Don Frye in April for YAMMA?

OT: I just want to say that the smartest thing I've done during my early fighting years is that I've never used any steroids. My body feels the same and there's no difference from 10 years ago to now. I cannot say the same about some other fighters who used steroids back then that had limited success because of it, but now it's coming back on them so I'm glad I didn't. I feel the same.

PC: You took 10 years off from fighting. What made you get back into this sport?

OT: Everything just happened one thing after another. I was doing Russian TV. I was doing Russian TV channel number 1. They offered me to fight Tyson and I was thinking, "Wow, great publicity." I would not box Tyson, but I would definitely wrestle him down and it would be good publicity. The referee would stop the fight or even if I lose, why not? I would pick up some extra bucks plus I wasn't in great shape. That was in June of last year in Russia, but they couldn't get Tyson, but they did get Dolph Lundgren "Ivan Drago." You can go to Youtube and see they had over a quarter of a million people view our fight; it was pretty popular. I couldn't punch him in the face and I couldn't knock him out until the 5th round. I accepted it, but I was kind of afraid because I knew Dolph boxed when he was young and he caught some guys with some good body shots, but he didn't really know much about hitting in the face and how to protect their face. In five rounds, I was able to land 80% of my punches to his body and most importantly, I didn't get tired and I was wearing him out. I was making a movie in Southern Russia in the mountain region and I was running in the mountains every morning. I was thinking, "I'm still in great shape." I started to think seriously about it because I didn't feel any different.

I got an offer from Bodog and they told me since I was the most well-known Russian fighter, they would offer me some serious money to fight in the main event under Bodog rules in Moscow in November or October. I said, "Sure, why not? If I don't except this fight, I'll never fight again." I wanted to just give it a try. My movie business has been doing well and I had the movie "Montana". I decided not to do any small parts and scripts that I don't like and, you know, if not now, then when? I took the offer and trained for 2 months. When I first started training, I think I made a mistake because all of my body was sore and I couldn't breathe when I wrestled. I got 2 strong hits to my chin when I went to the boxing gym, but the next time, everything went different and I felt like I had been training all year and it worked. With age, you get smarter. I did my secretive training because I wasn't telling anybody and I was thinking I could do this and hopefully I will be able to accomplish it. My gameplan worked except I got a really strong hit to my chin in the first round and I went all the way to the ropes. I read the rules that allow you to grab the ropes and your opponent wouldn't hit you, good thing it was the ropes and not the Octagon, so I was able to hide myself. I recovered in the first round and in the second round, everything worked the way I had planned. I got a little bit lucky and my opponent hurt his shoulder and I put pressure on his right arm and it worked.

Now I got a call from my old-time buddy, somebody that kind of discovered me, in a way, in my early days, Bob Meyrowitz, and his idea sounded very good to me; to fight a senior. Frye is an older guy like me and there was no reason to not take it. We're both on the same page. It will be kind of cool to gameplan and strategize like we did before when we started fighting and I think that's funnier to watch. I only want to do elite parts in movies in the summer and have time to train and the money was good. If not now, then when? I don't think I will fight 5 years from now.

PC: We all know what Frye wants to do and that's to stand and bang. You obviously like the submission game. How do you see this fight playing out?

OT: I think, speaking of submissions, I'm definitely better than him. Speaking of wrestling skills, Don's better than me because he has a wrestling background. If we had clothes on, like a Gi, that would help because I've been training on my Judo. I haven't lost a point to no one. I've been beating all of the top Judo guys. A fight with no Gi, Don has the edge and I know this so I will be prepared for this. I do have a hope that I'm better than Don condition-wise. I like mountains and I like running, but Don never gives up in his fights and that's good because neither do I. It should be exciting to see whose will is stronger. Don is a pretty gentle guy so I don't expect a headbutt or an eye gauge. I expect technique and an exciting fight.

PC: You guys will be competing in a new organization and Meyrowitz is actually the guy that started the UFC. Do you think fans should embrace competition to the UFC?

OT: I think everybody should have a chance and I think it's great that we have this competition right now. So far, we have been able to overcome boxing. We have more exciting fights than boxing technique-wise. Unfortunately, only a few fights have this level that I can watch and enjoy, like Silva and Henderson. Those guys have heart and technique. The rest of the fights are pretty boring to me. 98% of the fights are the same. They have the same style, technique and movement and it's just not exciting. I'm really hoping to bring the excitement back and kind of refresh people's memory of where we came from. We used to all have some type of martial arts style and we were way more exciting.

PC: You battled Ken Shamrock to a draw in the early UFC days. What did you think of his performance the other night?

OT: Ken Shamrock had it for many years and he's a Leo. That's his zodiac sign and that explains everything. Back then, Ken did some mistakes. Just like other fighters, they were relying on different things instead of hard training and practicing techniques. I like Ken, but what I can say is when you're talking about Frank Shamrock and Ken Shamrock, Ken always acted like he knows everything and Frank would be quiet and learn things, practice things and try to get a style down and learn from his mistakes. I have to give credit to Ken because he's 44 and he's had some good fights in the recent past, but I'm pretty sure if he used his natural ability and his desire to fight, he would've did so much better. Ken made some of the mistakes I mentioned earlier. His body would be more together right now and I think that's the only reason he's losing.

PC: What do you think about guys like Kimbo Slice and Brock Lesnar getting into the sport?

OT: Let them have a chance and we're going to see if they make mistakes and if they're not passionate about it and that's okay. As long as it is a competition, why not?

PC: What do you think is the biggest difference between the fighters in the past opposed to the guys fighting now?

OT: We had fighters that knew some styles very well. If they were wrestlers, they were Olympic-level wrestlers. If it was a Sambo submission guy, they would know their techniques very well. Right now, I think the majority of these guys know everything, but they don't know anything. They know a little bit of everything, but I think they're too lazy to learn. I like when people are really skillful. Some people are natural born wrestlers, some strikers and some submission guys, but I think that's what they should focus on more.

PC: Do you think Fedor is the number one fighter in the world right now?

OT: Right now he is and of course his age and injuries are changing his fight a little bit. He's a great man and he likes to keep his word. Like the last time he competed in Combat Sambo in Moscow. He was sick really badly and he was still fighting and he could've really damaged his heart and health. He fought just to keep his word and people thought he didn't have it anymore just because he was sick. The best thing about Fedor is he trains like a madman and he's going to win. He trains in the right places and he always gets good conditioning in the mountains.

PC: Would you like to see him stay in the ring or would you like to see him try his skills in a cage?

OT: Sure. The thing is, he will train hard whether it's a cage or ring. He's not going to come in under prepared and that's the most important thing.

PC: Are you expecting to fight more after the Frye fight or is this it?

OT: Yes, I do have a couple of fights in my mind and I just hope that the promoters have the same ideas as me and the same desire to see me fight those guys, but we'll see.

PC: Is Dan Severn one of those guys?

OT: I personally think with Dan, everything is solved and there's no issue with Dan and me. He's too old right now. The first fight was a wrong stoppage and everybody knows now that I would submit him if they didn't stop the fight due to a cut. The second fight was a judge decision so he never had a chance to get me. I had a chance. I had a straight leg in my hand. I got greedy. I didn't want to just submit him. I wanted to break the leg because it was the leg that cut my forehead. I was too greedy. I didn't want to submit him. I wanted to break the whole leg and I changed positions and didn't really have control of his leg. It was my mistake. I should have just won the fight. I don't feel like I have any problems with Dan, but there are some people I'd like to fight again. I made 2 mistakes. I feel like I have 2 losses and the mistake is that I would have a fight a week or two before another fight. I'll give you even more information...not the Brazilian fighters, but the Brazilian ladies helped me lose the fight. I only see 2 real losses in my life and I'd like to revenge those guys. I'd also like to try the new champs and I really think I could do something with the mistakes I see in their fights.

PC: It was an honor speaking with you. Thanks for your time and good luck against Don. Is there anything you want to say in closing?

OT: I just want to say stick with the sport and hopefully it will continue to grow. I'm glad that I was fortunate to win in the beginning and I was lucky to be in the right place at the right time with the right skills and I hope the newer generation will continue to learn more things and put on exciting fights.
[ Follow Percy Crawford on Twitter @MrLouis1ana ]