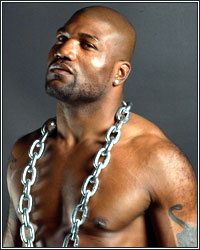 FightHype.com just received a call from undisputed UFC light heavyweight champion Quinton "Rampage" Jackson, who wanted to respond to recent comments made by Wanderlei Silva in his blog [see below]. "This guy is crazy," stated Jackson in regards to Silva's comments about his unwillingness to confront him in Vegas. "See, Wanderlei thinks everyone is supposed to be scared of him and I'm not!"

Jackson continued, "Ask Wanderlei what he's going to do when the referee doesn't stand us up, when I'm whoopin' his ass on the ground, like they did in Japan? He's going to have a tough time hanging me over the cage? (Laughing) This dude is stupid. I hope they do stand us up in the Octagon and we'll see what happens."

While both Silva and Jackson already have upcoming fights scheduled, there's a strong possibility that we could see Jackson-Silva 3 in the near future. The war of words has already begun and, given the fact that these two just simply don't like each other, one would think that a long overdue third fight would provide the type of fireworks that could headline any event. Will the outcome be the same as the first two fights or will the third time be the charm for the new and improved Jackson, who's already had two dominating performances in the Octagon over former champions Chuck Liddell and Dan Henderson?


---
3/29/08 - WANDERLEI SILVA RESPONDS TO COMMENTS MADE BY QUINTON JACKSON ON THE OPIE AND ANTHONY SHOW
"I'm always watching out for the comments here [the blog] and in PVT [portaldovaletudo.com.br]. For my surprise, I saw that someone changed my nickname from Axe Murderer to Chump Murderer, but what I have to say is that the nickname is only applied to one person because the only chump i fought was Quinton [Jackson]. That's old history: 'he who beats, forgets, but he who get his ass kicked, wants revenge.' What I have to say is that this fight is gonna happen again soon, but it's gonna be hard to hang him on the cage [in reference to their second fight at PRIDE 28 that Silva won by knockout, leaving Jackson dangling from the bottom rope]. I think it's strange for him to talk like this on the internet because he had a lot of opportunities to talk this to my face when we met in Vegas. He said that I don't look to him eye-to-eye, of course I don't! I don't like him; I really don't! I think he's a chump and an idiot. We can't forget to say that he is a tough fighter, but I think that fight can happen sooner than everybody imagine cuz I don't know if he can win his fight against Forrest."
[ Follow Percy Crawford on Twitter @MrFighthype ]