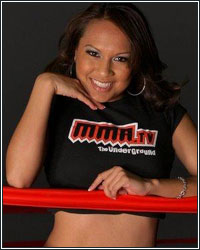 "If you come to our event, you will see a lot of demonstrations. We'll have grappling demonstrations, Muay Thai demonstrations, there are going to be mats where people could just roll and when you walk into the venue, you're going to see exhibitor booths...You kind of get a feel for the industry and at the same time, you learn more about the sport and interact with the big name fighters that represent that particular sport," stated Tamara "Miss RaRa" Suguitan, VP of Promotions and one of the founders of NAMMAE (North American Mixed Martial Arts Expo), as she talked about their next two events, her own history in the industry and much more. Check it out!

PC: How's everything going with you?

TS: Everything is going good. I've just been traveling a lot. Last week, I went to the WEC in Vegas, then I came to LA and went to the King of the Cage and then I went to San Jose for Strikeforce and then back to LA for Fatal Femme.

PC: My goodness. So you get to see plenty of fights?

TS: I do and I love going to them. I don't even look at it as being part of my job now or interacting with the people in the MMA industry. I look at it as, "Oh, wow, this is fun!" It's just me being me; the little net worker woman that I am.

PC: For those who are not familiar with you, and that list is very short from what I see, can you explain what role you play in the sport of mixed martial arts?

TS: I'm actually one of the founders and the VP of Promotions for NAMMAE (North American Mixed Martial Arts Expo) and I'm also the co-host and IM girl for Yac&J's MMA and Boxing Show on TheStream.tv, which syndicates off of ProElite.com, Yahoo Live and Blog TV.

PC: You stay very active in the sport. How do you make time to fit everything that's going on into your schedule?

TS: Most of my work consists of me being on the internet and networking with people, constantly sending out emails. When I'm not on my computer, I'm glued to my Blackberry, sending out emails from my Blackberry, responding to instant messages and I even check The Underground, mma.tv, which is now mixedmartialarts.com. That's what I do. I'm always connected and if I'm not connected, I feel kind of naked, like walking out of the house with no cell phone, you know?

PC: Do you ever take some time off and get a break away from everything?

TS: To me, I feel like I'm working all of the time. No matter what I do, I feel like I'm constantly working. I do try to find time for myself. I'm a lady so I like to go and get my nails done and get my hair done.

PC: And shop I'm sure?

TS: No, I'm actually not a shopper. I'm not much of a shopper. I grew up a tomboy. I was a soccer player my entire life. I'm hardly one for like glamour clothes or brand names or whatever; that's just not me. I just like to be me. Even when I go to these events, I already feel like it's a vacation in a sense too. You're going to the UFC and you're in Vegas at the afterparties and you go to the hotels and there's the pool and you can chill and get a massage or something. I bring my best friend Drea. Drea comes along and Eddie Bravo produces music for her. She's one of my best friends so when she comes along, it's even better. It's even more of a vacation; you got your girl with you, you go to the fights, you hit the afterparty with your girl and you hit the pools looking cute in your bathing suit. It's vacation in a sense and work at the same time.

PC: Where does RaRa come from?

TS: My name is Tamara and growing up, my father called me Tamarara. When he would play with me, jump me up and down, he would be like, "Tamarara. Tamarara." So RaRa just stuck with me.

PC: I though it was because you got rowdy at the fights or something so I was way off.

TS: Nah, not at all. My dad gave me the name and it just stuck with me. I am daddy's little girl.

PC: When is the next NAMMAE event that the fans can look forward to?

TS: The next NAMMAE event…we're actually doing like a mini NAMMAE show with King of the Cage April 19th at the Shrine Auditorium called Fight Night at the Shrine. We have the whole Shrine Auditorium dedicated to MMA that day so at about 11:00, doors will open and you're going to see kind of like a mini NAMMAE show, like we had in Anaheim for our first show, and I think we have over 20 exhibitors already; 20-25 exhibitors so far. Gracie Barra is coming through and they're going to give a demonstration and teach classes at the event. When about 6:00 rolls by, we'll start the King of the Cage fights and then after the fights, we're going to back to the Shrine and Expo Center and we're going to have an afterparty, so that's that event.

And then our big event is back at the Anaheim Convention Center on July 11th, 12th and 13th. So I'm looking forward to that show. We already have Tito Ortiz and Chuck Liddell signed to come through and headline the event. Last year, we had Randy Couture headline our event. Tito Ortiz was there, Eddie Bravo of course; we had a bunch of other fighters that were there, Kendall Grove, "Razor" Rob McCullough, a bunch a guys from Punishment Athletics and Xtreme Couture. Gray Maynard, Tyson Griffin and Gina Carano came and Brandon Vera came through so we just had a bunch of fighters coming through. We're going to have the same presence this year, although last year we had about 7,000 people who came through over that weekend and we're actually expecting probably double or triple that this year.

PC: For someone who has never attended a NAMMAE event before, what could they expect if they attend this one?

TS: If you come to our event, you will see a lot of demonstrations. We'll have grappling demonstrations, Muay Thai demonstrations, there are going to be mats where people could just roll and when you walk into the venue, you're going to see exhibitor booths and these are companies that are involved in the mixed martial arts industry; Punishment Athletics, Throwdown Industries to cage manufacturers. You kind of get a feel for the industry and at the same time, you learn more about the sport and interact with the big name fighters that represent that particular sport. It's going to be great. Actually, King of the Cage is going to do a fight with us on Saturday night and then OTM is going to do a grappling tournament that weekend too. I'm hoping and we're trying to get a Muay Thai event that Friday night. Then it will be Muay Thai and then MMA and then grappling throughout the weekend. You get a feel for the entire sport. They walk in that building and they're going to be like, "Wow, this is MMA right here!" I'm very excited for it.

PC: You have the best job in the world. I need to change my occupation.

TS: It was really tough, our first show, but the only reason it worked was because everybody that's involved in our industry wanted to make it work. They have so much love for the sport that everybody wanted to wok together and be a part of it. I think that was a really great thing. What we wanted to do was show the public how big MMA has become and that's exactly what we do; that was exactly the presence that we gave and we're going to continue to do. Now, my long term goal is to have NAMMAE travel throughout the United States and throughout the world eventually. My goal is to travel internationally so we could cater to all MMA fans around the world.

PC: That was actually one of my questions was the goal to eventually expand outside of California into some other states and countries?

TS: Of course! Definitely! I have a lot of people that hit me up online and on The Underground like, "When you going to come out to the East Coast, Chicago and here and there?" For people that already know about NAMMAE and know how big our first event was, for them to want them to come to them, I want to cater to them and show them love. The love that they show me, I want to show them love too. I want to go to Florida. Obviously there's a bunch of MMA fans out there with ATT being out there. I want to cater to those guys on the East Coast too.

PC: It's still kind of unusual to see a female so deeply involved in the sport. How did you get into mixed martial arts?

TS: This is a story. Are you ready for this story?

PC: I'm ready and sitting!

TS: (Laughing). Where do I start? Well, I started to get into the sport because Eddie Bravo produces music with Drea. Drea is my best friend and has been for 10 years. We moved to LA and we live together; she is my sister. So when Eddie Bravo came into her life, it's kind of like he came into my life too at the same time. When I got familiar with him, I was like, "Oh, shoot, that's him on TV!" Getting to know Eddie's personality and starting to know him as a person, I started to understand his role in the MMA industry and Jiu Jitsu and things like that. I thought that was pretty cool because he's a really great person and very down to earth. I think if people got the chance to sit down and have a conversation with Eddie, they would be surprised; very intelligent! He's just a very good person all around and even the people that are around him, his friends are all really great people. It tells you something about a person from the people they hang around with. The Underground, which is on mixedmartialarts.com and it's actually a site where…because mixed martial arts is still such an underground sport and not legal yet in a couple of states, so The Underground was a place where people would go and talk about the sport. It's been around for a very long time, like 10 years, you know? A lot of people in the industry go there: fighters, fans, company owners, Eddie, Joe Rogan, Bruce Buffer and Joe Silva, I mean the list goes on and on. It's our social networking ground for MMA for the industry. Eddie would post him and Drea's music on The Underground so when he started to do that, I would go there and see what people would say about there music and comments that they would get and I started reading about what people would say about Eddie.

Eddie and Joe treated Drea and I to the UFC in Sacramento and I met one of Eddie's friends out there. His name is Alex and I was telling Alex how I admired how he has Eddie's back in The Underground. When people would say something about Eddie, he always had his back and I quoted things from some of the stuff he said and he was like, "You go to The Underground?" I told him yeah! He was like, "No, no, really, you go to The Underground?" I was like, "Yeah!" He was like, "Dude, you gotta be fucking kidding me?" So he told me he had to write a thread about it and next thing I know, he writes a thread titled "Hot hot lurker (pics)". It was like, "I met this girl when I was chilling with Eddie in Sacramento and I didn't know she lurked here until she quoted things that I said in the threads." He posted my pictures in The Underground and then the thread got so many hits to where they were like, "get her in here". I was asked to become a member and then I became a member and started posting. One of the reasons I became a member is to continue to promote their music and stuff like that. At the time, I was doing business development and sponsorship marketing for Red Carpet events and celebrity product placement for a company called Quantum Leap Entertainment here in Hollywood. During that thread, Quantum Leap got hired to find sponsors for the first North American Mixed Martial Arts Expo. After I met Brian Jaus, the main founder of NAMMAE, he was like, "Dude, we have to have you onboard." I came onboard and now I think that thread has been up for 9 months and it has about 119,000 hits. I'm known as the hot, hot thread girl and I was nominated as "Queen of The Underground." I don't consider myself the queen of The Underground. There are plenty of women who post there that are beautiful and who contribute to the sport too. It's not all me. I consider all of the women that post on the "UG" queens in my eyes, but for now, I'm known as the "Queen of the Underground" and that's how I got into MMA.

PC: I would have never guessed that, but that is a great story.

TS: It is a great story. It's crazy how they kind of attracted to me. I don't know if you've ever heard of the secret or anything like that, but that's something that Eddie showed Drea and Drea showed me; the secret and the laws of attraction and things like that. When I look to the secret, I think, "Wow, this is something I attracted" and now it's just a part of my life. I've met some of the greatest people who are good friends of mine now who are from the industry and from The Underground. Here I am making way for our second event and now I also do Yac&J's MMA and Boxing Show too every Monday.

PC: FightHype.com will definitely have to be in the building in July for the show.

TS: You have to come to NAMMAE. I hope you guys do come through.

PC: For the guys who haven't had a chance to see Miss RaRa, she is very hot. Do you do any modeling?

TS: (Laughing). No, I haven't, but I was really asked to be featured as the "Knockout Girl" for MMA Sport Magazine and I took pictures for that. I think it's going to come out in June. I'll have to ask. I haven't really did any modeling or anything like that and honestly, the first time I took professional pictures was with the photographer for this magazine. If you go to fightchix.com, I'm all over their website. Some people tell me I'm a legend because The UG only changes a few peoples lives and they feel like I'm one of them. It certainly did change my life though.

PC: Were you into MMA before meeting Eddie?

TS: The only martial arts that was in my life was my uncle owned a Dojo in Stockton. I'm from Stockton, the 209, you know! You know the Diaz brothers from Stockton; Stockton got that lil swag. Yeah, my uncle owned a Taekwondo Dojo and I was a soccer player so I only took a couple classes and I was like, "this isn't for me." That was pretty much my basis. I could kick really good actually and I can street fight.

PC: You from Stockton of course.

TS: I'm from Stockton. I can street brawl (laughing). I've been in a couple of little quarrels in the club, but that was a long time ago.

PC: Look at you, fighting in the club.

TS: The only time I would fight is for my family.

PC: I saw your pictures on myspace and you are throwing me off with the "tomboy" and "fighting in clubs" talk.

TS: You know I played soccer all of my life, like I said. I played all through college. I have the record for the most assists at the college I went to; I'm a soccer player. Honestly, I didn't start coming out of my woman shell until I was 20-something. I just started wearing dresses to the club recently. I was always the girl that wore jeans and a tank top. I hated wearing heels and now I've finally come out my little woman shell.

PC: I have to ask this for the fellas, but are you single and if so, are you looking?

TS: I am single and no, I'm not looking.

PC: Alright, well I tried fellas.

TS: (Laughing). I really don't have time for that right now. That's not my main focus right now. My main focus is me and the only way you could be happy in your relationship is to focus on yourself first and then you could focus on somebody else. I'm still making little adjustments and I'm just doing me right now and after I'm done doing me, maybe I can do somebody else! It's hard because I have to always keep things on a professional level and I'm always around all of these fighters and this and that and even people in the industry and I can't…I always have to remind myself, "business, business, business." I couldn't even really see myself dating somebody anytime soon because I'm just not ready. I'm not just going to give anybody that chance.

PC: I'm not touching that one anymore (laughing). You go to a lot of events. Who are some of your favorite fighters to watch?

TS: Anderson Silva by far. He's definitely a great entertaining fighter to watch. If anybody listened to my interview on Whoop Ass Radio, I am a fan of GSP and his shorts. I'm a fan of GSP's shorts so there you have it…no (laughing). It's becoming tough too, becoming friends with some of the fighters, to watch them; not tough, I get more into it, but it is hard to watch somebody that you personally know fight. It's totally different. I remember in the IFL, I was watching Shad Lierly fight and he got knocked out. Oh, my heart broke. I was yelling at the TV, "Get up Shad!" I was shocked.

PC: It was a pleasure talking with you. In July, like I said, FightHype will have to be in the building.

TS: Yeah, definitely come through and give me a call anytime if you need anything I'm here for you.

PC: I appreciate it and the same to you. I know you have some people to shout out and thank.

TS: If you can go to www.nammae.com, it's the acronym for North American Mixed Martial Arts Expo or you could go to my myspace at www.myspace.com/raramma and if I had to thank any sponsors, I would have to thank frontrowticketing.com, fightchix.com, combatlifestyle.com and of course the guys at taggradio.com.
[ Follow Percy Crawford on Twitter @MrFighthype ]