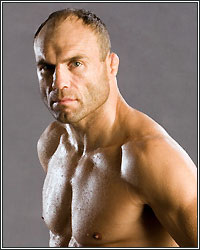 "I think Tim is a little more seasoned fighter than Hong Man has proved to be," stated legendary Randy Couture as he shared his thoughts on the recent news that Fedor Emelianenko will be facing Tim Sylvia in July. You don't want to miss what else he had to say as he talked more about the fight and discussed his wife's first win, what's it like to corner some of his guys at a UFC event and much more. Check it out!

PC: How have you been doing Randy?

RC: Everything is good.

PC: How do you feel about the way Kim performed?

RC: I thought it was great. It was very exciting and I saw her do a lot of things that we saw her work on in training, which is always good. You want to go out and put yourself in a situation to do what you're trained to do so I thought she had a good performance and for all of the pressure that she's been under, to handle it so gracefully and be successful, and I though it was a good night.

PC: Is it tough dealing with people saying that your wife wants to cash in on your name and that she's the reason you're not in the UFC?

RC: I don't plug into any of that. That's one of the reasons why I don't get onto The Underground and on the computer because none of that really matters to me. I know what's true and what reality is. The only time I hear things like that are when people tell Kim about it and I hear it from her. It's a ridiculous thing for people to say. I've always made my own decisions and did my own thing and to me, people that make comments like that need to get off of their computer, in their underwear with the Cheetos stain on them, and do something else.

PC: Yeah, that is funny. You beat people up for a living and they think your wife runs you.

RC: It's ridiculous. I don't give much credence to it and even if I did hear it, I probably wouldn't respond to it because it would just propagate more of the same.

PC: What kind of shape are you keeping yourself in while you wait out this procedure?

RC: Training is going good. I've been having fun. The guys have been real busy so I'm just training with all of the guys and trying to corner them all. We really had a good week this week with Gray, Jay Hieron, Chris Horodecki, Alex Schoenauer and Kimmie and the one fight we dropped was Karo and he ended up getting caught in the fight against Alves, but it was still a good fight. We had a good week!

PC: Is it odd for you to corner some of your guys in the UFC and bump into some of the people that you are in this procedure with?

RC: Yeah, it's sort of weird. It's kind of like going to your ex-girlfriend's house for something. It's not the most comfortable thing, but it is what it is I'm there for one purpose and one purpose only and that is to take care of my guys.

PC: Fedor and Tim Sylvia will mix it up in July. Do you want to fight the winner or only if Fedor is the winner?

RC: Yeah, we'll see what happens. I think it's going to be an interesting fight. Fedor just fought a pretty tall opponent in Hong Man Choi, so obviously he's been in that mode of dealing with a guy that size, but I think Tim is a little more seasoned fighter than Hong Man has proved to be. But Hong Man wasn't easy so it will be interesting to see how Emelianenko deals with him and a pretty good indicator for me, having just fought Tim this last year, as to where I stand and how things might go if I finally get the chance to fight Fedor.

PC: Is it a big hit to the Affliction/Xtreme Couture brand with them not letting guys in the UFC wear your gear?

RC: It really has nothing to do with the sales of our clothing line. It's really kind of silly. We're already in all of the major outlets across the country. You still look at the events and every third shirt is an Affliction or an Xtreme Couture shirt. Really, the only people that they hurt with this tactic, thinking they're going to get to me by abandoning the brand, is the fighters that we sponsored this last year. We sponsored over 30 fighters this last year and spent close to a million dollars in those sponsorships, so those are the guys they hurt. Again, look at their Xyience contract for years and things like that and I don't think they always think about what's best for the fighters that they have under contract.

PC: You have a bunch of fighters in Xtreme Couture and they fight close together often times. How do you give each fighter a little bit of yourself for all of these fights?

RC: It's always a challenge. We work together as a team on a daily basis. We'll have a pro practice from 4-6 and some of the times, I'm running the practice, sometimes it's Shawn Tompkins, sometimes it's Chris or Ron, our boxing guys, and we've got Robert Drysdale on our staff now for Jiu Jitsu. It just depends on what day of the week it is as to what's going on. I spend some extra time working on some wrestling and transition skills with some of the guys, watching tape of their opponents and helping them come up with gameplans. I think everybody gets what they need eventually.

PC: Was it difficult for you watching Kim fight in her first MMA fight with the headgear stripped off?

RC: It wasn't difficult at all. I enjoyed it immensely. I was screaming my head off and it was very exciting; the crowd really got into it. We had a lot of fun. I didn't get nervous at all. I see her train and she gets hit in practice so I knew what to expect; it's like my own fights, you have to keep things in perspective and if the worst thing that ever happens in your life is that you lose a fight, you're doing pretty good.

PC: I wish you much success in everything you're doing. I can't wait until the procedure with the UFC is over with. Is there anything you want to say in closing?

RC: That's it man. Thank you. I appreciate all of the coverage and you getting the word out there on Kimmie.
[ Follow Percy Crawford on Twitter @MrFighthype ]