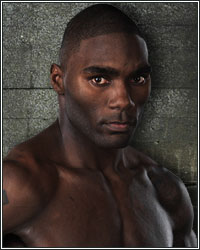 "Hopefully within the next 2 or 3 months. I'm keeping my weight down low right now. I honestly want to be on that Rampage and Forrest card on July 5th," stated UFC welterweight contender Anthony Johnson as he talked about his future plans after his impressive knockout victory over Tommy Speer during UFC Fight Night 13. You don't want to miss what he had to say about his performance, his future plans and much more as he promises "whenever the UFC calls me man, I'll be ready for an opportunity to shine again." Check it out!

PC: Congratulations on your win over Tommy Speers!

AJ: Thank you, thank you!

PC: How do you feel about your performance?

AJ: I loved my performance, you know what I mean. I went in there and did my best, but I felt like I got a little bit out of…my technique was off a little bit. Other than that, I felt like I did great. I told my coach I have to work on my technique a little bit more. I can't get that excited and lose my form.

PC: I think you just saw that blood and got thirsty.

AJ: Yeah!

PC: You did exactly what you said you were going to do in our pre-fight interview. How motivated were you for this fight?

AJ: I was pretty pumped up. I watched his film and stuff like that and I saw his stand up and I knew if he stood up with me, something bad was going to happen to him. That's what fighting is all about. You stand up and if you can't stand up, you take it to the ground and that's what he tried to do. He tried to stand up with me at first and the first 2 punches that he actually threw was a 1-2 combination and I hit him with a straight right and he was like, "Okay, I'm going to take it to the ground." He found out pretty fast that he couldn't take me to the ground so he had no choice but to stand up with me.

PC: When he attempted a few takedowns, you had already hurt him badly and the shoots were pretty sloppy. Were you surprised that he didn't go for an immediate takedown attempt?

AJ: Not really. Like I said, I watched his tapes and I pretty much saw what his style was. That's just how he is, you know what I mean? He pretty much stuck to his gameplan like he always does.

PC: It appeared to me early that he wasn't going to be in the fight, and that's not a knock on Tommy, I just saw he was outgunned very early. When did you sense it?

AJ: I was thinking that before the fight even happened; that's just me. That's just how I think. I didn't take him for granted or anything like that, but that's just me saying, "It's going to be my night." I don't take anything away from me and I don't take anything away from him, but I was going to make the best of it. I took full advantage of what was given to me.

PC: You always look really relaxed in the Octagon. How do you keep your calm demeanor?

AJ: I don't know. A lot of people say they let the crowd get to them and the hype of the sport and all of that, but I don't. I wrestled in college and I've performed in front of big crowds before so I don't feel any pressure. I just feel like f I go in there and do my thing, everything will fall into place. I don't worry about the crowd. I just stick to me. I just don't see anybody or hear anybody and that plays a big part. A crowd can pump you up to do some crazy stuff. You hear people screaming and yelling and it's like you feel like you have to do something to keep them going. I wasn't about to go in there like I'm Bruce Lee or nothing like that. I stuck to my gameplan and that's to stand up. I'm glad everything worked out how I wanted it to.

PC: You have a lot of great physical attributes with your reach, height and size at welterweight. Is this a weight we're going to see you compete at for a while?

AJ: Oh yeah man! I love the welterweight division because it's so stacked right now. Every weight class is stacked in the UFC, but the welterweight division, I'm comfortable there. I could fight at 185 if I wanted to, but 170 is so stacked. Anybody in that top 10 in the welterweight division could hold that title. Hopefully, within the next…I'm going to give myself a year and hopefully I'll be in that top10 and be one of the ones that could be in line to hold that title. I promised Colorado that one day, I will have that title, which I will if everything works out like I plan. I'm not putting the cart ahead of the horse or nothing like that. I'm just going with the flow. My girlfriend clicks on the forums and stuff a lot and she comes back and tells me, "Oh, people trying to compare you to Anderson Silva, Chuck Liddell and Georges St-Pierre all combined." I don't want to know that stuff. It's cool that people see me like that, but I still have a long way to go.

PC: I saw one where they said, "The reason why Anthony Johnson would dominate GSP."

AJ: Yeah, that's peoples opinion. If that guy feels like I could dominate GSP, hey, that's his opinion. I don't feel like I could dominate GSP, but I feel like I can hang with him a little bit. I'm not going to say he could run over me and I don't think I could run over him. I think we are equal in a lot of ways. He just has more experience and that name. He started from the ground up and now I'm in the same boat that he's in. Hopefully I could get to where he is right now. I have so much respect for that man it's crazy, but for anybody to compare me to him, it's an honor, but at the same time, you gotta be crazy. That guy has done so much for the sport already. You can't compare a guy that has had 3 fights in the UFC to somebody that has had several fights…you know what I mean? You can't compare me to a guy like that; that's insane!

PC: Tommy told me before the fight that he thought the altitude would give you problems. We didn't get to see a whole lot of cardio, but how did you feel in there?

AJ: I adjusted to it in about a week. I was already in shape when I went out there. I had been training since January when I got the call to fight Tommy. I took full advantage of it and when I got out there, I was healthy and it took about a week or a week and a half to adjust to that altitude. I adjusted to it in the beginning, that way, towards the end, it will be nothing. I was breathing hard, I ain't going to lie, because I was fatigued. I wasn't tired, I was just fatigued because the oxygen was so thin, but I knew I had to keep going. It was good to get it over with early, but everything turned out good.

PC: All of your fights are exciting. Is that just a style we could grow accustomed to from you?

AJ: I guess that's just my style. I go out there and put it all on the line. That's all a fighter could do. A real fighter goes out there and gives it his all. I don't go out there and say, "I'm about to make it exciting." I'll say, "I'm going to knock you out" because that's what the fans want to hear and overall, that's my business to win and if it comes by knockout, I'll take that, decision, I'll take that or by submission, I'll take that. Most likely, you wont see the submission, but I'll take it if they give it o me. As far as my style, I just go out there and lay it all on the line. I just go and at the end, you don't want to be thinking you held back. You want to leave it all in the Octagon and that's what I do. If I gave it my all, it is no reason to walk out of that cage with my head down. He was just the better man that night. Just like I did with Rich Climente. Hey, I lost to Rich Climente. I did my best. I knew what I was getting myself into and I gave it my all because I wanted to win. I lost, but I didn't give up. I just go in there and fight bro. I don't go in there to be a certain type of fighter. I just go in there and fight.

PC: You are definitely in a stacked division. Is there anyone in particular that you would like to fight?

AJ: Nah! At first, I called out Diego Sanchez just because I didn't like the way he carried himself on the show and everything, but right now, I'm not worried about Diego. I'm just worried about me and whoever the UFC puts in front of me, that's who I'll fight. There are so many guys out there better than Diego and that are better than me and me and Diego want to test ourselves and see how good we are. I'll fight whoever they put in front of me. If they call me right now and say that Matt Serra got hurt, would you like a chance to fight GSP? Yeah! You think I'm going to say no? There is always a punchers chance when you step inside that Octagon. I'm just waiting for whoever they throw up in my face next. I never say no to a fight. I never say no to anybody when they call me for a fight so I'll accept whatever they give me.

PC: When would you like to fight again?

AJ: Hopefully within the next 2 or 3 months. I'm keeping my weight down low right now. I honestly want to be on that Rampage and Forrest card on July 5th. I'm really gunning to keep my weight down for that because every card, somebody always pull out. There's never been a card where everybody is injury free. I don't want nobody to get hurt, but if it happens, then hopefully they'll think of me and give me that opportunity to fight on that card because I've been wanting to fight in Vegas since the beginning. Whenever the UFC calls me man, I'll be ready for an opportunity to shine again.

PC: Your striking is serious man. Who do you work with on your boxing game?

AJ: I used to have a boxing instructor named Luis, but I no longer work with him. When I first started all this striking stuff, my hands weren't that good. I thought they were good, but they weren't. You know how it is when people go in there thinking they could box and don't know squat. I was one of those people. It's a funny story. One day, I was about to take a shower and I looked in the mirror and said, "I'm about to start swinging for the fences like Fedor (laughing)." The next day, I went into training…because I was fast enough not to get hit, but I was still sloppy in hitting other people. The next day, I got in their and sparred and I did pretty good and I stuck with it and I kept improving. I really don't have a specific trainer, but I'm training at Shark Tank down there in Rancho Cucamonga with Eddie Mills. Eddie is a great coach and he's been helping me out and I'm just doing my thing. For the Rich Climente fight, I didn't train at all. I just went in there and fought and I still dropped Rich twice. I think now, it's just natural athletic ability to be able to do that type of stuff I'm blessed to do because a lot of people can't do that. When I swing, I try to make my punches end the fight. I want to let you know Anthony Johnson is there. Rich is a beast man. I give him all of the credit in the world. A lot of people said I should've beaten him, but that was just Rich's night. I haven't taken anything away from Rich. You could ask everybody that has asked me, I haven't taken anything away from Rich. It was just his night. Yeah, I was out of shape, but that was my fault. I should've came in better shape. It doesn't matter, that's the game and you gotta be ready at all times.

PC: That performance was nothing short of domination. You did what you said you would. Is there anything you want to say in closing?

AJ: I'd just like to thank everybody. I want to thank everybody that supported me during my loss and my wins. I had some real good fans out there and I want to let them know I really appreciate them.
[ Follow Percy Crawford on Twitter @MrFighthype ]