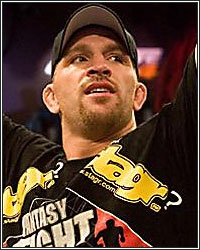 "I went from The Ultimate Fighter, being the co-main event with Serra, fighting Anderson Silva in the main event and then this one against Franklin where I'm the co-main event and then they cut you," stated former UFC middleweight contender Travis Lutter as he talked about his recent release from the UFC after losing to arguably the second best middleweight in the division, former champion Rich Franklin. You don't want to miss what he had to say about the fight, his release from the UFC and much more, including former welterweight champion Matt Serra's treatment at UFC 83 and why he thinks Serra might suffer the same fate in the near future.

PC: How's everything going?

TL: Good! I can't really complain man. I'm just back training and doing the usual.

PC: The UFC recently released you after UFC 83. Were you shocked when you were informed?

TL: To a degree. I kind of said in an interview before that, if I lost, I wondered if they wouldn't? At the same time, I didn't really think they would so I was a little bit surprised.

PC: Do you think your performances against Silva and Franklin warrant your cut from the Octagon?

TL: Man, the whole thing is I'm not the decision maker. That's Dana's job, or whoever made the decision, it's their job to do that. It's their company so my opinion and everyone else opinion doesn't matter. It's their company and they could run it how they want. With that being said, I thought I put up good fights. I was in both fights. I lost both fights, but I thought I had respectable performances and you could argue that I should've won both of those fights.

PC: Do you look at certain fighters and wonder how they are still in the UFC and you're not? Like guys that have fought the same guys, like Leben's performance against Silva and maybe Quarry against Rich?

TL: Yeah, but you know, the whole thing is for whatever reason they decided they didn't want me around, if it was a situation where...I don't know (laughing). I don't understand why I got cut. It's not the end of the world. I would like to be there still fighting. I think I'm good enough, but unfortunately, they decided to get rid of me.

PC: It would appear that HDNet would be the logical choice being that they're in your backyard. Are you taking offers from other organizations right now?

TL: Yeah, we're taking offers and just kind of sitting back and seeing who wants me the most I guess. That's what it comes down to.

PC: I watched the fight again and you got caught with a right hook early. Did you never really recover from that punch?

TL: I definitely never...the only thing I remember about the fight after that was passing Rich's guard. I felt like my head cleared, but I felt really tired at that point of passing his guard. I was really, really tired and I didn't understand why and I still don't understand why I felt so tired. I don't know if it was the punch or if I didn't warm up good enough; I don't know. I'm still in good shape. I haven't gotten in bad shape yet. I'm not in as good of shape as I was, but I'm still in the gym, training hard and not getting tired like that. I don't know what happened.

PC: Is it one of those things where it frustrates you to see people say you didn't train, you gassed or you're out of shape because you don't feel like that was the case?

TL: Yeah, that is very frustrating. It's just, man, you know guys are out there fighting naked in front of the world. We're just out there trying to put on a good show and to have people kind of disrespect you is never fun, but that's just part of it. I thought I put up a good fight. It's not like I went out there and got my ass kicked from bell to bell. The fighters that do have that happen, you know, everybody gets caught. I know Nate Quarry, in his last fight, got nailed and almost put out in the first 10 seconds against "Drago." He came back and won and it was a great fight, but literally, he was within seconds of the referee just stepping in. If the referee would've stepped in, nobody would've argued so that's how close you come to losing. MMA, from a competitor's standpoint, there's a reason nobody is undefeated that's got so many fights. It's so many ways to lose and so many things that can come into play.

PC: And some very tiny gloves. Those are some small gloves.

TL: (Laughing) Yeah, exactly!

PC: Does it upset you to see Kendall Grove get knocked out back-to-back and I believe...

TL: He's headlining the next Fight Night card. Yeah! The only other guy who has loss to guys ranked high like I have is BJ Penn. He loss 2 fights in a row to top ranked guys GSP and then Matt Hughes and then he fights for a 155-pound championship and of course you're not going to get rid of BJ. BJ, for whatever reason, has this crazy following. BJ's good, don't get me wrong, but it's just some of us...I guess I've never developed that fan following.

PC: Yeah, fans have definitely clinched onto BJ.

TL: I agree and for a long time, I wasn't a fan of BJ's just simply because of how radical everybody was over him. The fans get fanatical that you won't cheer for certain guys. It's like Anderson right now. People forget he's lost. He's lost before so he's not Superman. I think he's good; he's a great fighter, but he's human, you know?

PC: Where do you go from here? Do you go right back to the drawing board or take a break and weigh your options?

TL: I've been going back and forth with that. I haven't even decided yet. It's like if the right offer comes along, I'll jump right back in, but if someone wants me to fight for 10 and 10, I'll just stay right were I'm at and wait. There's no sense in me getting in there...I thought I was underpaid when I was fighting for the UFC so it doesn't make sense to take less money and fight somewhere else. The other thing is I've got a school and I don't have to fight to live. I love to fight and I would like to fight so I'm hoping somebody would pay me to fight, but I'm not going to fight for free at this stage of the game.

PC: Do you think there should be a process to releasing fighters with fights left on their contract, unless of course you just showed up and didn't perform?

TL: It's not even like it should be a process because if you look at the other fighters who have lost two in a row that are fighting...I went from The Ultimate Fighter, being the co-main event with Serra, fighting Anderson Silva in the main event and then this one against Franklin where I'm the co-main event and then they cut you. I didn't understand it. Maybe they're still mad about me missing weight. Joe Silva was telling my manager, "he was out of shape." I don't feel like I was out of shape. I feel like I was in as good a shape as I've ever been. I got caught, but at the same time, why didn't I recover; I don't know. I'm still beating my head in the ground trying to figure out why I didn't recover. I think they made a mistake, but I'm sure they don't. I'm sure they're not losing any sleep over it.

PC: It's funny because Serra and St-Pierre have split a pair of fights, but for some reason, I don't think we'll see a rubbermatch for that fight?

TL: No, I would guess Serra will have a similar fate as me if he loses the Matt Hughes fight. They might...Serra people love him too though so they might keep him around. It's one of those things where...how many guys that have the belt, end up in a locker room with...I mean, he was in the same locker room with me, Kalib and I think there were five other fighters that shared a locker room with him that night. Usually, the main event guy and the guy that has the belt get the nice locker room and stuff like that and here he is with one of the most crowded locker rooms. It's really strange. They wanted GSP to get that title back so bad and he is marketable, but so is Serra. Serra is as funny as they come, but I'm sure there is a rhyme and a reason in their eyes behind doing everything; it's just unfortunate.

PC: As always Travis, it was a pleasure speaking with you. I hope you find a new fighting home very soon. Good luck with everything man. Is there anything you want to say in closing?

TL: Man, I appreciate it man. I appreciate you calling me and interviewing me. It's a funny thing this whole fight game. Thanks man!
[ Follow Percy Crawford on Twitter @MrFighthype ]