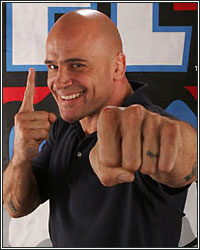 FightHype.com had the privilege to speak with MMA legend and IFL host Bas Rutten, who talked about the success and growth of the IFL, his take on the increase of doping allegations and the use of steroids within the sport, Kimbo Slice's performance in his first MMA fight and much more. Don't miss this must read exclusive!

PC: How have things been going with you Bas?

BR: Busy, busy, busy my friend. I've been in like 6 states in four and a half weeks. You kind of have an idea of my schedule.

PC: When I spoke with you the other day, you weren't too happy at the airport. You didn't have to kill anyone, did you?

BR: Fortunately no. It's just craziness.

PC: What did you think of Kimbo Slice's first MMA fight against Ray Mercer?

BR: I think that for a first performance, Kimbo opened a lot of people's eyes. I mean, he came out and did exactly what the gameplan was. He used good strikes and takedowns. It's mixed martial arts and he showed good elbows, punches, knees; he got takedowns and he finished the fight by submission.

PC: I know you and Shawn Tompkins had your hand in training Kimbo. How did you guys hook up?

BR: Icy Mike, his manager, is a friend of my friend. They handle business together, I believe, and they wanted me to train Kimbo. With my busy schedule, I told them I can't; that I could maybe do a week, but I could get them with Shawn Tompkins and the Anacondas are preparing themselves right now for their June 2nd fight, so that's perfect for Kimbo. He went over to Las Vegas and trained with the Anacondas and got some work in with Alex Schoenauer, who did a real good job with Kimbo. He came over last week and we worked on the gameplan and what to do and how to take the boxing away from Mercer.

PC: You've traded in your coaching cap and went back to the commentating tables. What made you make the switch and how difficult was it for you?

BR: The switch came because I came to the states to be in the entertainment business and when I was given the opportunity, they told me I could be totally Bas and that I don't have to be worried about what I can and cannot say. Of course I have to watch out for bad words, but I could do everything that I want to do. I knew it would be difficult because I had the Anacondas, but Shawn Tompkins has been with me for a long time. He's been trained to the Bas Rutten system for a long time. He has a high success rate with his fighters. He brought Chris Horodecki and Krzysztof Soszynski to the Anacondas. The guys were already used to Shawn Tompkins and that made it pretty easy for me and everybody. We still do things together. If I have a chance, I will jump in and train the guys.

PC: Is it tough to call an Anacondas fight?

BR: Yes it is. Of course it is 'cause on one side, they're my guys. We were a team together. It is very difficult to not be biased and I think I have done a pretty good job of putting the other fighters over some of the Anacondas fighters. It is tough though because I really like those guys. I think out of all of the teams in the IFL, the Anacondas may be one of the tighter knit teams out there. We eat barbeque together, we go to the movies, we go fishing and it's a really tight team; really cool guys.

PC: How did they handle you going to commentate?

BR: They could understand. They already saw my schedule and how busy it was. They know what I came to America for and I think they're ok with it. They know that they always got me. I help them with everything I can and like I said, Shawn Tompkins is really the reason that I could do it. I don't know if I could've done it without Shawn.

PC: With the IFL playoffs getting underway, what are some of the things you are looking forward to this post season?

BR: Right now, of course the Silverbacks. They want to be back and beat us very bad and that's ok. Those guys are ready for us again. I know Pat Miletech is very competitive, as well as all of his fighters, so that will be a great fight. The Sabres and Pitbulls are going to be great too. I think the Anacondas have a real good chance to go all the way. They have the best record, but it's like I always say, in every fight in mixed martial arts, one little thing goes wrong and boom, you're on your back. Look at what happened to Jay Hieron. He got caught with one good punch and that's it man.

PC: How does it feel for you to be a big part of the growth of the IFL? You guys are on network television and recently made an announcement that the IFL will air on The American Forces Network.

BR: I'm really happy about it of course. Sometimes I wish I was born like 10 years later, so I could have still competed, but on the other side, you know I was there in the beginning and a lot of guys can't say that. I think I'm very fortunate to be one of the first guys and I'm doing pretty good. I'm still in the picture. I do what I want to do and that's commentate fights, you know? Mixed martial arts was a hobby that became a profession, so for me to still be involved in my hobby is unbelievable. Not a lot of people can say that.

PC: I know a lot of people wanted to see you back in Pride commentating. Were you getting offers to commentate for other organizations?

BR: Yeah. At the moment, when I quit Pride, I had like 8 organizations right away and they wanted to do something with me. I was picking my spot this time and I wanted to be with something solid and with something I believe in. The IFL came around and they were talking about me being the coach and when they realized later on that I should be commentating, the people from Fox and My Network TV asked them to see if they could get me as the host and see if I could stop my coaching job and that's how it started.

PC: Everyone always wants to hear your take on things involving MMA, so I have to ask, what do you think about all of the positive doping tests in MMA right now?

BR: I think it's crazy. I don't believe in all of the things that actually make you stronger; growth hormones and steroids and all of that stuff. I don't think it should be in martial arts. Steroids in general because they make you crazier and more aggressive and I always think if you need steroids to fight, you're not really a fighter. You should choose another profession. For all of the others things, I would say, shit I forget his name, against Gomi…Nick Diaz. I mean, he gets caught for marijuana and they take the win away from him for marijuana? They should give him an extra prize. You know how difficult that is; anything like pain killers or valiums, man that slows you down so much. If it's like cocaine or something like that, then of course that's not right because they have to draw a line somewhere.

PC: So you think Diaz should've been given something extra for beating Gomi with marijuana in his system?

BR: Yeah, he should've been given an extra prize because it's very difficult to do that shit. It was very strange that they took the win away from him because you never heard of that before, right? I never heard of it.

PC: Were you surprised at how Rampage defeated Chuck Liddell?

BR: Not …um Chuck is a very strong fighter and it's hard to stay on top of your game for a long time, but that really doesn't matter even if he would've been in unbelievable shape. Quinton just came in really strong and he caught him; that happens. I knew that if the real Quinton shows up, then Quinton would get him again because he had his number in Pride also. You saw at the staredown. Quinton really wanted it. He came in very secure and his boxing has dramatically improved also. Actually, we did martial arts science that same week before the event, with Tito Ortiz, Randy Couture and Dean Lister, that they're going to show in October or something. I was talking about the right hook to the head. That hook is so underestimated and not a lot of people throw it, but it has a high success rate. That right to the head and what do you know man, bink!

PC: In MMA, they have had several upsets this year. What was the biggest upset in your eyes so far?

BR: Let me see, Nick Diaz and Gomi, I thought that came out of nowhere. On that show, Wanderlei Silva and Dan Henderson was a big one too. Once again, training with Shawn paid off. There was another one on that card, Sokoudjou, but I knew he was good. I trained with him when I was preparing for Kimo and he has some very good Judo. He has some wicked throws and sweeps. When I was training with him, I saw that he was very explosive and he taught me some good stuff with staying on my feet. To do what he did two times in a row, and with Arona, that was crazy.

PC: I know you think very highly of BJ Penn. What did you think of him coming back down to lightweight and beating Jens Pulver the way he did?

BR: I thought it was great. BJ is just a phenomenal fighter. I like him. He's just got a wide variety of skills. He could win the fight by knockout or submission. That's why I like him. I like his range because everyone used to look at me and say I'm a striker, but I've won more fights by submission than I've won by knockout. People still don't get it. My students want to stand with me actually because they know I'm not going to knock them out, so they go to the ground, but I enjoy tapping people with all types of submissions. That's what I think mixed martial arts should be like. BJ doing what he does with his freaky skills. I mean, what he did with only 4 years of training in Brazilian Jiu Jitsu is unheard of. He's a freak. I like him. He's a good guy also.

PC: Randy Couture just turned 44 years old and he's the heavyweight champion of the world. Are the knees too shot or could we possibly see Bas Rutten competing in MMA again?

BR: Nah, the knees are too shot right now, but I heard already the IFL wants to take care of my knees. They have the best knee surgeon. They want to see if they could do it after this season and I will have time to see if maybe they could fix my knees. It's hard for me just walking stairs right now. Everything is hurting. Once that happens, you never know, but right now I say no. I'm so busy, I don't even have time to train.

PC: I would love to see you fighting again my man!

BR: I felt great. I have to tell you, last time I felt so good. I had all of those injuries, but it didn't matter. I felt like a million bucks. I felt like I could fight 5 rounds easy.

PC: I always appreciate your time Bas. I know how busy you are. Is there anything you would like to say in closing?

BR: Yeah. I always say check out the website of course, basrutten.tv, and then my new project mmatoday.com. It's a big website. You will see a lot of fight footage that people have never seen before; backstage and we even go to afterparties. Everything that has to do with mixed martial arts, inside or outside of the cage or ring, you will see on the site. Check it out, you will like it.
[ Follow Percy Crawford on Twitter @MrFighthype ]