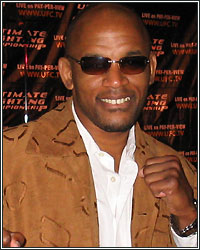 "I just couldn't understand why he was playing kickboxer. It was ridiculous. Only Frank could tell you what Frank was thinking. I'm not going to make any disparaging remarks towards him because he flew me out there and everything to train with him, but honestly, I didn't see that being what the gameplan was initially," stated MMA veteran Shonie Carter as he weighed in on Frank Shamrock's loss to Cung Le. Check out what else he had to say as Carter, who helped Shamrock train for the fight, talks about a potential rematch between the two and shares some advice for any young fighter who may be cut by or looking to get in with the UFC.

PC: What's the future hold for Shonie?

SC: I'm going to keep fighting in all of these organizations. I'm going to fight whoever they put in front of me. I don't care what their record is and I'm going to fuck them up. I want to capture all of these belts. I'm not going to try and defend them all. I want to just keep snatching crowns. The belt snatching tour has begun because it's too many world champions walking around from Brazil or America; it doesn't matter. I don't give a fuck if it's King of the Cage, Gladiator Challenge or whatever, I'm snatching all of them and it's not about defending every belt; it's about making a clear point. You ain't real until you've stepped your ass into real competition and take your fucking act on the road. Organizations from across the country and across the world, go ahead and call me and put your belt on the line. I fucking dare you. Your champion may have big pecs, flat stomach, nice biceps and big quads, you fucking call me and if you don't know me, you don't know nothing. You could find me on Myspace or you can email me at shoniecarter@yahoo.com. I am the only fucking Shonie Carter, A.K.A. Mr. International, in the fucking known universe. I'm available to beat up a chump and no longer call him a champ. I'll put it out there and if you kick my ass, guess what? You're almost ready.

I am the overly-dressed peacock, gatekeeper, MMA icon that is in Wikipedia that can be googled. I'm living in the mid-west, on the Westside of Chicago, and I'm internationally approved. Somebody need to talk about it. I'm sick of all the shit man. One day, even Dana White is going to fucking retire. Let me clarify because I'm looking at EliteXC too. I'm not hating Dana White. I have nothing personal against Dana White. He looks sexy bald-headed. He looks good as the president. All of these organizations that are keeping their champions protected and keeping them in their inner circle, stop fucking protecting them! They want to call themselves US champion or world champion, then step up to the fucking world. That's why my name is Mr. International because I represent a delegate across the world on how it should be done. You want to call yourself a champion young man? Fight me with your 8-1 record! Fight me with your 20-1 record or your 32-2 record! I'll ask you, who the fuck have you fought?

Oh, let's get back to something. I was supposed to fight May 30th. I was supposed to fight Victor Moreno. As a sidebar, I don't have anything personal against fighters, but professionally, it cracks me up when these young fighters call me out and talk shit in front of a crowd in their hometown. You here me Victor? You fucked around and went and fought somebody right before you were supposed to fight me and you got your arm caught and got submitted. Now all of a sudden, he's saying his rotator cuff got torn and he can't fight anymore. Nah motherfucker, you found a dark horse that wasn't putting up with your shit. You have lost your way to the Superbowl and the World Series. The only way you will fight me on a big show now is in your dreams. No, there is another way Percy, I forgot about. Victor could fight me on that UFC video game. He can create a player and name it Victor Moreno and fight that icon…that sexy, speedo-wearing, bald-head brother from the Westside of Chicago who might not be in the new version of the UFC, but I was in the UFC. I might not be in the new version of the UFC because I talk so much shit, people say my eyes are brown. I'm going to go get a colonic and maybe my eyes will lighten up.

PC: The UFC has made it public that they're trying to cut their roster down. What advice would you give some of these younger fighters that may drop a couple of fights in a row and be on the outside looking in?

SC: Look, if you get cut, so the fuck what. Look guys, I know the UFC is the oldest and considered the most prestigious organization of MMA, but I have discovered in my infamous search of knowledge in mixed martial arts that there are other credible and worthy organizations out there. Why fight for 2 and 2, 3 and 3 or 4 and 4 or whatever the hell they paying ya'll when you can make your name not just in the country as a US fighter and win a US title and call yourself a world champion when you haven't been outside the country? Take your ass on the road, catch a plane or row a boat if you gotta get over to Japan. Shooto is looking, Pancrase is looking and Cage War in the United Kingdom. They contacted me to fight Mark Weir in October. If you are concerned about getting yourself out there and can't find a way, like I said, find me on Myspace or email me. All you have to do is put together a portfolio, a DVD, some pictures with your record, height and weight because now I'm the lion that's at the gate. I am the gatekeeper. I will help you and I'm saying this seriously. There are a lot of talents out there that can't get out there to the next level. I know every other promoter, including Dana. I know every other promoter; trust me. I've sat down with everybody at some given point and time. I know Scott Adams with the WEC. I'm not knocking them. I said it before, in case you were not listening, I was the first welterweight champion in the WEC. People don't know that, but yeah, I got that old ugly ass belt. The new belt is nice. They gonna give me one if I gotta jack some fool. All I'm saying is if you want to get out there, don't be disheartened because you can't get to the UFC. I'm not saying just fight for the money, fight for the experience and learning the business. Train harder today than you did yesterday, but train harder tomorrow than you did today.

PC: Would you like to see Frank Shamrock rematch Cung Le? I know you helped Frank prepare for that fight. What did you think about that first fight?

SC: Wow! This is an explosive question from the inside that most people don't know. Let me precursor my comment by saying I fought Cung Le with a broken leg and he beat me by decision, but he still beat me. I gotta give him credit because I accepted the fight knowing whatever could happen. I'm going to further stipulate by saying that I was flown out to California by Frank Shamrock to train with him for the fight against Cung Le. I respect both fighters for what they've done in the past. It just pissed me off knowing that Frank tried to play kickboxing with a kickboxer and he was never a kickboxer. Now, do we need to see that fight again? If ya'll want to see it, go right ahead and get them both paid 6 figure salaries. I think it should be a re-evaluation on how that fight turned out on how the next one should be. I mean, if I'm a betting man, I would've said Frank all day. I just couldn't understand why he was playing kickboxer. It was ridiculous. Only Frank could tell you what Frank was thinking. I'm not going to make any disparaging remarks towards him because he flew me out there and everything to train with him, but honestly, I didn't see that being what the gameplan was initially. I'm like, honestly, "What the fuck?" This is why I don't bet on MMA because guys do shit like that. I'm like, "Damn it man. what are you doing." If I had to fight Cung Le…well I've kickboxed so that doesn't count. You don't kickbox in an MMA fight; you fight in an MMA fight. You fight a brawler and you brawl a boxer. You destroy a kickboxer in an MMA fight and I just couldn't believe he did that. Maybe he learned from it, maybe it was an ulterior motive in the fight, but what can I say. If I wasn't a kickboxer, that wouldn't have been my gameplan, but to each his own.

PC: That what's up man. We'll get together again soon. Give me a closing line.

SC: You had your baby, right?

PC: Yeah!

SC: Good. Congratulations on the new baby. Did you have a boy or a girl?

PC: I had a girl.

SC: Oh man! I'll give you some advice and all of the other young men out there; condom's work! If you don't know how to use them, they have instructions on the inside of the box.
[ Follow Percy Crawford on Twitter @MrLouis1ana ]