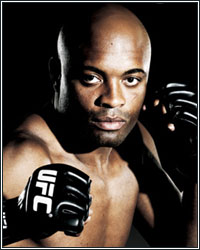 In no particular order, here's a list of my 10 least intimidating looking UFC fighters. If you saw them out at a bar, you might just think you could kick their ass, but if you tried, you'd probably end up getting pummeled and watching your date leave with them. This is my list of 10 UFC fighters that wouldn't strike you as a professional fighter. They may not be the most intimidating looking guys, but looks can be deceiving.


MATT HAMILL
His quiet demeanor and positive attitude makes Matt Hamill come off as though he's a nice guy, but his 5 opponents inside the Octagon would beg to differ. As we saw on The Ultimate Fighter, he's a hard guy to piss off and he doesn't really have that fighter look or mentality, but don't be fooled. Hamill has an amazing chin and has displayed remarkable improvement in his overall skills, which were on full display in his last fight against Tim Boetsch. Hamill is a problem for anybody in the light heavyweight division.


FRANKIE EDGAR
The UFC may want to doublecheck his ID to make sure he's old enough to fight inside the Octagon. The baby-faced Edgar has amassed a 3-1 UFC record, including wins over previously undefeated Tyson Griffin and UFC veteran Spencer Fisher. The soft-spoken lightweight from Jersey has proven to be hard-nosed and tenacious, despite his high-school looks.


KENNY FLORIAN
Kenny Florian's appearance is far from that of a bad ass. Despite the fact that he resembles actor Ben Stiller more than a professional fighter, he's won his last 4 fights all by stoppage. One of the "nice guys" at the The Ultimate Fighter house, his recent commentary shows his versatility in the sport. Florian proved his looks to be deceiving at UFC 64 when he fell short against Sean Sherk in a 5-round war. With his "I finish fights" moniker, expect to see the same type of fight from "KenFlo" later this year when he faces Roger Huerta.


RICH FRANKLIN
The former UFC middleweight champion looks more like he could pose as a stunt double for Jim Carey rather than a threat to other UFC middleweights, but "Ace" has proved to be anything but an actor. In 21 of his 23 victories, Franklin has won by either knockout or submission and is 10-2 inside the Octagon. One of the good guys in the UFC, he has an awkward, but effective striking style that has given other middleweights fits...as long as their name isn't Anderson Silva.


LYOTO MACHIDA
His all business approach to the fight game could be misleading. His style may not be pleasing to some, but there's no denying Machida's achievements in the sport. He's 12-0 with wins over Rich Franklin, BJ Penn and Sokoudjou and is possibly one of the most avoided fighters in the UFC. He may not be the most intimidating looking "Dragon" in the dungeon, but he's definitely one that breathes fire. Machida can earn some major brownie points with Dana White this weekend by defeating Tito Ortiz at UFC 84.


EVAN TANNER
To me, Tanner looks more like an old ball coach than a mixed martial artist. Despite that, he's fought in some very tough fights and has always left it all in the cage. The former middleweight champion has an 11-5 UFC record, including wins over Phil Baroni, David Terrell and Robbie Lawler.


MIKE SWICK
Swick is definitely not the scariest looking guy in the world, but with his lightning quick hands and his trademark "Swickotine" submission, Swick has definitely found a home in the UFC. He has a fighter's instinct and a very well-rounded game so don't let the car salesman look fool you. This guy can fight!


JOE LAUZON
Computer geek, nerd and weirdo are names that I'm sure Joe Lauzon couldn't avoid in his adolescent days. Fighter was a name that probably never surfaced for the Massachusetts native. His spooky eyes and big ears definitely wouldn't garner fear in a bad neighborhood, but the skills that he's demonstrated in the cage certainly would. Lauzon is known for his one punch KO over former UFC lightweight champion Jens Pulver at UFC 63, but he's proven to be much more than a one punch wonder. Lauzon is the perfect example of the phrase "don't wake a sleeping giant."


ROGER HUERTA
If you see Roger Huerta in a bar and you're with your date, you might want to squeeze her tight because Huerta's suave looks may entice her. El Matador is the Oscar De La Hoya of mixed martial arts. He has the looks, the fan following and most importantly, he can fight! His five fights in 2007, including two "Fight of the Year" candidates, prove that Huerta is not only durable, but isn't afraid of a good ol' fashioned brawl. His looks don't fit that description, but his 20-1-1 record is a testament to his warrior spirit and his abilities inside the Octagon. A fight with Florian later this year should serve as the step up in competition fans have been asking for.


ANDERSON SILVA
Arguably the greatest pound-for-pound fighter in the world, Silva has a smile that could light up a room. Unfortunately for his opponents, he's also got the strikes, kicks and submissions that can put the lights out on any middleweight out there. One of the most respectful fighters you'll ever see, the Brazilian never talks trash, never disrespects his opponents and rarely showboats. It's strictly business for Silva and most of his fights appear to be just another day at the office. Whether it's traveling to Ohio to face Rich Franklin in his hometown or putting his title on the line against Pride FC champion Dan Henderson, Silva always delivers and does it with a smile. Very humble, very soft-spoken and very dangerous. "The Spider" may not have the looks of an intimidating fighter, but don't get caught up in his web.
My next five that just missed the list:
Josh Burkman, Diego Sanchez, Thales Leitas, Michael Bisping and Cole Miller.
There you go, my top 10 fighters that may not have the look, but definitely have the skills of a professional fighter. Looks can be very deceiving, so when in doubt, remember that you can't always check the ears! Feel free to add any fighters that you think should have made the list in the comments section. My top 10 most intimidating looking UFC fighters are coming next so feel free to email me some suggestions.
[ Follow Percy Crawford on Twitter @MrFighthype ]