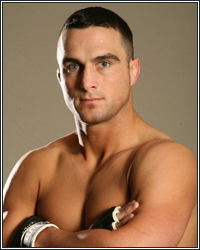 For middleweight contender Scott "Hands of Steel" Smith, nothing in life is sweeter than rendering an opponent unconscious with his two fists. The Sacramento, California native boasts an impressive record of 15-4 with 13 of those victories coming by way of knockout. It's no secret that Smith earned his "Hands of Steel" moniker from his penchant for standing and trading with his opponents, often to their detriment.

This Saturday, Smith will get the opportunity to demonstrate his jaw-rattling aggression when he steps into the cage to face "Ruthless" Robbie Lawler in a middleweight title fight. The fight is significant in many ways. The Lawler-Smith battle will be on the undercard of EliteEXC's groundbreaking "Primetime" promotion. The event will mark the first time in the history of the sport that an MMA card will be aired live on network television (CBS) during primetime. Headlined by the media magnet Kimbo Slice, the promotion has all the makings to attract a record amount of new viewers who are curious to see what all the MMA hype is about. For fighters such as Smith, fighting on the undercard of such an event will only serve to raise his stock in the sport. It's a fact that Smith is keenly aware of.

"I'm real, real excited to be on this card. The biggest thing about this card is every time I talk to people that watch an MMA fight for the first time, they get hooked instantly and people just don't always want to buy it on pay-per-view," Smith would explain to the assembled media on a recent conference call. "This is going to be on free television. We're going to get millions of people watching this that may have never watched MMA before. They're just going to get hooked. I think every time it's on CBS, it will get bigger. It's a stacked card, [that is] going to be exciting."

Exciting may be a gross understatement given the enormity of this highly-anticipated card. To compound matters, the pressure on Smith is even greater given that his opponent for the night is EliteXC middleweight champion "Ruthless" Robbie Lawler. Lawler is an experienced champion and one of the toughest practitioners of the sport, but injuries have kept him on the sideline for much of the year. The question surrounding Lawler is whether or not any ring rust will be evident.

"I definitely believe in the ring rust," Smith explains. "I have the advantage there. If I'm fighting every three to four months, it's great for me. I don't get a chance to get out of shape. I've gone six, eight months without fighting and it feels like a first fight sometimes. So, that's a definite advantage for me."

Of course, the fact remains that this may be the toughest fight Smith has had to face in his young career and with the eyes of the world fixated on this card, the pressure to perform could prove to be too much of a daunting task.

"I don't feel the pressure because I'm the challenger and the underdog," Smith assures. "I'm the one with nothing to lose. If anything, Lawler would be the one feeling the pressure. It's kind of an ego thing."

Such cool confidence can be attributed to Smith's steadfast belief that in his two hands, he posses the great equalizer: jaw-cracking power.

"I assume people aren't going to stand with me. I'm going to go out there and want to stand. If Lawler stands with me, that's great, but I don't feel the pressure to have to keep it on the feet."

Despite the fact that Lawler is a hard-hitting middleweight who's one of the sports greatest warriors, Smith seems undaunted in the task at hand.

"I do believe Lawler will be one of the hardest-hitting opponents I've faced, but I definitely will be the hardest-hitting opponents he's faced," Smith rationalizes. "I've faced guys that hit real hard. Pete Sell hits hard. Jim Irvin hits like a truck. I guarantee Lawler's never fought anybody that hits as hard as me. People don't realize that until they fight or spar with me. Lawler is going to buy all the hype. Yes, I definitely see me winning this fight by knockout."

Everybody loves the knockout, but for Smith, going for the stoppage is a mantra. Putting the outcome of a fight into the hands of the judges is not an option.

"I went the distance with Patrick Couture. It made me sick to my stomach," says Smith. "Even if I would have pulled off a decision, he definitely won that fight. If they would have given me the decision, it would have made me sick too. I don't like having those fights where you go out there not to lose. I want to go out to win the fight."

Given the complexities that a fighter of Lawler's caliber possesses, why would Smith be so committed to ending the fight by knockout?

"Number one, I'm the underdog. Number two, I have the power advantage. If I land a clean shot, I can knock anybody out. I don't care if it's 185 pounds, 205 pound or heavyweight. I'm improving on my speed every day. I'm improving on my technique and I land those shots; I'm going to knock those people out."

As the former WEC light heavyweight champion and former UFC fighter, Smith has already been fighting on some pretty big stages in his career. Still, the fact remains that a win on MMA's first primetime network televised card would catapult Smith's career to unprecedented heights.

"This is an absolute dream come true. Every time I fight, I have some big accomplishments in my career. The fights become bigger and bigger opportunities for me. I don't see a bigger opportunity than this right here. Fighting for a belt on network television is just a dream come true."