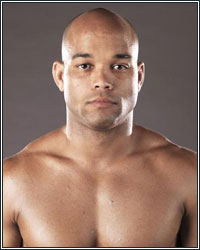 "After the fight, I was able to control myself through the live interview, but when I got backstage, I was a mess. This fight was the only thing that has gone right for me in the last year," stated UFC middleweight contender Drew McFedries as he talked about his impressive win over Marvin Eastman at the TUF 7 Finale. Check out what else he had to say about his performance, his future plans and more.

PC: Congrats on the big win over Eastman.

DM: Thank you!

PC: It was short, but how do you feel about your performance?

DM: I think it was a great reflection of how hard I trained for the fight. I was strict on myself and relentless on my training partners.

PC: You're one of my favorite fighters because you always throw caution to the wind. You started the fight with a flying knee. What's up with that?

DM: Everyone is asking me about the flying knee. To be honest with you, I always train flying knees in practice, but rarely get to use it in a match; let alone land one. To be real, it was just reaction. I didn't even think about doing it; I just did.

PC: Were you expecting Eastman to use his wrestling abilities or did you expect a stand-up war, which is right up your alley?

DM: I wasn't really sure. From what I knew of him, he always seemed to stand, but he did wrestle Terry Martin into fatigue. I really didn't know what to expect so I thought to myself, "be like water." That old Bruce Lee shit!

PC: You've been through a lot in the past year or so. You were so jubilant after that knockout. Was that all of the emotion you had built up from everything that happened?

DM: Definitely! After the fight, I was able to control myself through the live interview, but when I got backstage, I was a mess. This fight was the only thing that has gone right for me in the last year.

PC: Eastman has always had a shaky chin. Coming into this fight, did you feel like all you had to do was touch it and the fight would be over?

DM: Yes, the whole time I trained, I did my boxing practice with the biggest grin on my face because I knew all it would take was one stiff shot to draw blood. Once that happens, I go into kill mode.

PC: How important was this fight for you after losing 2 of your last 3 prior to this one?

DM: Most importantly, I think it was important to win to maintain a spot in the UFC. The other thing was to maintain confidence in my art and respect for the other fighters.

PC: How tough was it for you to go through with the Patrick Cote fight after the loss of your mother?

DM: The Cote fight was one of my biggest challenges ever due to the fact that my mother had been strangled just under a month prior to the fight. I guess I approached that hurdle like I do everything else. If I'm going to Hell, I might as well put my gasoline drawers on and start sprinting for the gates. Life deals you a set of cards and you have to play with what you got.

PC: This division is still wide open. Are there any middleweights out there in particular that you would like to fight?

DM: There isn't anyone I want to fight. They match me up and I do my best.

PC: Two fights already this year. How many more times would you like to fight?

DM: I'm not sure how many times I will fight. I will just take them one at a time and see where I stop.

PC: You won "Knockout of the Night" against Eastman. I understand you and Spencer had a little bet going on. You weren't too hard on my man, were you?

DM: No, I wasn't hard on Spence. He is my boy and he still had a great fight.

PC: You are a tough guy to stand and bang with. Who do you think will make the most explosive fight with you?

DM: I'm not even thinking about other guys. I just live my life and try to make it. I'm not even thinking about anyone else.

PC: Are you shocked that former Miletich member Matt Hughes has been getting dominated the way he has?

DM: Yes, because he ruled for such a long time and no, because he has focused on another facet of life and I think he has moved on.

PC: Just a question I'm curious to see your answer to. If you were going in an alley to fight 4 guys, what other 3 fighters would you bring with you?

DM: Jens Pulver, Robbie Lawler and Pat Miletich.

PC: Great fight my man. It's good to see you back on track. Is there anything you would like to say in closing?

DM: I just want to thank all of the people that have been supporting me for so long and thanks to the UFC for the opportunity.
[ Follow Percy Crawford on Twitter @MrLouis1ana ]