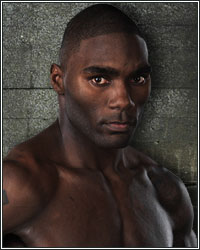 "People know I have wrestling, but they forget about it because all of my fights, I've been knocking people out. If somebody wants to wrestle, I'm down to wrestle. I train with Cung Le now and Cung is…he fought in Sancho so his takedown defense is excellent. I've taken him down a couple of times and that says a lot," stated UFC welterweight Anthony Johnson as he talked about his upcoming clash with Kevin Burns on the July 19th UFC Fight Night 14 card. You don't want to miss what else he had to say about Burns, the fight and much more as he talks about training with Cung Le and Josh Barnett and shares his thoughts on the welterweight title bout between Georges St-Pierre and Jon Fitch. Check it out!

PC: How have you been doing my man?

AJ: Living!

PC: You're getting the Kevin Burns fight a couple of months early. How do you feel about that?

AJ: I feel good about it. Kevin is a tough guy and he took that fight against Roan Carneiro on short notice and Kevin was losing; he wasn't getting dominated and he pulled off a submission from his back. He's not afraid to strike with you. I'm sure it will be a good fight and he'll try to strike with me for a second, but I'm sure his gameplan is to get me on the ground.

PC: That seems like something you will have to deal with your entire career. Does that bother you or will you just keep working at it?

AJ: It doesn't bother me at all. I expect that every fight. I expect that every fight, but I know sooner or later, somebody is going to really test me and see how good I am on the ground, but I try to be ready for all of it. I try to keep my hands right, my takedown defense right and my ground work. He's got a good guard, but in my opinion, I think Roan took him for granted. I've seen Roan fight because I fought on the very first card with him in the UFC in Hollywood, Florida at the Hard Rock and he was taking Fitch down. Fitch is legit; Fitch is no joke and Roan took him down and I think if he would've came in with that same intensity against Kevin, it would've been a different story. Roan didn't work, he didn't stay busy and I'm going to stay busy. I'm going to try and pass, hit him with punches to soften him up and do whatever I gotta do; as long as I win.

PC: Last time I spoke to you, your goal was to keep your weight down for situations like this where you could be on call so to speak. Were you successful in doing that?

AJ: Man, my weight has been staying down around 190. I've been training great and dieting real good. You know every now and then you cheat a little. You can't eat healthy 100% of the time. I love my gummy bears so I go get me a bag or two of gummy bears. Other than that, I eat healthy every morning and throughout the day. I just train hard in the afternoon. I go to the gym twice a day and just work hard. You work hard, things pay off, you know? It's all about that work ethic.

PC: You told me you would fight every event if you could. How exciting was it for you to get the call for this fight?

AJ: It was very exciting. At first I didn't know who Kevin was because I didn't see his fight. I get excited for every fight because this is what I do and love. I'm pretty excited about it and I'm pretty sure Kevin is excited about it. Both of us are going to be on the main card for the first time. Every time I was shown on TV, I was on the undercard and things just happened to go my way and they televised it. This is a great opportunity for both of us. There will probably be 4 to 5 million people watching this card. We're on the main card so we don't have to wonder if we're doing the right thing to get on TV or not. It's a blessing right now, so I'm excited.

PC: When you fought Climente and Speers, I'm sure you were able to get a lot of footage on those fighters. Is it tough preparing for Burns with the lack of footage on him?

AJ: Not really. I pretty much just stick to my gameplan. I try to fight everybody the same. I just go out there and fight bro; whatever I see, I take it. If you give me the opportunity, I'm going to do whatever I can to capitalize on it and just let the chips fall where they may. It's whatever bro; my gameplan is to go in there and fight.

PC: So you feel as though if you're at your best, it doesn't matter who you are up against.

AJ: Exactly! I'm going to do whatever I need to do to win. A lot of guys watch tons of footage, and I've seen his fight with Roan a couple of times, but you really don't see anything. All you see is his ground game on his back. His standup wasn't bad. He popped Roan a couple of times, but Roan isn't known for his standup. He's a blackbelt in Jiu Jitsu so he wanted to keep it on the ground and my thing is to stay off of the ground and stay on my feet. I want the fans to cheer and I want my purse to go up. I need that money and I want everybody to cheer, be happy and be satisfied knowing that I fought like a man because that's what they expect to see. They expect to see a fight; not people making love. I want to do what I love to do and that's to fight standing up and please my fans and the organization that I fight for.

PC: What do you say to people that feel like you're the next version of Houston Alexander and as soon as you're tested on the ground, you will diminish?

AJ: That's their opinion. You got your haters and the people on your bandwagon and stuff like that. I just let them think whatever they want to think. No matter how good you are or how bad you are, people are going to talk regardless. They're saying my name and they know who I am and that's the most important part. They could say whatever they want to say, but when they see my picture or whatever or someone says my name, they're going to be like, "Oh yeah, I know who that is." They could talk and claim I'm the next Houston and that' fine with me. Houston is his own man and I'm my own man so let people speak about whatever they want to speak about. I don't do what they think I'm going to do. People know I have wrestling, but they forget about it because all of my fights, I've been knocking people out. If somebody wants to wrestle, I'm down to wrestle. I train with Cung Le now and Cung is…he fought in Sanshou so his takedown defense is excellent. I've taken him down a couple of times and that says a lot. I've trained with Josh Barnett before and taken him down. Josh Barnett is a big guy and I've taken him down. He's taken me down obviously, but when he's taken me down, he's had to work for it. After we got done training, he challenged me to another sparring match and we went at it and he tossed me, but it wasn't like he dominated me. I could hold my own. It doesn't matter to me. I go work with what I need to work with.

PC: This is a quick turn around from the Speers fight a little over 3 months ago. How important is it for you to stay busy?

AJ: I love it right now. They called me and I love it; as long as they keep me busy. If they keep me busy, I'll keep doing my job. I don't want to get that ring rust and be off for a whole year and stuff like that. Being as active as I am right now, I love it. This is my 2nd fight this year and I have all of the support in the world. I have to make a name for myself so if they believe in me, I want to keep them believing in me. I'm going to be a force to be reckoned with in the future. They can keep calling me and I'm going to keep fighting.

PC: Who do you like in the welterweight title fight between Fitch and GSP?

AJ: Fitch is my boy and he's a hard worker. It's like I tell everybody else, there is always a punchers chance. Both of them are crazy athletic and work extremely hard and that's hard to come by when you have two guys that work so hard. I'm the type that never goes against the champ because he's the champ for a reason. I can't say who is going to win because they're both great fighters. A lot of people don't know Fitch and a lot of people are on GSP's nuts right now, which is cool, he's the champion and he's won the belt twice so he's proven that he could do it. It's Jon Fitch's turn to do his thing and I hope he does it. I hope he goes in there and takes that belt. If GSP holds on to it, that shows how great GSP really is. Fitch is no joke bro. I've been hit by him before. He pissed me off one time; he hit me right in my mouth. I went back home telling my girl, "Fitch ain't going to never beat me again; he hit me right in my mouth." I got so much respect for both of those fighters. We are all in the same weight class and we all have the same goal. GSP is on top right now and everybody is shooting for GSP right now. I wish both of them luck. I've sparred with Fitch and dude is crazy. All of those guys at AKA are crazy over there. They work hard and that's why they have so many good fighters. I'm training with Cung now and right now, San Jose is rockin'. My boy Josh Thomson just won his belt so big props to Josh Thomson. I'm happy for him. Josh was a 4-1 underdog and that just proves that people are working very hard to get what they want in life.

PC: It's always good to get a word with you my man. Good luck in a couple of weeks and I'm sure we'll speak right afterwards. Is there anything you want to close this interview out with?

AJ: I'd like to thank everybody who supports me. I want to thank my sponsors: Tapout, my boys at Knoxx, Paramount Toyota, Paramount California, my agents Ken Pavia and MMA agents, Cung Le and the USH Team, my mom, my dad, Jennifer Bender and everybody. I want to thank you too Percy for giving me the opportunity to say what I have to say on your site. I'm always ready to speak to you man.
[ Follow Percy Crawford on Twitter @MrFighthype ]